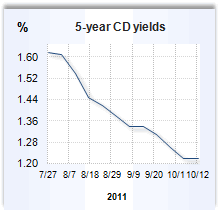 Interest Rate Roundup
Compare
CD rates
nationally and in your area.
CDs
0.37% (1-year CD yields)
1.22% (5-year CD yields)
Rates on certificates of deposit have stopped hemorrhaging for the moment; all terms surveyed are unchanged from last week.
The average one-year CD yield is 0.37 percent. The average five-year yield is 1.22 percent.
On the jumbo end, for deposits of $100,000, the average one-year jumbo CD yield is 0.41 percent; the five-year jumbo CD yield is 1.26 percent.
The average money market account yield fell 1 basis point to 0.14 percent. A basis point is one-hundredth of one percentage point.
Another scammer has allegedly been caught defrauding CD investors. The website Forbes.com reported this week about the case of Cory B. George, who is accused of mail fraud and wire fraud. According to the story, George promised investors their money would be invested in high-yielding certificates of deposit.
Savers should always beware of deals that seem a little too good to be true. The Securities and Exchange Commission, or SEC, has more tips for staying safe when shopping for CDs.