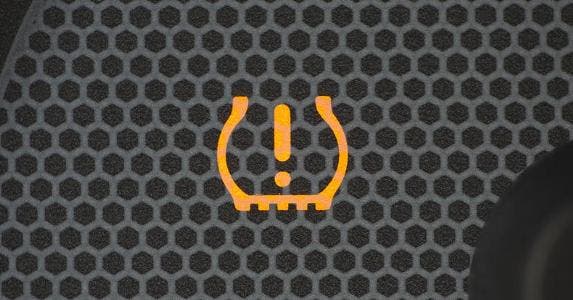 Dear Driving for Dollars,
I keep thinking that spring is right around the corner, but lately it has been surprisingly cold and I notice that when the temperatures are cold, my tire pressure light is on. Yet the next day, if it's warmer, the light isn't on. I'm thinking there's no way my tire pressure is changing that much over 24 hours, so I'm wondering what's going on. Is it malfunctioning?
— Tommy
© otomobil/Shutterstock.com
Dear Tommy,
Even though it may seem like it is malfunctioning, the likelihood is that your tire pressure gauge is operating exactly as it should. You see, the air pressure in a tire changes with temperature. When the air in the tire is warm — which occurs because the ambient air temperature is higher or because it is heating up through driving — the air expands within the tire, increasing the tire pressure.
Tire pressure on a chilly day
When the air is cold, because it is a chilly day or because the car has been parked for many hours (or a combination of both), there is less pressure in the tire.
RATE SEARCH: If you're switching cars, check your credit score at myBankrate.com before going to the dealership.
It's likely that the tire pressure is near the threshold that causes your warning light on your dash to come on, so when it is warmer, the pressure is just high enough to keep the light off and when it is colder, the light comes on.
Checking the pressure with a gauge
The best way to determine if this is the case is to check your tire pressure with a gauge and compare it to the recommended inflation level for your car. Add air if the numbers don't jibe. You can find this information on a sticker located on the driver's side door jamb or in your owner's manual. Note that the pounds-per-square-inch level noted on the tire itself is the maximum pressure the tire will hold and not the recommended level.
CHECK RATES: Find the best car loan rates today.
By the way, tires lose pressure just from regular driving, so it's a good idea to check them monthly, adding air as needed. Driving with the recommended pressure not only improves your fuel economy, it also increases your traction, which is especially helpful on slick roads.
If your car needs some new rubber "shoes," read How to choose new tires.
Bankrate's content, including the guidance of its advice-and-expert columns and this website, is intended only to assist you with financial decisions. The content is broad in scope and does not consider your personal financial situation. Bankrate recommends that you seek the advice of advisers who are fully aware of your individual circumstances before making any final decisions or implementing any financial strategy. Please remember that your use of this website is governed by Bankrate's Terms of Use.