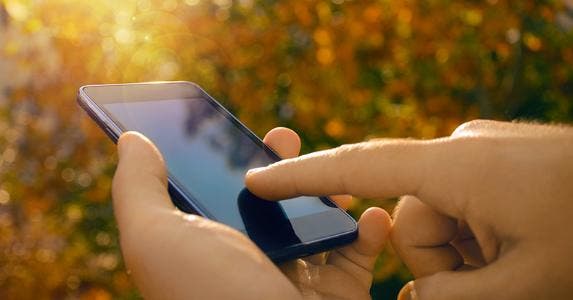 You may have dropped a digital dime by paying for a cup of coffee with your smartphone, but odds are you haven't made a big purchase using your mobile device.
That soon could change.
Consumers have begun to slowly embrace mobile technology when it comes to life's big financial decisions, according to a new Bankrate survey. Nearly half of all mobile Internet users indicate they have made a major financial commitment — such as getting a mortgage or buying a car, stocks or insurance — using a smartphone or tablet, the survey conducted Dec. 18-21, 2014, found.
View today's best auto loan rates
These results reflect a gradual shift in how Americans spend money online.
Total mobile e-commerce — buying goods and services over a cellphone or tablet — grew by double digits this past holiday season, sales data compiled by IBM Digital Analytics Benchmark found. While desktop computers still accounted for the vast majority of online sales in November and December 2014, mobile spending chipped away at that lead.
Still, Americans aren't quite ready to live out their entire financial lives on their phones. Using a mobile device to make a major financial commitment isn't something most people do with any regularity. Just 12 percent say they use a phone or tablet for this activity "always" or even "most of the time."
"It's no surprise that the proportion of consumers using their mobile device to make major financial transactions is not higher — the tools simply aren't widespread," says Daniel Van Dyke, a research specialist in the mobile practice at Javelin Strategy & Research. "That's changing now, and we expect consumers to quickly begin, say, taking out student or auto loans using their mobile phone in growing numbers."
How often do you make a major financial commitment — such as getting a mortgage or buying a car, stocks or insurance — on a cellphone, tablet or other mobile handheld device?
Highlights:
58% of respondents between the ages of 30 and 49 indicate they have made a large purchase over their mobile devices at least once, the highest percentage of any of the age groups surveyed.
A majority of every other age group polled say they have never made a big commitment using a smartphone or tablet. For example, more than 6 in 10 who are age 65 or older say they've never made a big-ticket personal finance purchase in this way.
Millennials ages 18 to 29 weren't that much more likely than any other age group to have purchased stock, insurance or another major item on a mobile device. Of course, millennials also were far more likely to indicate they aren't the person in the household responsible for making major financial commitments.
Editor's note: Percentages may not equal 100, due to rounding.
Van Dyke says consumers are more confident today about buying goods and services with their smartphones. Starting in 2009, Javelin has been asking Americans what they buy on their mobile devices. Six years ago, ringtones were the most commonly purchased item. The sale of "physical items" now rules by a wide majority, while mobile spending overall grew to $59.7 billion in 2013, about triple what was spent a year prior.
"Financial institutions are taking note of the growing consumer confidence in mobile and allowing clients to purchase financial products through the mobile app or browser," Van Dyke says. "We expect growing availability coupled with pent-up demand will drive tremendous growth in the number of consumers using smartphones and tablets to open up accounts in the coming years."
Data security is still a major concern
For those who don't regularly use a mobile device to make large financial commitments, the biggest stumbling block is security, the Bankrate survey found. Some 41 percent of respondents indicate they fear how the information they provide over their phones or tablets might be used or abused.
Susan Grant, director of consumer protection at the Consumer Federation of America, says Americans are smart to be concerned about passing sensitive personal information over their wireless devices. Consumers simply don't enjoy the same protections when purchasing goods or services with a smartphone or tablet as they do when they buy in person — or even on a desktop computer, she says.
"If there are useful social benefits as well as convenience benefits that people could enjoy through mobile payments, there also have to be assurances that they're protected in case something goes wrong," Grant says.
Which best describes why you have not made a major financial commitment on a mobile device?
Highlights:
Older Americans are far more likely to cite security concerns as a reason not to use a mobile device to conduct major financial transactions. 53% of respondents 65 or older express this concern, while just 34% of millennials (ages 18 to 29) say this is the main reason to avoid large mobile transactions.
58% of respondents earning between $30,000 and $49,900 a year say security is the biggest factor, versus 35% of those making $75,000 or more.
29% of millennials say they aren't the person in their household who makes major financial commitments.
Editor's note: Percentages may not equal 100, due to rounding.
Grant says in the case of mobile payments, law and public policy trail technological improvements but will eventually catch up. This "unclear consumer rights landscape" is complicated by the variety of players with access to your information during a mobile transaction, she says — including wireless carriers, hardware manufacturers, operating system owners, app developers and payment intermediaries.
Isn't there an easier way?
After security, survey respondents say the biggest reason they don't make large financial transactions with their wireless devices is convenience. Some 27 percent of Americans say there are easier ways to grab a mortgage or buy stock, for example, than over a small phone screen.
In short, it is still easier for many people to shop for a mortgage online from their desktop computer or walk into a brick-and-mortar firm to buy insurance than it is to do so on the go.
"The question remains, 'What's the benefit of paying with your phone?'" Grant says. "For the most part, the benefit seems to be convenience in small transactions," like feeding a parking meter or paying for coffee.
"For other kinds of transactions, for most consumers, it's just as easy to do it another way than it is with a phone."
Methodology: Bankrate's poll was conducted by Princeton Survey Research Associates International, which obtained the data via telephone interviews with a nationally representative sample of 1,001 adults living in the continental U.S. Telephone interviews were conducted by landline (500) and cellphone (501, including 316 without a landline phone) in English and Spanish from Dec. 18-21, 2014. Of those interviewed, 657 said they were mobile Internet users.
Statistical results are weighted to correct known demographic discrepancies. The margin of sampling error is plus or minus 4.3 percentage points.