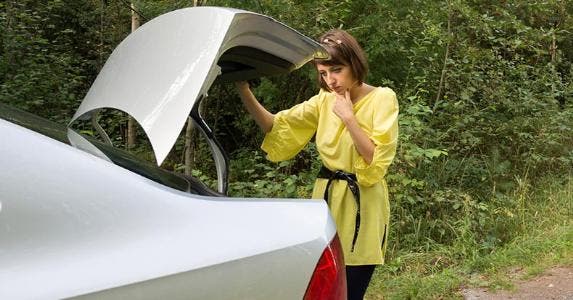 Dear Driving for Dollars,
I bought a new car a few months ago, and I just noticed that it doesn't have a spare tire. Instead, there is a unit labeled "tire-repair kit" that looks like it just inflates the flat tire, but I thought that only worked in some situations. Should I be worried?
— Julio
Dear Julio,
These days, automakers are working hard to reduce the weight in the cars they build as a way to meet the new and more stringent fuel economy requirements set by the government. As a result, most new cars no longer have a spare tire. In fact, about 36% of 2015 model-year cars came equipped only with tire-inflation kits, according to AAA.
RATE SEARCH: If you plan to buy a new car this year, check out the car loan rates today at Bankrate.com before going to the dealership.
The big disadvantage is that these kits don't work if there is damage to the sidewall or a full blowout. In those instances, you'll have to wait for a tow truck if you don't have a spare.
Mix of opinion on tire-repair kits
There are mixed opinions about how well the tire-repair kits work on flat tires as a result of tread damage. A recent study by AAA where numerous kits were tested found that they worked only if the damage to the tire was in the tread area and the object causing the flat remained in the tire. ITW Global Tire Repair, the parent company of Fix-A-Flat, says it has conducted thousands of tests and found that its kits consistently seal punctures in the tread, with or without the object in the tire.
RATE SEARCH: You'll find the best car loan rates today at Bankrate.com.
However, according to tire retailer Bridgestone, tire-repair kits are useful in repairing 85% of flat tires "in most scenarios."
For more details, read one-third of cars missing spare tires.
Bankrate's content, including the guidance of its advice-and-expert columns and this website, is intended only to assist you with financial decisions. The content is broad in scope and does not consider your personal financial situation. Bankrate recommends that you seek the advice of advisers who are fully aware of your individual circumstances before making any final decisions or implementing any financial strategy. Please remember that your use of this website is governed by Bankrate's Terms of Use.