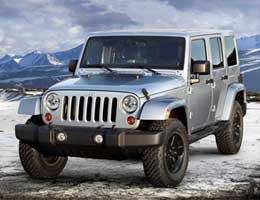 Resolution: lose weight and get fit
Model: 2012 Jeep Wrangler Unlimited Sahara
Type: Four-wheel drive, four-passenger SUV
Gas mileage: 16 mpg city/20 mpg highway
Starting price: $30,745
How it fulfills our resolution: No vehicle is a better partner to get you off the couch and out into nature.
Arguably one of the best ways to get you outdoors is a vehicle that has been around since it entered the military market in 1941 — the Jeep.
The Wrangler is the closest in appearance and purpose to that original model. The best overall version is the Unlimited, which is built on a stretched platform that allows for four doors. While Jeep purists may be displeased, even they have to admit the Unlimited retains the off-road prowess of the smaller two-door Wrangler but is more comfortable on the highway.
A six-speed manual transmission is standard, but the optional five-speed automatic is a better choice on the road and off. Adding to the appeal for 2012 is the new 3.6-liter, 285-horsepower V-6, which has more horsepower than 2011 but a 10 percent increase in fuel efficiency. In any form, the Wrangler remains a mountain goat, and that's a compliment.