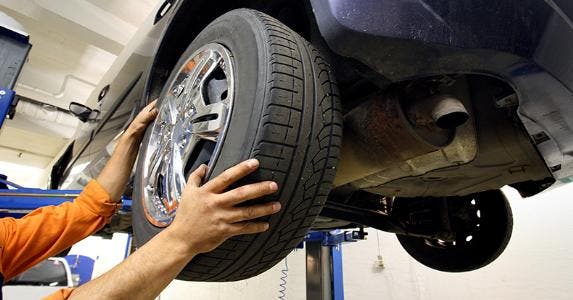 When replacing your car's tires, price shouldn't be the first consideration; at least, that's the opinion of many tire experts. Other factors, such as safety, grip and ride quality, should top the reasons-to-buy list.
Most of us don't think much about our tires until one goes flat or they become so worn that we simply can't ignore them. Otherwise, they are just those black, round things on each corner of our car. When was the last time you closely inspected your tires for uneven wear or cuts? When was the last time you checked the tire pressure?
Search for low car loan rates at Bankrate.com
And when the time arrives to finally replace those worn tires, we're not very good at doing our research to find the best fit. We treat choosing new tires with less care than we take choosing a new flat-screen television.
In reality, no single component in a car is more critical to its stability, handling and ride quality than its tires. According to Kurt Berger, manager of consumer sales engineering at Bridgestone, when properly inflated, the right tire can improve fuel economy and save your life.
Tires are not created equal. Each reacts differently in terms of wear, grip and fuel efficiency. In essence, it's the tires that translate our behind-the-wheel maneuvering decisions into action. Some simply do it better than others.
Where to look for help
A less stressful approach to replacing tires is to just buy the same tires that were on the car when new. Woody Rogers, a product information specialist for online tire retailer Tire Rack, says many newer cars come with tires that were developed specifically for that car. "Three years or more can go into developing tires for a particular car," he says.
If, instead, you choose to shop around, you will find a dizzying array of brands, compositions, sizes and tread patterns. In its annual Replacement Tire Brand Dynamics and Satisfaction Study, automotive marketing and research firm AutoPacific lists 21 tire brands ranging from well-known names such as Goodyear and Pirelli to less familiar makes such as Kumho and Nexen.
Prices are all over the map. Depending on a car's tire-size requirements, prices can range from $50 for an off-brand tire to $500 or more for name-brand rubber for a luxury car.
Where does one even begin a replacement-tire search involving literally hundreds of choices?
Go with an established brand
Having recently purchased a bright yellow 2002 Volkswagen New Beetle as her soon-to-turn-16 daughter's first car, Amy Cochran immediately set out to replace its tires. The well-worn BFGoodrich tires on the front wheels were probably the originals for this Beetle with 60,000 miles on the odometer. With significantly more tread, the rear tires were replacement Continentals.
Because Cochran and her husband, who live in Delray Beach, Florida, have both driven company cars for more than a decade, tire buying isn't a routine chore. She wasn't prepared for the staggering amount of possibilities facing her.
Armed with a coupon for 10 percent off from a popular South Florida chain discount-tire store, her goal wasn't to obtain the best price on a bargain tire, but to get a bargain price on a great tire. She wasn't going to skimp on her daughter's safety or the safety of whoever might be riding with her.
Familiar with the Michelin name, she settled on a set of Michelin Pilot Sport tires retailing for $164 each. Including mounting, balancing, a front-end alignment and a few other services, the total bill with sales tax came to about $900. That's a lot of money to shell out for a 14-year-old car, but tires are every bit as important on an older car as a brand-new one.
Tops in tire satisfaction
According to the AutoPacific satisfaction study, Cochran made a good choice: Michelin topped all other brands in replacement-tire satisfaction.
AutoPacific surveyed more than 7,700 consumers who bought at least one replacement tire in the preceding 12 months. Survey questions concentrated on 17 key attributes, such as cornering, appearance and total driving experience.
Mary Beth Martin, an AutoPacific product manager and author of the study, says safety was the No. 1 attribute of importance for all replacement-tire buyers. Owners and non-owners of Michelin tires gave the brand top honors for safety.
Those surveyed also valued dependability and tire performance.
Top 10 tire brands in overall satisfaction
Michelin
Pirelli
Nitto
Firestone
Goodyear
BFGoodrich
Bridgestone
Yokohama
Toyo
Cooper
Source: AutoPacific
Goodyear was rated the top replacement tire for full-size pickups, Yokohama for minivans, Pirelli for large cars and Michelin for midsize cars.
Buying on a budget
Today's disposable economy has conditioned us to find the cheapest price for whatever it is we need, replacing it when it wears out. However, that isn't the smartest approach when purchasing tires. But not everyone has the budget to purchase the top-ranked brands.
Martin admits that, in the eyes of consumers, it's Michelin. "Michelin walks on water," she says. "Owners love it; non-owners love it. However, this is a premium brand, and many consumers cannot afford these tires."
Cochran is lucky; she was able to afford exactly the tire she decided was safest. "I could have spent a lot less," she says, "but cutting corners on something this important wasn't an option for me."
Where price is a concern, though, research becomes even more important.
Here, the AutoPacific study is valuable as a starting point for choosing replacement tires. For example, GT Radial offers more affordable Chinese-made tires, yet it ranks higher in the AutoPacific study (14th) than more established brands such as Continental (15th) and Dunlop (16th).
The bottom line: The right tire can be the difference between surviving and not surviving an unexpected sharp curve on a dark, rainy night. Ultimately, your buying decision may be influenced by price, but price shouldn't be the only consideration.