Glitz took a backseat to fuel-tank frugality as many automakers rolled out their latest fuel-efficient cars one after another at the New York International Auto Show this week.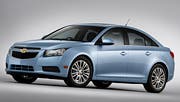 2011 Chevrolet Cruze Eco
Chevrolet revealed the 2011 Cruze Eco, a fuel-efficient version of its compact Cruze. Powered by a 1.4-liter turbocharged, four-cylinder engine, Cruze Eco is expected to get 40 mpg on the highway when equipped with the six-speed manual transmission. The Cruze Eco as well as the Cruze LS, LT and LTZ versions will be available in late fall as 2011 car models.
Kia unveiled its redesigned 2011 Kia Optima midsized sedan, which features a sporty new look as well as three new, fuel-efficient engines, including a hybrid version. The regular models will arrive this fall; the hybrid version will be in showrooms next year.
Mazda will bring the SKY-G series of direct-injection, gasoline engines to the U.S. in 2011, improving fuel economy by 15 percent over its current engines while increasing horsepower. A diesel version of the engine, called the SKY-D, will arrive in 2012 in a midsized car, but Mazda did not reveal which model would carry it.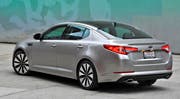 2011 Kia Optima
Toyota unveiled the production version of its Scion iQ, a diminutive four-seater that will compete with the smart fortwo and the Mini Cooper. Just 10 feet long, the 2011 Scion iQ will arrive early next year and will achieve a combined fuel economy in the "high 30s," according to company executives. Toyota also took the wraps off its redesigned Scion tC coupe with a new 2.5-liter, four-cylinder engine that it says generates 190 more horsepower than the current model and has better fuel economy, though specific numbers weren't cited. It will be on sale this fall.
Also jumping on the fuel-economy bandwagon, Hyundai, Lincoln, Porsche and Volkswagen introduced fuel-efficient, hybrid models. The 2011 Hyundai Sonata Hybrid, which goes on sale later this year, will get 38 mpg in combined city and highway driving and will be cheaper than its competitors, according to company officials, though they didn't quote prices.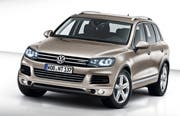 2011 VW Touareg Hybrid
Lincoln's first hybrid, the MKZ hybrid luxury sedan, will arrive this fall as a 2011 model. Pricing will be announced later this year, but the MKZ hybrid will compete with the Lexus HS 250h, which starts at $34,650. Porsche's entry into the hybrid market will be with its Cayenne SUV, going on sale this fall. Starting at $67,700, the 2011 Porsche Cayenne S Hybrid produces 380 horsepower and offers the fuel economy of a V-6 engine.
Volkswagen also introduced its first hybrid at the show. The Touareg Hybrid SUV is equipped with a 3.0-liter, supercharged, direct-injection V-6 gasoline engine paired with an electric motor that produces 375 horsepower and is expected to get 25 city/21 highway mpg. Pricing will be announced later this year.
Bankrate's content, including the guidance of its advice-and-expert columns and this Web site, is intended only to assist you with financial decisions. The content is broad in scope and does not consider your personal financial situation. Bankrate recommends that you seek the advice of advisers who are fully aware of your individual circumstances before making any final decisions or implementing any financial strategy. Please remember that your use of this Web site is governed by Bankrate's Terms of Use.
Read more Driving for Dollars columns and Bankrate auto stories. If you have a car question, e-mail it to us at Driving for Dollars.
More From Bankrate