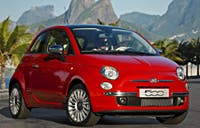 After emerging from bankruptcy five months ago and forming an alliance with Italy's Fiat SpA, the new Chrysler announced its five-year product plan in a press conference recently. The lengthy presentation, more than eight hours in total, outlined that the company will redesign many of its current cars and trucks over the next two years while designing many new vehicles with Fiat-based powertrains and platforms in the future.
Later this year, Dodge will first unveil a new interior for its 2010 Caliber compact car, as well as a new marketing strategy. Later in 2010, Dodge will introduce a full-size, seven-passenger crossover, replacing the Durango. The Avenger sedan, Caravan minivan, Charger muscle car and Journey SUV will be updated. The Ram pickup will be moved to a new brand, called Ram, which will focus on work trucks and commercial vehicles. The Dodge Dakota pickup will be discontinued after 2011. There's been no word on if it will be replaced.
Next year, the Chrysler Sebring midsized sedan will get a mild makeover with performance and handling improvements and a new interior. The Chrysler 300 full-size sedan also will be redesigned. The U.S. version of the Fiat 500 will also arrive at the end of 2010 and will be offered with a 1.4-liter inline four-cylinder, clean diesel engine. Wildly popular overseas, the 500 is a small four-seater with a retro look. It will be sold at some Chrysler dealerships in major metropolitan areas which will have a dedicated Fiat area within the store with Fiat-specific salespeople.
For Jeep, a completely redesigned Grand Cherokee will arrive in May 2010, while the Patriot and Compass will get a modest makeover. In 2011, the Jeep Wrangler will be updated and will get a new interior. Also by the end of 2011, there will no longer be any Chrysler Group dealerships with a stand-alone nameplate. All dealerships will offer the three main brands — Chrysler, Dodge and Jeep — while some will carry Fiat and Ram brands.
Beginning in 2012, the Chrysler Group will offer an array of new vehicles based on Fiat models in all of its brands. Executives said that by 2014, 56 percent of the vehicles in the Chrysler Group's brands will be built on Fiat platforms. Part of the reason for the heavy use of Fiat's technology is that it offers fuel-efficient powertrains and can give the Chrysler Group a dramatic boost toward meeting the new 35.5 mpg federal fuel economy standard that goes into effect in the 2016 model year.
The Chrysler Group provided some basic details about many of the models in the works for the 2012 model year and beyond. Chrysler will get four new models — a new compact sedan in 2012, while 2013 will bring a new small Fiat-based car, a midsized sedan to replace the Sebring and a new midsize crossover. In 2014, a fully redesigned Chrysler Town & Country minivan will be introduced.
Planned for the Dodge brand in 2012 is a new Dodge sports car to replace the Viper, a new sedan to replace the Avenger, as well as a small hatchback and a car that will compete with the Ford Focus. The Jeep Patriot and Compass SUVs will be discontinued after 2012 and replaced by one vehicle in 2013. Also in 2013, an SUV that's smaller than the Patriot is expected, while the Liberty will be redesigned and based on a Fiat platform.
All of these product changes are being made with an eye on financial stability. Although the company gave no price ranges for the new cars, executives expect the Chrysler Group to begin breaking even next year. By 2014, when it will have an almost entirely new product line, the Chrysler Group estimates that it will be generating a $3 billion net profit and expects to completely repay the $12.5 billion it received in U.S. government loans.
If you have a car question, e-mail it to us at Driving for Dollars. Read more Driving for Dollars columns and Bankrate auto stories.