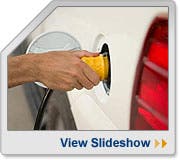 With 52 diesel, electric and hybrid cars currently on the market and more in the pipeline, going green with an alternative-fuel car couldn't be easier.
Thanks to increased consumer demand, combined with more stringent federal fuel economy standards, the choices for a fuel-efficient diesel, electric or hybrid car now suit nearly every taste — from family-friendly to top-notch luxury, from sporty to environmentally sensitive — and in virtually every body style imaginable.
What's more, as a greater number of alternative-fuel cars have come to market, the prices have decreased. Though you still pay a premium for these cars over their fuel-efficient, gasoline counterparts, the price difference is on the decline. Car buyers have a large selection of prices under $30,000 — and several under $23,000. Federal tax credits also still apply to electric cars, making the car prices even more affordable. For those looking to save even more, diesels and hybrids have been on the market long enough that used models are available.
While interest in buying an alternative-fuel car abounds, so do the myths about the safety, reliability and maintenance costs of these fuel-efficient cars. Even so, car shoppers' worries are largely unfounded. In general, alternative-fuel cars, whether they're diesel, electric or hybrid, are no more expensive to maintain than their traditional gasoline counterparts.
The same goes for reliability. The components specific to these cars are designed to last for the long haul. The battery packs in hybrid cars and electric cars have warranties for 100,000 miles and are expected to last much longer.
As far as safety, diesel, electric and hybrid cars must meet the same safety standards as their gasoline counterparts. The electric components in hybrids and electric cars are designed to shut down in a crash, and emergency responders throughout the U.S. have special training that allows them to respond to any injured parties safely.
Perhaps the biggest issue with buying an alternative-fuel car is determining whether the amount saved in gas is worth the price premium over the long haul. For diesel cars and hybrids, making the math calculations is relatively easy. Follow this process and only compare the savings between the alternative-fuel car you are considering and its gasoline counterpart. Once you've determined your fuel savings, factor in the difference in car prices between the two vehicles to get the full picture.
Determining how long it will take to recoup your additional investment on an electric car is more challenging. Because no gas is used on the electric car, the cost of the electricity must be calculated, instead. That can vary widely, depending on where and when the recharging happens.
Whether you are considering buying an alternative-fuel car to save on gas, to be greener or to be an early adopter of new technology, it's pretty easy to put one on your short list as you shop for a car.