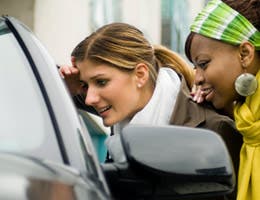 7 new cars for your 'spring fling'
Ah, spring, the time when a young man's fancy turns to thoughts of love, or in some cases, to a shapely, fun-to-drive new car — an automotive "spring fling" — that might turn into a permanent love affair.
Naturally, expensive luxury cars — like the 2011 Bentley Continental Supersports Convertible, priced about $280,000 — have no trouble filling the bill.
But you don't have to be rich to have fun. The newest small cars, like the Fiat 500 — which Chrysler will offer in the United States later this year — are shedding their old "econobox" images, and are distinctively styled and fun to drive.
Here are seven great "spring fling" cars we found at the 2010 New York International Auto Show. They range from high-end to low-end, but they're all high on emotional appeal.
Bentley Continental Supersports Convertible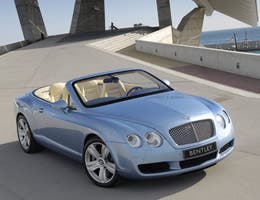 Why it's worth a fling: The sound effects
Starting price: $280,400
On sale: July 2010
The scientific side of Bentley's engineers got 612 horsepower from the 6.0-liter, 12-cylinder engine and 590 foot-pounds of torque that propels this sleek luxury car from zero to 60 mph in a Porsche-like 3.9 seconds. The artistic side of Bentley's engineers designed the car's exhaust system to resonate like a pipe organ. When you lift your foot off the gas it makes a low-frequency "burble" sound that makes you wish you had that kind of money.
BMW 335is Convertible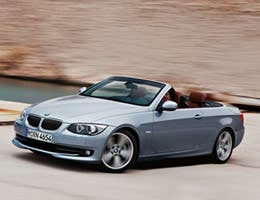 Why it's worth a fling: Open-air fun
Starting price: $59,075
On sale: May 2010
Buyer beware: The BMW 335is Convertible is one of those cars you might drive 90 mph on the highway without meaning to — because the car makes it so easy you might not notice. The "s" stands for "sport" and the "i" means it's fuel-injected. The new model is sporty, because it's got a turbocharged six-cylinder engine that produces 320 horsepower. For the first time on the 3 Series, BMW will offer an optional seven-speed automatic transmission. That helps with a fast takeoff from a standing start, but it also saves fuel at highway cruising speeds.
Fiat 500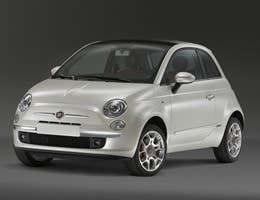 Why it's worth a fling: It's cute, cute, cute.
Starting price: $15,000 range (estimated)
On sale: December 2010
Italy's Fiat is now Chrysler's parent company. The two automakers have big plans to share future models over the next five years, but U.S. sales of the Fiat 500 will start in December 2010. So far, it's the only Fiat-branded model headed for the U.S. market. Fiat launched the newest generation of the mini car in 2007 in other world markets and has largely lived down its "Fix It Again, Tony" reputation with good quality and distinctive styling. Americans who remember notoriously unreliable Fiats from the 1980s will be a harder sell.
Kia Optima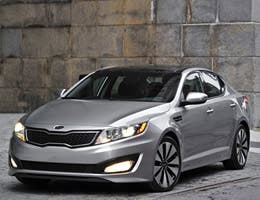 Why it's worth a fling: Styling, value for the money
Starting price: $18,690
On sale: September 2010
Kia historically has been just about the opposite of an emotional brand, unless bargain-basement cars make you emotional. But Kia is on a roll, thanks to a series of new models in new product segments, much more attractive styling and a growing reputation for above-average quality. Kia has gone a bit out on a limb with snazzy styling that people could either love or hate. The new-generation Kia Optima is a much better looking car than the model it replaces. There will also be a gasoline-electric hybrid version starting next year.
Mazda2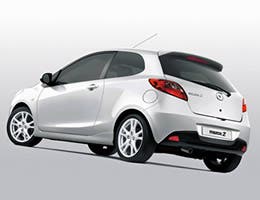 Why it's worth a fling: Zoom-Zoom in a smaller package
Starting price: $14,730
On sale: July 2010
The Mazda2 is already popular in Europe and Japan, where it's called the Demio. The U.S. market gets the Mazda2 this summer — a small, 1.5-liter, four-cylinder engine that generates 100 horsepower. That's not a lot of power, but the Mazda2 is a small package, so ride and handling should be good. The upside is estimated highway mileage of 35 mpg. Starting with the Mazda2, the company is adding a brake-override feature on all its U.S. models to ensure the brake always overrides the accelerator in case both are pushed at the same time.
Nissan Juke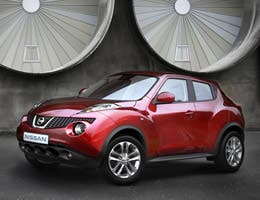 Why it's worth a fling: Maybe a Juke, but it's not a box.
Starting price: (Estimated) just under $20,000
On sale: September 2010
The Juke is Nissan's smallest crossover yet, combining SUV-like styling with small-car ride and handling. Unlike the aptly named Nissan Cube, the Juke isn't boxy. It's shapely and rounded like its bigger Nissan brothers, the Murano and the Rogue. The Juke has a 1.6-liter, four-cylinder engine that uses gasoline direct injection to produce a surprising 180 hp. Direct injection, which is starting to show up on a lot of cars, squirts gasoline into the engine under much higher pressure in computer-controlled bursts, increasing efficiency.
Subaru Impreza WRX STI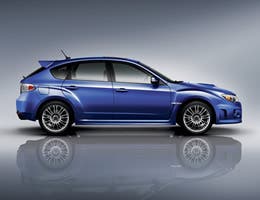 Why it's worth a fling: You can drive it cross-country — or look like you could.
Starting price: (estimated) low-$30,000 range
On sale: August 2010
Subaru is offering the Impreza WRX STI in a five-door 'hot-hatch' body style which combines a hatchback with sporty performance — a combination far more popular in Europe than the United States. There's also a four-door version, with an oversize "wing" spoiler on the back. The spoiler is bit over the top for all but hard-core WRX fans. The company originally created the WRX version of the more sedate Subaru Impreza to participate in off-road rally racing, something else that's popular in Europe but little-known here.