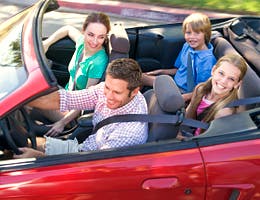 Make the switch to a one-car family
After the mortgage payment and taxes, car costs usually account for the next biggest line item in the household budget.
Multicar families have become the standard in recent decades. But with the economy putting the squeeze on household finances, eliminating a car can translate to huge savings.
How does an extra $62,000 sound?
Give up one of the family cars and sock away the monthly expenses and that's about how much you could save over five years, according to Heathrow, Fla.-based AAA.
"It's a very large expenditure that day after day is worth less. So it's a good place to look in the family budget," says Bill Gerhard, director of AAA financial services.
Shuttling your family around in one car isn't easy, but it's doable with proper planning.
Here are five suggestions that experts make for transitioning to a single set of wheels and making the most of the savings.
Find another means of transportation
Carpooling with a spouse or co-worker and relying on public transportation are two common alternatives for one-car families. Depending on the distance of your commute, bicycling and walking to the office are other low-cost alternatives, weather permitting, Gerhard says.
The dawn of the virtual office is allowing one more option — no commute at all. Gerhard suggests asking your employer about telecommuting, which is becoming more popular as offices downsize their space.
Whichever mode you choose, conduct a trial run to work out any logistical challenges.
"Say you're going to park the car for a month and not even touch it," Gerhard says. "Maybe some unexpected things will crop up."
Budget for some car and commuting costs
The savings may be substantial, but the single-car lifestyle won't be a free ride.
It costs less to insure one car, but it might not be half as much. That's because many auto insurers offer multicar discounts, such as State Farm's reduction of 5 percent to 20 percent of the premium, says State Farm spokesman Dick Luedke.
"The more cars there are in one household, the less mileage per car is driven. So the risk is lower," Luedke says.
There are also transportation costs to consider. For example, a 30-day subway pass in Atlanta or Boston costs about $60 per month.
And even the best commuting strategy should include a backup plan for emergencies such as when the car is in the shop. If you can't hitch a ride, that might mean renting a car for days or weeks.
Be wise about which car to keep
This means striking a balance between what's best for your wallet without shortchanging your family's needs.
The car's resale value should factor into your decision. Even a 5-year-old car that's been paid off could bring in a respectable chunk of change. For instance, a 2005 Honda Accord with 55,000 miles on it and in average condition would resell for $11,215, according to Consumer Reports.
Also, look at outstanding leases. If you're upside down on one lease, this wouldn't be the best time to get rid of that car, Gerhard says.
Then you'll need to decide which features your family car needs, whether your choice is determined by your daily gas-guzzling, cross-county commute or by the heavy loads you haul around town.
"You need to be mindful that now that this is your sole vehicle, you'll have to think about all the things you're going to need it for?" Gerhard says. "It can't be single-purpose if it's going to be your only car."
Also, factor in the extra mileage and wear and tear that the remaining car will incur.
"With more miles, come greater depreciation and more maintenance," says Jeff Bartlett, deputy editor online for autos for Consumer Reports.
Unload your second car
The method you choose for getting rid of an unwanted car might steer some additional cash your way, Gerhard says.
"If you really want to try to get top dollar, sell it yourself," he says.
If convenience trumps money, Gerhard suggests seeking an auto broker or used car seller such as CarMax or AutoTrader.com.
Donating the car is good if you're feeling philanthropic, but tax write-offs vary, depending on the car's charity auction value, he says. Alternately, if you've got a clunker, the local salvage yard might tow the car for free and pay you for the parts.
Develop a savings strategy and stick to it
Don't be too quick to re-absorb that monthly payment.
"If you really want to try to get top dollar, sell it yourself," he says.
You could end up with $15,508 in five years by having your car note redirected to a money market account with 1.35 annual percentage yield, or APY, assuming a monthly payment of $250, Gerhard says.
In addition, it costs $46,845 to own a car for five years, according to AAA. That includes fuel, routine maintenance, tires, insurance, license and registration, loan finance charges and depreciation costs for a car that is driven 15,000 miles a year.
The savings comes to $62,353, which could be used to pay for needed repairs on the remaining car, Gerhard says. Or, you could use it to buy your next car with cash.
"You'd really have a nice pot of money," he says.
Read more about cars at Bankrate.com