New cars to warm your soul in winter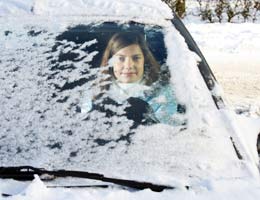 Typically, a roundup of the "best winter cars" focuses on all-wheel-drive, heated mirrors and seats, engine block heaters and so forth. Of course, these are features catering to physical needs. However, for many, their car represents an emotional investment. It's the sizzle as much as the steak.
Yes, "getting there" is key, but making a statement as you do it is every bit as important. With that in mind, here is a list of five of the best cars to give your spirit a boost this winter.
Rather than concentrating on traditional "winter features," this list includes cars with the power to lift your morale and brighten your disposition year-round. Four are all-new models and one has been totally redesigned for 2011. Each earned its place on this list because it has the power to make your morning slog less tedious and more fun to drive, snow or shine.
BMW Alpina B7 SWB xDrive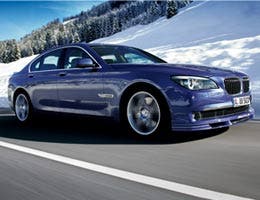 Price: $127,175
Based on BMW's 7 Series, the Alpina B7 is the sporty version of BMW's flagship sedan. Alpina is to BMW what AMG is to Mercedes-Benz. Available in standard or long wheelbase, and in rear-wheel-drive or all-wheel-drive, the Alpina B7 provides an extra degree of performance for those sufficiently well-heeled drivers requiring an extra dose of excitement.
The 500-horsepower, twin-turbocharged, 4.4-liter, all-aluminum V-8 catapults the Alpina B7 to 60 miles per hour in under five seconds. Keeping the driver involved, the manual-shift mode on the six-speed automatic transmission is operated through steering wheel-mounted shift buttons.
Alpina-specific interior touches include Myrtle burl wood accents, Alpina logos on the seat backs, illuminated door sills and a black-panel LCD instrument cluster. Suffering through winter has never felt so good, and the all-wheel-drive certainly increases your chances of getting you where you are going.
Cadillac CTS-V Sport Wagon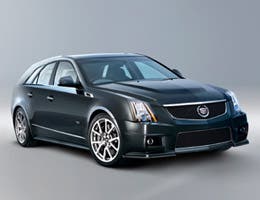 Price: $64,290
Although Cadillac introduced the CTS Sport Wagon for 2010, the "V" model is new for 2011. It's the high-performance version of the 2010 stylish wagon that can be had for as little as $40,990. Alas, the new CTS-V Sport Wagon is exclusively rear-wheel-drive and does not come in an all-wheel-drive version. Output from its 556-horsepower, supercharged, 6.2-liter V-8 is delivered to the 19-inch wheels via a six-speed manual or a six-speed, driver-shiftable automatic transmission. Sprinting from zero to 60 mph takes just more than four seconds.
The passenger space is taken directly from the CTS-V sedan model, meaning state-of-the-art technology, high-grade materials, meticulous craftsmanship and uncompromising comfort. Once plentiful on America's roads, wagons are a relatively rare sight today. However, the Sport Wagon's versatility and handsome styling are tough to ignore. This is particularly true when combined with the heat-seeking missile acceleration of the V edition. It gives new meaning to being cool in winter.
Hyundai Equus Ultimate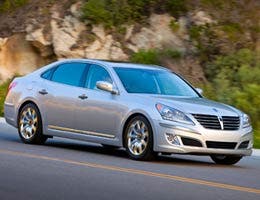 Price: $65,400
Putting to shame some high-end sedans costing $25,000 to $30,000 more, the Equus Ultimate is Hyundai's solution to limousine-like accommodations at a luxury sedan price. That should make anyone feel warm and fuzzy. Its 385-horsepower, 4.6-liter V-8 might lack some of the performance of others on this list, but in conjunction with the six-speed, driver-shiftable automatic transmission, it can send the rear-wheel-drive Equus to 60 mph in less than seven seconds.
With nearly 40 inches of rear-seat legroom, there are no second-class passengers. Seating four, Equus Ultimate features heating-cooling-massaging seats, fore and aft. The rear seats recline with a passenger-side, power foot rest. Containing a mini-refrigerator, the rear center console has controls for the climate and rear-seat, DVD entertainment systems. A 17-speaker Lexicon surround-sound system with iPod interface and six-disc CD changer is standard. A navigation system, Bluetooth connectivity and an Apple iPad are also included in the price.
Lexus CT 200h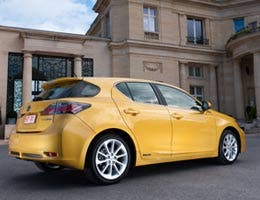 Price: $31,000 (estimated)
Scheduled to arrive in showrooms in early 2011, the Lexus CT 200h is a compact luxury hybrid four-door hatchback. Using the hybrid system lifted from the Toyota Prius, the CT 200h will generate a combined 134 horsepower from its 1.8-liter, four-cylinder engine and electric motor system. A continuously variable transmission, or CVT, delivers power to the front wheels. Four driving modes include a "Sport" setting, which will deliver the most dynamic performance and a leisurely sub-10 second zero-to-60-mph time, while the "Eco" mode offers the most fuel efficiency and an estimated 42 mpg combined city/highway mileage.
Unlike the rather Spartan furnishings in Prius, the CT 200h presents itself as a luxury car befitting the Lexus brand. Available features such as leather seating and a hard-drive-based navigation system with 40 gigabytes of storage flesh out a standard-features list, including dual-zone climate control, iPod interface and Bluetooth cell phone connectivity.
Volvo S60 T6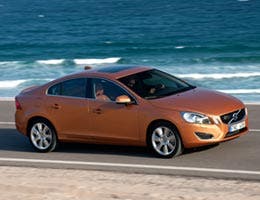 Price: $38,550
Arguably the most stylish sedan from this Swedish carmaker ever, the redesigned Volvo S60 is a sport coupe in sedan disguise. The S60 T6 is the top-of-the-line version of a model that will eventually include less-expensive versions. It possesses all of the safety features for which Volvo is known, such as the new Pedestrian Detection with Full Auto Brake that recognizes pedestrians who are at least 31 inches tall and will brake to a stop for them at speeds of 21 mph or less.
Meanwhile, the S60 T6 is capable of going much faster, thanks to its 300-horsepower, 3-liter turbocharged, inline six-cylinder engine. Sending engine power to all the wheels is the task of a six-speed, driver-shiftable, automatic transmission that helps the S60 T6 reach 60 mph in just over six seconds.
All of the luxury amenities are offered: leather seating, dual-zone automatic climate control and an eight-speaker audio system with iPod interface.
Additional resources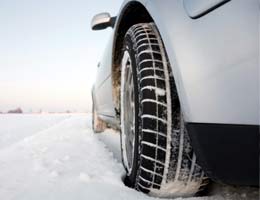 For more information on cars, check out these stories at Bankrate.com.
More From Bankrate