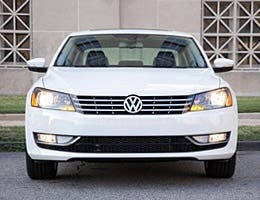 Make a resolution and pick a new car
As we ring in the New Year, it's time to put 2013 behind us and make our 2014 resolutions. Most of these promises to ourselves are never kept, but Bankrate matched five cars with five New Year's resolutions to help you see them through.
Bankrate chose the ideal cars for people who, in 2014, are determined to save money, take that elusive family vacation, spend more time outdoors and a few other goals you may have not considered.
Here's the best part: Even if you fail to fulfill that resolution, you still have a new 2014 model car to drive. Sure, it's like compensating for failure, but surviving 2013 deserves some reward, right?
Bankrate didn't qualify its picks beyond meeting the requirement of the resolution, but does provide the car's entry-level price and estimated fuel economy. Prices don't include factory delivery charge.
Put some distance between you and 2013 with one of Bankrate's New Year's resolution cars and take a first step toward meeting your goal.
Ford Flex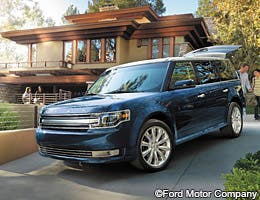 Entry-level price:

$31,100

Gas mileage:

City – 18 mpg
Highway – 25 mpg
Combined – 20 mpg

Resolution:

Take a long family road-trip vacation
Perhaps one of the reasons you've been putting off that family road-trip vacation is that you just can't imagine spending hours a day cooped up with the family in a vehicle better suited for short hops to the grocery store or softball practice. Ford's Flex wagon may be all you need to look forward to that trek to the Grand Canyon or Grandma's.
Seating up to seven in three rows of seats, Flex offers a lot of standard features like rear parking sensors and voice-activated Bluetooth connectivity even in its base trim as priced here. Every new Flex gets its go from a 287-horsepower, 3.5-liter V-6 and six-speed, driver-shiftable automatic transmission.
Available options include the PowerFold third-row seat that provides a flat load floor, and active park assist that lets Flex parallel park itself.
Chevrolet Sonic Sedan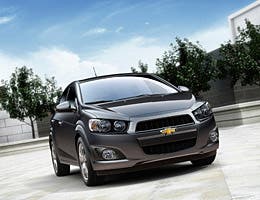 Entry-level price:

$14,170

Gas mileage:

City – 26 mpg
Highway – 35 mpg
Combined – 30 mpg

Resolution:

Save more money
As with any habit, saving must be repeated to be learned. Sometimes, we must force ourselves to spend less by trading in that big, old, honkin' gas guzzler for a smaller, fuel-stingy ride. There are other sensible choices out there, but Bankrate picked the widely acclaimed Sonic that was recommended by Consumer Reports and a top safety pick of the Insurance Institute for Highway Safety.
A 138-horsepower, 1.8-liter four-cylinder engine and six-speed manual transmission turn the front wheels. For even better fuel savings, an available turbocharged engine delivers an estimated 40 mpg on the highway. Surprisingly roomy, Sonic's trunk has more cargo room than the larger Honda Civic.
Standard on even the base Sonic are 10 air bags and Bluetooth connectivity. It offers available crash-avoidance technologies, like forward collision alert and lane departure warning, usually found only in more expensive cars.
Nissan Quest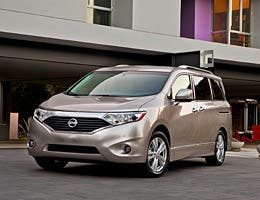 Entry-level price:

$25,990

Gas mileage:

City – 19 mpg
Highway – 25 mpg
Combined – 21 mpg

Resolution:

Spend more time with the kids
Making a vehicle kid-friendly requires more than just seating capacity. Versatility is important, too. Quest is one of those minivans that does it all. Its available quick-release, fold-flat, second- and third-row seats provide multiple seating configurations, as well as an expansive flat-load cargo floor. Available power-sliding side doors and rear hatch enhance convenience.
No matter the model, giddy-up comes from a 260-horsepower, 3.5-liter V-6 and continuously variable transmission.
Theater-style second- and third-row seats provide everyone with excellent visibility. An available conversation mirror allows the driver to make eye contact with the kids in back without turning around. Six air bags are standard.
Available options include Around View Monitor with cameras offering a 360-degree view around the van, tri-zone automatic climate control and blind-spot warning.
Subaru XV Crosstrek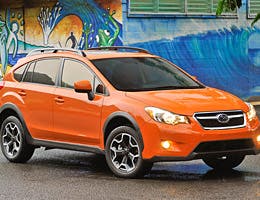 Entry-level price:

$21,995

Gas mileage:

City – 23 mpg
Highway – 30 mpg
Combined – 26 mpg

Resolution:

Spend more time outdoors
To spend more time outdoors, you need to get to the outdoors. The XV Crosstrek is a fun way to do just that. Specializing in all-wheel drive, Subaru's symmetrical all-wheel drive is standard on all XV Crosstreks. Its highly competent all-wheel and 8.7 inches of ground clearance — an inch more than Ford's Explorer — mean it can get you just about anywhere you might need to go.
Turning the wheels is a 148-horsepower, 2-liter flat-four-cylinder engine and five-speed manual transmission. Its flat design keeps the vehicle's center of gravity low for better stability on and off pavement. Standard foul-weather gear includes heated front seats, heated outboard mirrors and windshield-wiper de-icers. Bluetooth connectivity is also standard.
As capable as the XV Crosstrek is, you don't need to leave the road to enjoy it.
Volkswagen Passat TDI Clean Diesel SE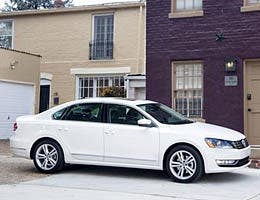 Entry-level price:

$26,295

Gas mileage:

City – 31 mpg
Highway – 43 mpg
Combined – 35 mpg

Resolution:

Fly less, drive more
Flying certainly isn't what it used to be. To keep up with increasing costs and competition, airlines have turned the flying experience into a no-frills cattle call, while beefed-up airport security has become a time-consuming, frustrating tooth pull. There probably isn't a frequent flier alive who hasn't at least dreamed about traveling less by air and more by car. The Passat TDI is another serious incentive for making that switch.
When longer-distance travel is involved, highway mileage is everything. Passat TDI's 43 mpg translates into a distance of about 800 miles between fill-ups. But Passat is no econobox. Seating five adults, its seats have extra thigh support for less stress on those road trips. Bluetooth connectivity and a trip computer are standard.
Under the hood is a 140-horsepower, 2-liter turbocharged clean diesel. A six-speed manual transmission turns the front wheels.