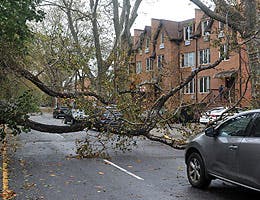 How to navigate roads after a disaster
There are typically more than 100 declared disasters in the United States every year, according to the Federal Emergency Management Agency. Millions of families are caught in areas that experience tornadoes, fires, hurricanes and floods.
When the worst of any disaster is over, it's understandable that a driver may want to drive around and assess the damage, says Jim Lardear, director of public and government affairs for AAA's mid-Atlantic office in Wilmington, Delaware.
But it is important to know when it's safe for driving. "You have to use common sense and drive with caution," Lardear says.
Here are four helpful points for navigating roads in a disaster area.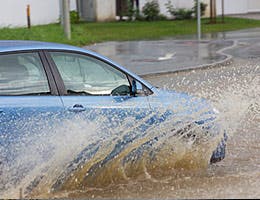 Be wary of large water puddles
If you encounter standing water on any streets, don't attempt to drive through, Lardear says.
"A puddle in a regular rainstorm is just water that gets splashed around, but when significant flooding happens, it can conceal a very deep pothole or even where the road ends," he says.
David Darg, vice president of international operations for Operation Blessing International from Virginia Beach, Virginia, says drivers sometimes aren't aware of how serious even minor flooding can be.
"Drivers often underestimate how quickly a car can stall and will drive through shallow water and end up getting stuck. That can be extremely dangerous," Darg says.
Small amounts of water also can cause hydroplaning. According to the Centers for Disease Control and Prevention, it takes only 6 inches of flooding on a road to cause a driver to lose control of the car.
Lardear says another danger of puddles is that they can hide the presence of dangerous power lines. Even if they're not hidden, they represent another danger when driving through a disaster area.
"Always assume a down power line is live," Lardear says. Don't go near it. However, if a power line falls across your vehicle while you're in it, stay inside your car and keep driving away from that line, according to CDC guidelines.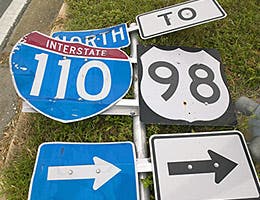 Dodge damaged road signs
"Street lights and traffic signs may have been taken out by the storm," says State Farm spokesman Justin Tomczak. If they are, and you are not familiar with the area, it's best to wait before navigating the roads.
Lardear says even if some road signs remain, don't assume that complete traffic and area information is available. If you come to an intersection where the traffic lights aren't functioning, treat the intersection as if there is a stop sign.
"You have to proceed with extreme caution," he says. "All the other drivers are in the same position as you, so if you're not getting clear instructions, other drivers are not as well."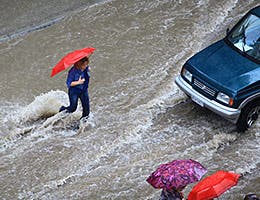 Beware of pedestrians
If you do venture out on the road, focus on what's in front of you and remain alert, Tomczak says. "It is very easy to get distracted looking at damage and not keep your full attention on what lies ahead," he says.
Lardear says that what lies ahead could be another person, such as a first responder or neighbor.
After a storm, pedestrians may be outdoors and in areas you don't expect them to be. "People may be wandering around, they may not be paying attention to you, and they may not be wearing bright clothing," he says. "Go slow."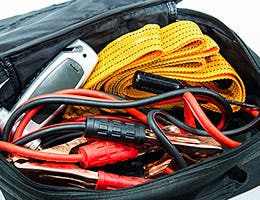 Carry an emergency kit
Most drivers have at least one emergency item in their trunk such as jumper cables or a spare tire, Tomczak says. But a State Farm survey in January 2014 found that only 5 percent carry all essential emergency roadside supplies.
This doesn't bode well for drivers who venture out in a disaster and become immobilized due to street damage. "You do not know the impact the storm may have had on road conditions," Tomczak says. You could find yourself stranded for several hours.
Drivers should take time before disaster strikes to make sure they have the necessary supplies. Many automotive and department stores have vehicle emergency kits that can be purchased for around $50. Tomczak says a good emergency kit should include the following:
Jumper cables
Spare tire
Hazard triangle/road flares
Flashlight
First-aid kit
Water
Blanket
Car owners also should have their cellphones with them. "It's probably the easiest way you'll be able to communicate," AAA's Lardear says.
Before any disaster strikes, make sure the cellphone is fully charged. If you choose to venture out on the roads, take a battery charger to make sure the phone continues to have power.