Consumer Financial Protection Bureau in GOP cross hairs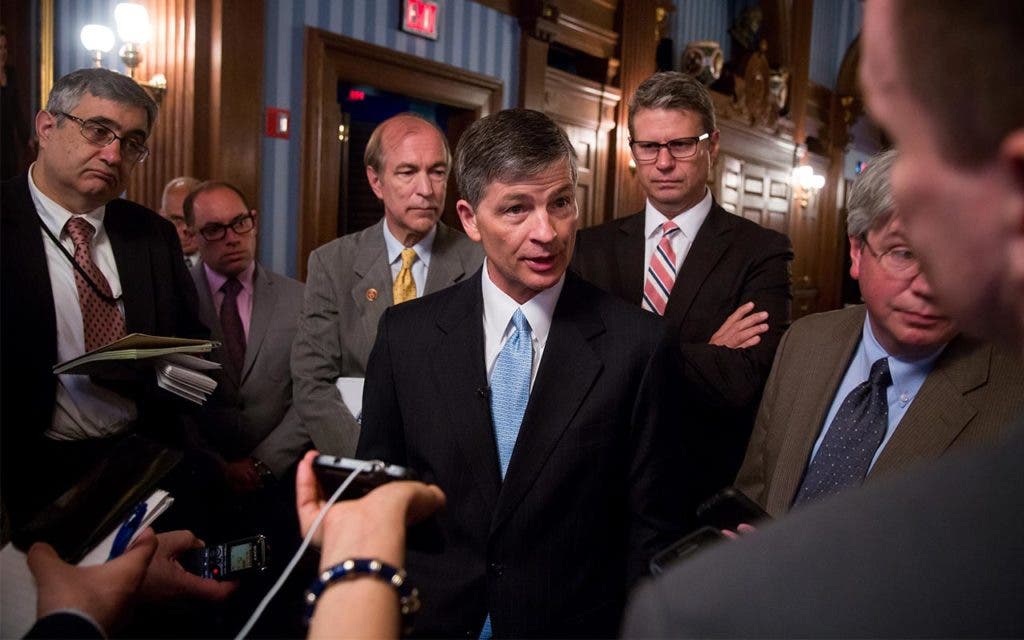 The Dodd-Frank Wall Street Reform and Consumer Protection Act — designed by Democrats, despised by Republicans — is under fire from the GOP.
A new bill sponsored by Rep. Jeb Hensarling, the Texas congressman who heads the House Financial Services Committee, would greatly reduce financial services industry regulations established in the wake of the financial crisis. These regulations were designed to try to prevent a similar crisis.
And since the Consumer Financial Protection Bureau was created by Dodd-Frank, the CFPB is in Republican cross hairs, as well.
"Among the bill's provisions," the website Consumerist wrote, "are sections that would require the agency to get congressional approval before taking enforcement action against financial institutions, restrict the Bureau's ability to write rules regulating financial companies, and revoke the agency's authority to restrict arbitration."
Rep. Hensarling has an issue with @cfpb branding. He wants a name change: "Consumer Law Enforcement Agency" https://t.co/TXSXw3rlU3 #cfpb pic.twitter.com/tfkeQbD4sS

— C(harles)Ryan Barber (@cryanbarber) April 20, 2017
What the CFPB can do
The CFPB has a pretty long reach. This regulating, rule-writing agency can check in on banks, credit unions, securities firms, payday lenders, mortgage-servicing operations, foreclosure relief services, debt collectors and other financial companies.
It's studied how you get a mortgage and the risks posed by credit cards.
But perhaps its reach is too long. Critics say it has too much power and not enough accountability.
Maybe the CFPB even helped you
If you have ever been harassed by a debt collector or you couldn't get a loan because of a mistake in a credit report, you may want to get to know what the CFPB does, because it's these types of issues that the government watchdog agency has worked to address.
The CFPB has been instrumental in consumer fixes to the system, says Edmund Mierzwinski, consumer program director at the U.S. Public Interest Group. The agency has returned nearly $12 billion to consumers since 2011.
#CFPB fate is in limbo, but Americans are still having problems w/ #mortgage servicing, by the thousands HT @trulia https://t.co/cFs53bh8dw

— Andrea Riquier (@ARiquier) April 19, 2017
Proposed changes
Here's what the Financial Choice Act seeks to change:
The authority of the director. Hensarling would like to greatly reduce the director's authority and make this position answerable to Congress. If this act passes, the president could fire the director for any reason. Right now, Director Richard Cordray can be fired only "for cause." You know, like punching someone or stealing.
Costs. The bill wants to establish an Office of Economic Analysis. "It needs to consider the OEA's analysis before bringing in a new rule or enforcement action," says Brian Knight, a senior research fellow for the financial markets working group at the Mercatus Center at George Mason University in Fairfax, Virginia. "I don't see that it imposes a rule that says if cost exceeds benefits, they can't do it. But they'd have to consider the analysis."
Funding. The CFPB is funded through the Federal Reserve. Hensarling's proposal would make the CFPB subject to congressional appropriations.
Ability to write rules. The agency can now act freely to write regulations across specific laws as it sees fit. This authority – the Unfair, Deceptive or Abusive Acts and Practices authority — would be eliminated.
What's next
The Financial CHOICE Act of 2017 is set for a hearing before the House this week. Both sides have similar comments:
Chances of passing are slim.
Even if this passes the House, it's dead on arrival in the Senate.
The fight's going to continue.
"This is a major reform. It will be controversial," Knight says.