Moneyfarm is one of the easiest ways to invest in a stocks and shares ISA. You can sign up and invest some money (or transfer an existing ISA) in about 10 minutes, via a mobile app or website. Stocks and shares ISAs can provide some amazing returns – gains of up to 10% per year – but you should always remember that they can go down as well as up. If you're okay with a higher level of risk, Moneyfarm is a great way to grow your savings – if you want something safer, consider a fixed rate cash ISA or fixed rate bond instead.
How Moneyfarm works
Moneyfarm lets you invest your savings in the stock market, but without the complexity that would usually entail. You get a small amount of control over how your money is invested, but it's mostly a hands-off experience: you transfer your money to Moneyfarm, and then their team of wealth managers decide how to invest your money. This type of service is sometimes known as a 'robo advisor', as your investment strategy is usually decided by answers to a standard questionnaire rather than discussing things with a human advisor. Other popular robo advisors include Nutmeg, Moola and Wealthify.
Moneyfarm charges a small fee (around 1% per year) for managing your money, but there are no other charges or fees for using the service. You can deposit or withdraw funds at any time, and there's a minimum balance of just £1.
Getting started with Moneyfarm is very easy: either download the app on iOS or Android, or visit the Moneyfarm website. You will need to provide some personal data, such as your name, address, and birthday. After that, all you need to do is transfer some money – either with a manual bank transfer, or via a super-simple direct debit – and that's it: now you have a savings account linked to the stock market!
What's your risk profile?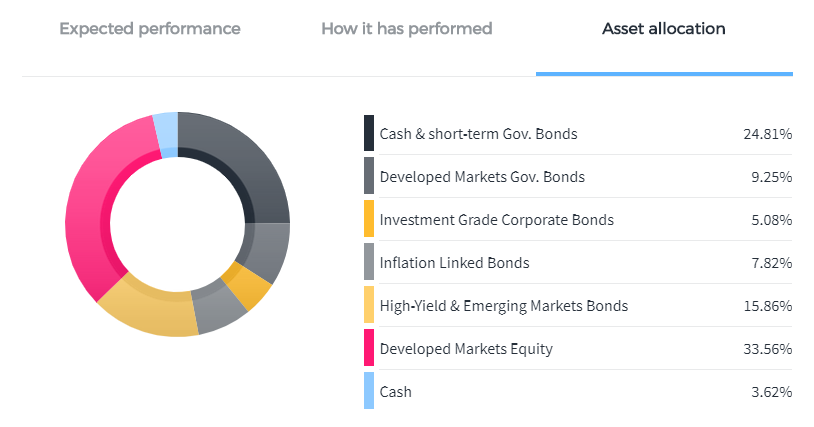 Depending on your risk profile, Moneyfarm invests your money in different assets.
Investing in stocks and shares can provide much greater returns than a fixed-rate savings account, but it's also a lot riskier: if the stock market takes a dive, then so will the value of your savings. Time has shown that, given enough time, the stock market will almost certainly recover – but you might be waiting months or years until your savings start gaining in value again.
Before you invest in stocks and shares, you have to decide how much risk you're willing to take. Are you comfortable with putting all of your savings into a stocks and shares ISA, and then leaving it there (potentially for years if there's a recession) until you've made a healthy return?
Is there a chance that you might need to pull your savings out in the next few months or years? If you put £10,000 in, and then have to withdraw your funds when they're only worth £7,000, would that seriously impact your financial health?
To work out your risk profile, Moneyfarm asks you a few questions. Depending on your answers, you're assigned a risk profile from one to six. In turn, your risk profile dictates where Moneyfarm invests your money – safe government bonds, stocks and shares in developed countries, or riskier high-yield stocks in developing countries. (Moneyfarm's full investment strategy can be found on its site – and you should read it before you invest in a stocks and shares ISA.)
Investing isn't an exact science, but the general idea is that lower risk profiles have smaller variances. If you have a risk level of "1", your savings probably won't lose much value when the stock market dips – but you're also unlikely to gain much when the market has a growth spurt. A risk level of "6" will likely have much larger swings: you could lose a lot – or experience double-digit growth.
To give you some context, here are some hard figures for three of Moneyfarm's risk levels. At risk level "1", Moneyfarm has seen growth of 6.4% since January 2016, or an annualised rate of 2.6%. At risk level "3", they've seen growth of 16.6% since January 2016, or 6.6% annually. At risk level "6" the graph is quite spiky; you could wake up one morning and find 7% wiped off your savings – but overall, since January 2016, there's been 22.6% growth (8.9% annualised). (Risk level 6 had actually been trending towards 30% growth since January 2016, but it took a big hit when the stock markets tanked in February this year.)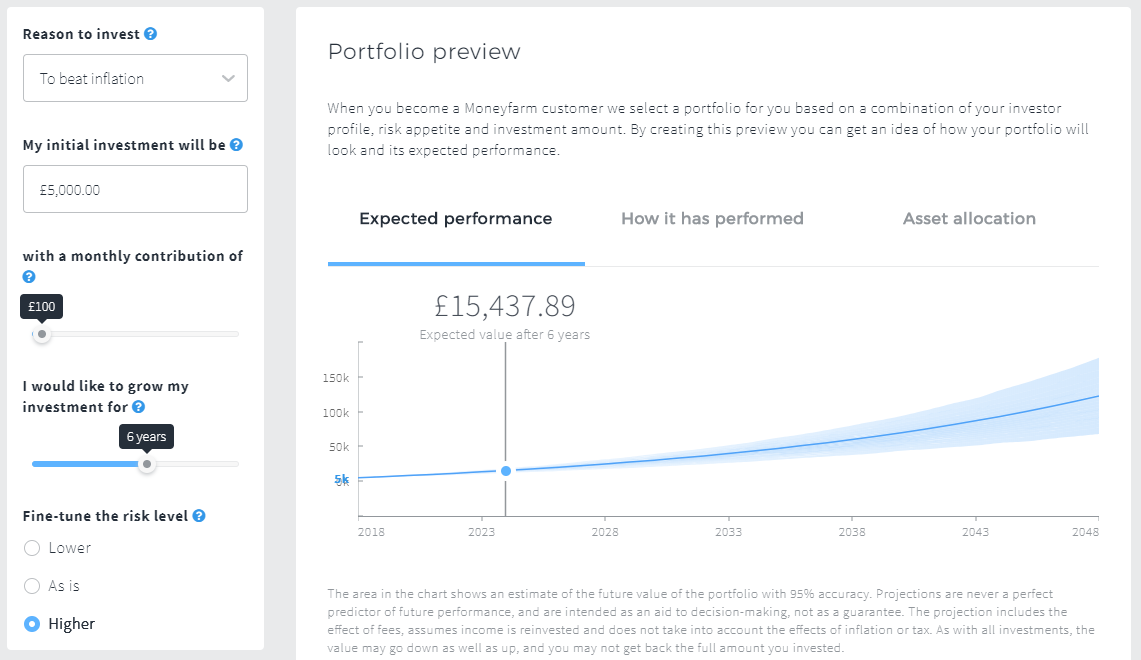 Before you sign up, Moneyfarm gives you a calculator that lets you see how your investment might fare in a stocks and shares ISA.
In short, if you're comfortable with playing the long game – if you're okay with keeping your funds in a Moneyfarm ISA and riding out any downturns – then you could see some really massive gains to your savings.
When you sign up to Moneyfarm, but before you provide any personal details, there's a "portfolio preview" tool that you should play around with. You can key in some figures – initial deposit, monthly recurring deposits, risk appetite, etc. – and see some illustrative graphs and pie charts.
What I like about Moneyfarm
Moneyfarm makes it very easy for me to passively invest in the stock market. I can load up my ISA allowance and then just sit back and be fairly confident that I will see some returns that far outstrip other savings accounts.
I like that Moneyfarm's fee structure is very simple – and the total cost of those fees is comparable to similar online/mobile wealth management services.
I like that I can set up a direct debit, and then instruct Moneyfarm to take money from my account – rather than having to manually transfer funds via my mobile banking app.
Moneyfarm's interface is mostly excellent: I can very easily see the performance of my savings, and it's fairly simple to drill down into the performance of all the individual assets that Moneyfarm has invested my money in.
What I don't like about Moneyfarm
Moneyfarm isn't perfect. The company has clearly tried very hard to make the app and website easy to use, but there's still a fair amount of investor jargon used throughout. Some level of complexity is necessary – stocks and shares are not a simple topic, after all – but I think some areas could be improved.
For example, there's a giant orange button to add funds – but there's no equivalent, easy-to-understand button to take money out. Instead, you first need to click "decrease investment" and then "withdraw funds" – and neither of those buttons are particularly easy to find.
Moneyfarm vital statistics
Products offered: stocks and shares ISA (including transferring in an existing ISA); general investment (same as ISA, but without the £20,000 per year limit); pension (including transferring in an existing pension).
Deposit protection: Moneyfarm holds your money in trust, meaning Moneyfarm's creditors have no access or claim to your money. Up to £50,000 of your investment with Moneyfarm is protected by the financial services compensation scheme (FSCS).
Fees: 1% of your portfolio's value per year, deducted automatically – for example, that's £200 if you max out your £20,000 ISA. Lower fees for larger balances (£20,000+). See Moneyfarm's FAQ for full details. There are no fees or charges for adding or withdrawing funds.
Minimum investment: £1. Add or withdraw funds at any time.
Start using Moneyfarm: Web, iOS, Android.
Did you find this useful?
Last updated: 31 May, 2019