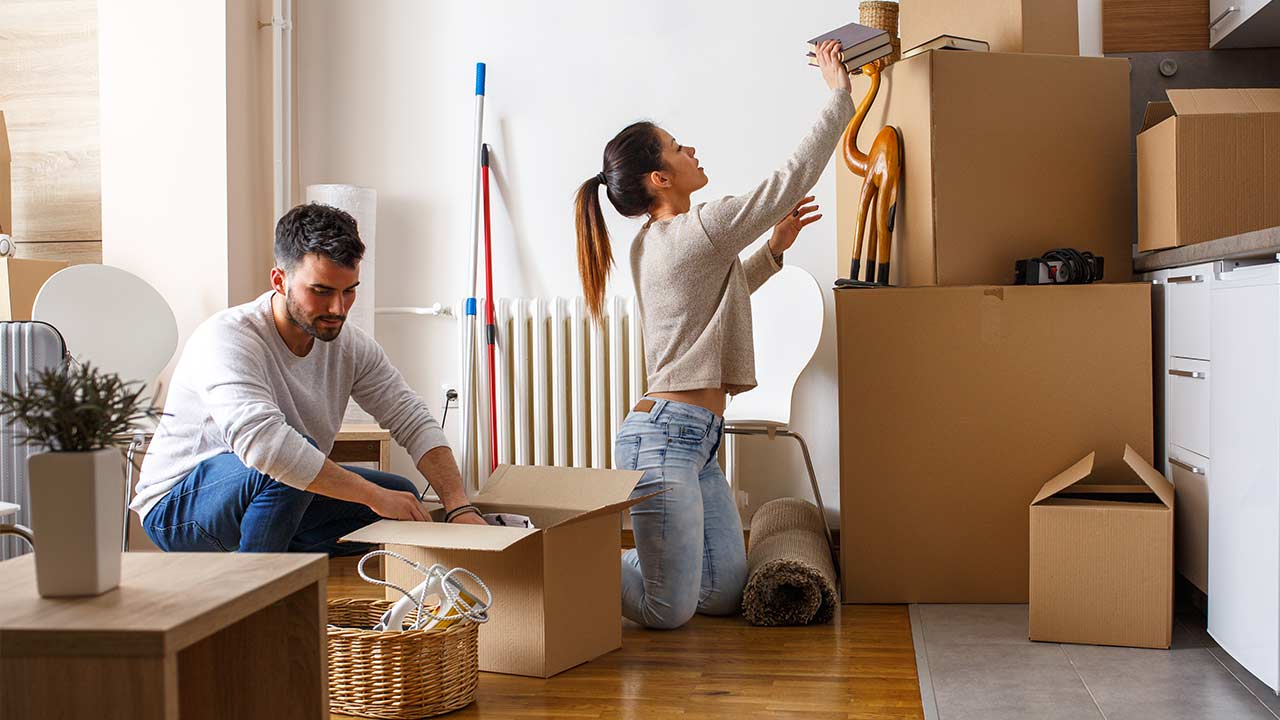 If you're a first time home buyer, there are special first time buyer mortgages and other schemes like Help To Buy: Shared Ownership that are specifically tailored to get you onto and moving up the property ladder.
Buying your first home is likely to be one of the largest financial decisions you will ever make, and so it's a very good idea to do your research and understand all of your options before leaping in.
Tips for first-time buyers
As with all forms of credit, when buying your first house you generally want to borrow as little as possible. When it comes to mortgages specifically, there are three ways to do that:
Save up a large deposit. Most banks and building societies will offer first-time buyers a 95% loan-to-value (LTV) mortgage – that is, you only need to provide a deposit of 5% and they'll provide the rest – but a larger deposit will usually give you access to better mortgages with lower interest rates.
Don't buy more than you can afford. It goes without saying, but you shouldn't bite off more than you can chew. If you find yourself spending more than 40% of your income on mortgage repayments you might become "house poor." The good news is that UK banks and building societies now perform an "affordability" test before offering you a mortgage – to make sure you'll be able to comfortably keep up repayments.
Use a government scheme such as Help-To-Buy, or Shared Ownership. Many newly built homes are now available through Help-To-Buy – a government scheme that covers up to 20% of the cost of the home. So, for example, with a 5% deposit, you'd only need a mortgage for 75% of the home's cost. Shared Ownership, which is likewise available on some new builds, is even easier: you buy a portion of the home (usually 25% to 75%), and the rest is usually owned by a housing developer or local authority. This means you can get on the property ladder with a very small mortgage and deposit – and then increase your share of ownership over time.
How much can you borrow?
Before you go hunting for your first home, it's a good idea to work out how much you can borrow. At the most basic level, assuming a deposit of around 5 to 20%, banks and building societies will usually offer up to four or four-and-a-half times your gross annual earnings. A larger deposit might give you access to mortgages that are five times your gross annual earnings.
Most lenders will also take into account the "affordability" of the mortgage. If you already have a lot of outgoing money – a car loan, credit card bills, etc. – then the bank or building society might not be willing to lend you as much money. Affordability also takes into account whether you'd still be able to repay your mortgage if the interest rate goes up considerably.
Finally, your credit score and history will affect how much the bank or building society is willing to lend you. If you've had bad debts in the past, you might be charged a higher rate of interest – or you might simply be turned down.
The importance of saving up a large deposit
In short, the larger your deposit, the better deal you will get when you approach a bank or building society for a mortgage. In technical terms, mortgage lenders usually segment their products based on the LTV, or loan-to-value. That is, if your first home has a value of £100,000, and you need a mortgage of £95,000, the LTV is 95%. If you increase your deposit to £10,000, the LTV would go down to 90%.
Generally, the lower the LTV, the better the interest rate – which could equate to thousands of pounds saved over the duration of your mortgage. The thresholds for lower interest rates are usually every 5% – 95%, 90%, 85%, etc. – so it can be worthwhile to save up a bigger mortgage deposit, or buy a slightly cheaper home.
Fixed rate vs. variable rate mortgages
There are many different types of mortgage, but for first-time buyers it will mostly come down to whether you want a fixed-rate mortgage or a variable-rate mortgage. Fixed-rate is what it sounds like: you get a fixed interest rate for a certain period of time (usually 2-5 years), which means your mortgage repayments will be exactly the same each month. Variable rate mortgages can start at a lower interest rate, but they can change at any time – usually if the Bank of England puts its base interest rate up – and so your monthly repayments can go up (or down).
Most first-time home buyers prefer fixed-rate mortgages because you can plan your budget with total certainty. Be aware, though, that fixed-rate mortgages have penalties if you overpay too much within a given period, or exit the mortgage completely before the end of the fixed term. Most fixed-rate mortgages will revert to a high rate of interest after the fixed period ends, too, so you'll need to react and find a good deal before you get hit by larger monthly repayments.
There are a few varieties of variable-rate mortgage. Standard variable rate (SVR) mortgages fluctuate at the discretion of the lender; they decide if, when, and by how much to increase (or decrease) the interest rate. Usually this is triggered by a change in the Bank of England base rate, though.
Tracker mortgages are explicitly linked to the Bank of England base rate: so your mortgage interest rate might be 2% plus the Bank of England base rate of 0.5% for a total of 2.5%. If the BoE puts its base rate up to 0.75%, your tracker mortgage rate would then be 2.75%.
The third type is discounted rate mortgages, which are based on the lender's standard variable rate, but with a discount applied for a fixed period of time. If a lender has a SVR of 4%, the discounted rate might be 2% for the first three years. The interest rate and your monthly repayments can still go up or down at the lender's discretion.
Obviously, the main risk of a variable-rate mortgage is that your monthly repayments could go up dramatically in the (unlikely) scenario of a major interest rate hike. When the bank or building society performs an affordability check, they are usually making sure that you could still keep up repayments if the interest rate goes up.
The cost of your first home
The average first home in the UK costs around £200,000, but it varies dramatically by geographic region. In London, for example, the average house price is now over £400,000 – which means you'll likely need a deposit of £20,000 and a household income of £95,000 per year to quality for a 95% mortgage. That's one of the reasons that Help-to-Buy and Shared Ownership are so popular for first-time buyers.
Extra costs for first-time buyers
Be warned that there are a few other fees and charges when getting your first mortgage – or indeed any mortgage. The biggest extra will probably be the lender's arrangement fee, which is usually around £1,000. There could also be a booking fee of a few hundred pounds that won't be refunded if the home purchase falls through. The 'good' news is that the arrangement fee can usually be rolled into your mortgage, so you don't have to pay it immediately – though of course you then have to pay the interest on that extra capital!
Other fees to consider are the home-buyer's survey (a few hundred pounds) and the legal fees for conveyancing – the complex legal process, carried out by solicitors, to transfer ownership from the seller to the buyer. The legal fees are usually based on the value of the home, but they will be at least £500 and potentially more than £1,000.
Finally, don't forget stamp duty – the tax collected by the government on property sales. There is a bit of good news there, though: as of November 2017, first-time buyers will pay no stamp duty on properties worth £300,000 or less. In London, first-time buyers will pay a reduced rate of stamp duty on home values between £300,000 and £500,000. If your new home costs more than £500,000, you'll pay the full stamp duty tax, even if you're a first-time buyer. For example, a first-time buyer in London would pay a stamp duty of £5,000 on a home valued at £400,000, and £10,000 on a home valued at £500,000 — but it jumps up to £17,500 on a home valued at £550,000.
Don't forget you'll probably spend a few thousand furnishing your new home, too…!