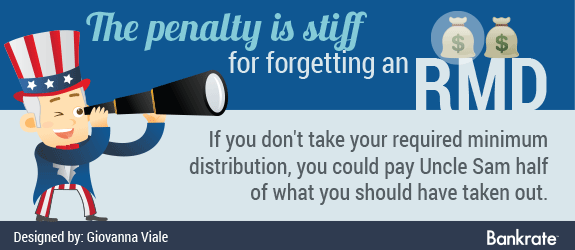 Dear Tax Talk,
I will reach age 70 1/2 on Jan. 2, 2016. Do I have to take my first required minimum distribution by April 1, 2016 — or a year later?
— Patel
Dear Patel,
For traditional individual retirement accounts, including SEP and SIMPLE IRAs, required minimum distributions, or RMDs, must be taken by April 1 of the year following the calendar year you reach age 70 1/2.
In your situation, since you will reach age 70 1/2 on Jan. 2, 2016, you will need to take your initial RMD no later than April 1, 2017.
Now that you know when your first required minimum distribution is, what's next? Well, the rule is that for each subsequent year after your required beginning date, you must take your RMD by Dec. 31. In your case, this means that in 2017, you have two RMDs. The first one is required by April 1, 2017, for the tax year 2016 and the second is required by Dec. 31, 2017, for the tax year 2017.
Not many people want to have to double up on the RMDs in that first year, so the IRS will allow you to take that first RMD for the year 2016 by Dec. 31, 2016.
It is very important that you make sure you not only take the RMD, but also that it is the correct amount. If you do not, then you may have to pay a 50 percent excise tax on the amount that is not distributed as required.
You calculate this excise tax on Form 5329, Additional Taxes on Qualified Plans (Including IRAs) and Other Tax-Favored Accounts, and file it with your tax return. The RMD is determined by taking the year-end balance from the preceding year and dividing it by a distribution period shown in the IRS' "Uniform Lifetime Table," found in IRS Publication 590. A separate table is used in a situation where the sole beneficiary is the owner's spouse who is 10 or more years younger than the owner.
Thanks for the great question and all the best to you in your retirement years.
Ask the adviser
To ask a question on Tax Talk, go to the "Ask the Experts" page and select "Taxes" as the topic. Read more Tax Talk columns.
To ensure compliance with requirements imposed by the IRS, we inform you that any U.S. federal tax advice contained in this communication (including any attachments) is not intended or written to be used, and cannot be used, for the purpose of (i) avoiding penalties under the Internal Revenue Code or (ii) promoting, marketing or recommending to another party any transaction or matter addressed herein. Taxpayers should seek professional advice based on their particular circumstances.
Bankrate's content, including the guidance of its advice-and-expert columns and this website, is intended only to assist you with financial decisions. The content is broad in scope and does not consider your personal financial situation. Bankrate recommends that you seek the advice of advisers who are fully aware of your individual circumstances before making any final decisions or implementing any financial strategy. Please remember that your use of this website is governed by Bankrate's Terms of Use.

More On Required Minimum Distributions: