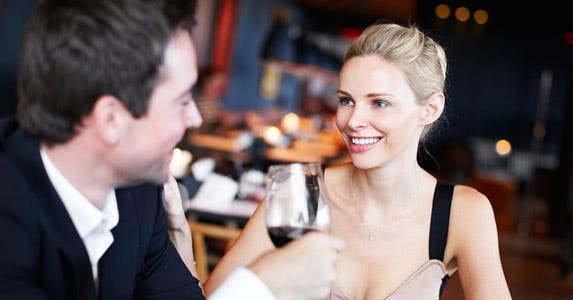 A retirement checklist for married couples
If you and your spouse share a vision of retiring together, you're more likely to achieve that goal with a solid retirement plan. But many couples aren't prepared. Just 21% of couples have a retirement plan to ensure they don't outlive their savings, according to Fidelity Investments' 2015 Couples Retirement Study.
"A lack of planning doesn't delay life events," says Len Hayduchok, president of Dedicated Senior Advisors in Hamilton, New Jersey.
Hayduchok says that ideally, planning for retirement starts as early as possible. Waiting until the kids are finished with college, as many people do, can be too late for many couples.
"The most successful couples are transparent about their finances from the very beginning of their committed relationship and talk about their hopes and dreams as well as their financial baggage," says John Sweeney, executive vice president of retirement and investing strategies at Fidelity Investments in Boston.
No matter what your age, make these topics a part of your retirement checklist to help create a solid plan.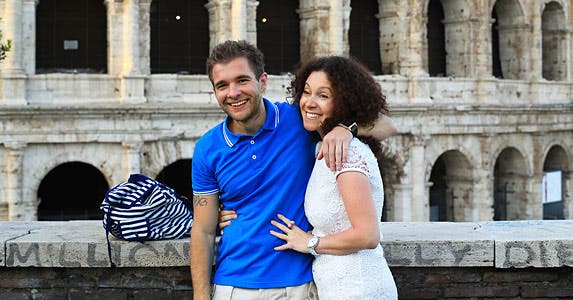 What's your preferred retirement lifestyle?
iStock.com/Maxim Zarya 
Fidelity found that 48% of the couples surveyed had no idea how much they need to save to maintain their current lifestyle, and this was especially true among baby boomers. Sweeney says it's best to start with the emotional side of retirement because lifestyle decisions drive financial conversations.
"Go back to your dreams from when you were 35 and pretend money is no object," says Melody Juge, founder and managing director of Life Income Management in Flat Rock, North Carolina. "After you have your vision of what your retirement would be like, you can do an inventory of what that lifestyle will cost you."
You might have to make some concessions. For example, Juge says couples who want to travel may need to scale back to a big trip that costs $10,000 every few years rather than traveling every year, and plan for short road trips in between.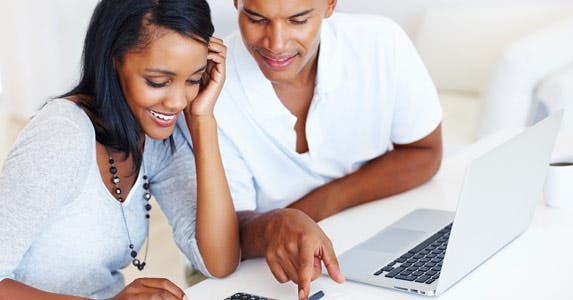 Start with a budget and a plan
iStock.com/Squaredpixels 
Every couple needs a well-defined income strategy to cover their ongoing monthly and quarterly expenses, says Hayduchok.
"Too many people set aside money and grow their portfolio but neglect a plan for predictable income in retirement," he says. "Having a bunch of money isn't a plan."
He recommends estimating Social Security benefits, pensions, annuities and income from bonds and dividend-paying stocks to figure your retirement income.
Then determine if it'll be enough to cover your budget.
"You could be retired for 10 to 40 years on unearned income, so you need to plan accordingly," says Juge, who recommends having an emergency fund of 1 to 3 years' worth of income in retirement.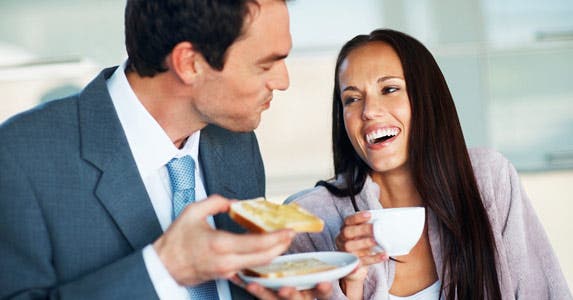 Make up for any shortfalls
iStock.com/kupicoo 
If the unearned income won't be enough, discuss the possibility of continuing to work a bit longer so you can continue to contribute to your 401(k) plan and IRAs. Or, if the 9-to-5 grind proves to be too much, find a part-time job that provides some income so you don't have to tap your accounts too early.
"People need to recognize that retirement is more a state of mind than a stage of life," says Chris Jones, chief investment officer at Financial Engines in Sunnyvale, California. "We need to have a more flexible definition of what it means to be retired and accept that for some people that means part-time work."
"Many people should think of a secondary or tertiary career, maybe something that's more of an avocation than your primary career, that can be a source of income or even just (an outlet for) social engagement in retirement," says Sweeney.
Planning for retirement should be a collaborative effort, regardless of whether you and your spouse make equivalent incomes, adds Hayduchok.
"Many couples have a disparity in knowledge, with one spouse knowing far more than the other about household finances," says Jones. "It's important when you talk about retirement to recognize this and make sure both spouses are comfortable with their financial decisions."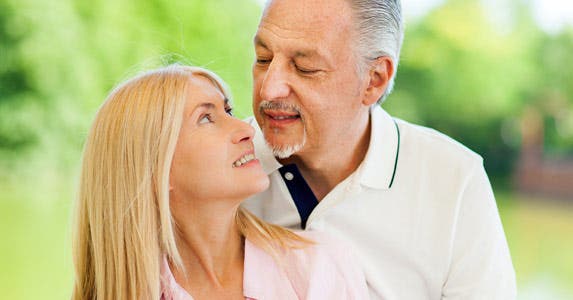 Should you retire at the same time?
iStock.com/Minerva Studio 
While some couples love the idea of quitting work on the same day and enjoying their new life together, others prefer the idea of one spouse working longer to ease into retirement, says Jones.
"Deciding when to retire depends a lot on your job," says Jones. "Some jobs, such as those in academics, let you work easily into your 70s. That's just not possible with jobs that are more physically taxing."
When you decide to retire, the focus should be on maximizing your quality of life, says Hayduchok. For some, that can mean working forever because they like being productive.
"Couples often have age disparities and differences in where they are in the employment cycle," says Hayduchok. "Sometimes one spouse needs to work a little longer to maximize their retirement benefits, or sometimes one spouse lost their job and has been essentially forced into retirement. Frankly, some couples don't want to retire together because they don't want to spend so much time together."
Sweeney says that health issues or corporate downsizing often results in an earlier-than-planned retirement for one spouse, which could mean one spouse may need to quit work to provide caregiving or work longer to compensate financially.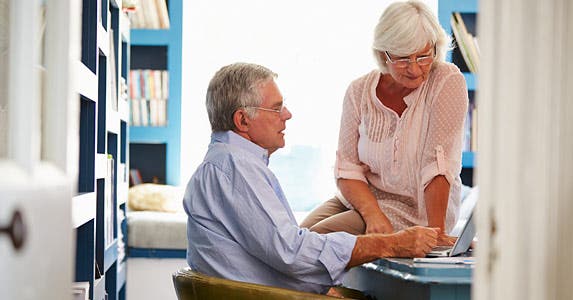 Collecting Social Security wisely
iStock.com/monkeybusinessimages
One of the most important decisions you can make pertains to when to collect your Social Security benefits, says Jones.
Fidelity's research found that 49% of baby boomers don't have any idea how much their Social Security benefit might be, although the information is easily accessible on the Social Security website. The timing of collecting your benefits makes a big difference in how much you will receive each year.
"It's a terrible idea to take your Social Security disbursement at 62," says Jones.
Waiting until age 70 can increase monthly benefits by 76% from the reduced amount paid out at age 62, the earliest age eligible to file for retirement benefits.
Jones says that couples should consider the welfare of a surviving spouse when deciding the appropriate time to take Social Security.
"Look at longevity expectations and the health of each spouse as part of the claiming strategy for each spouse to optimize your benefits," says Sweeney.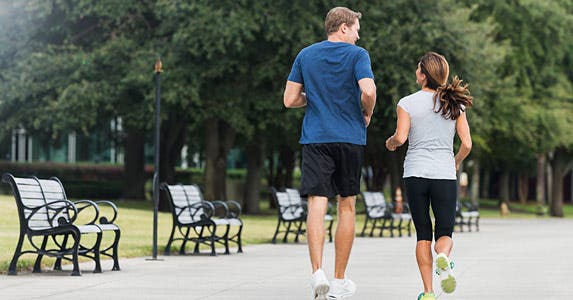 Factor in health care costs
Stock.com/Susan Chiang
Fidelity's research found that 74% of respondents are concerned about unexpected health care costs in retirement, and in a separate study the firm determined that retired couples will spend an average of $245,000 on these expenses. "That's about double what people guess health care will cost," says Sweeney.
Since few companies provide retirement health care benefits, retirees need to enroll in Medicare by age 65, says Jones.
"You need to shop around for supplemental plans and make sure you have savings to pay for out-of-pocket expenses," says Jones.
Sweeney says health savings accounts that offer tax-deferred savings are a good option for those with high-deductible plans, but they require disciplined saving long before retirement to provide enough cash for potential health-related costs. He says it's essential that every couple factor in health care expenses as part of their retirement plan.
Long-term care is another potential expense to consider, and an important topic for a couple's retirement checklist. Hayduchok says that a lack of long-term care planning can be devastating to a retirement plan.
"Every couple should purchase long-term care insurance or have an asset-based long-term care policy funded through their investments to pay for health care needs," he says.