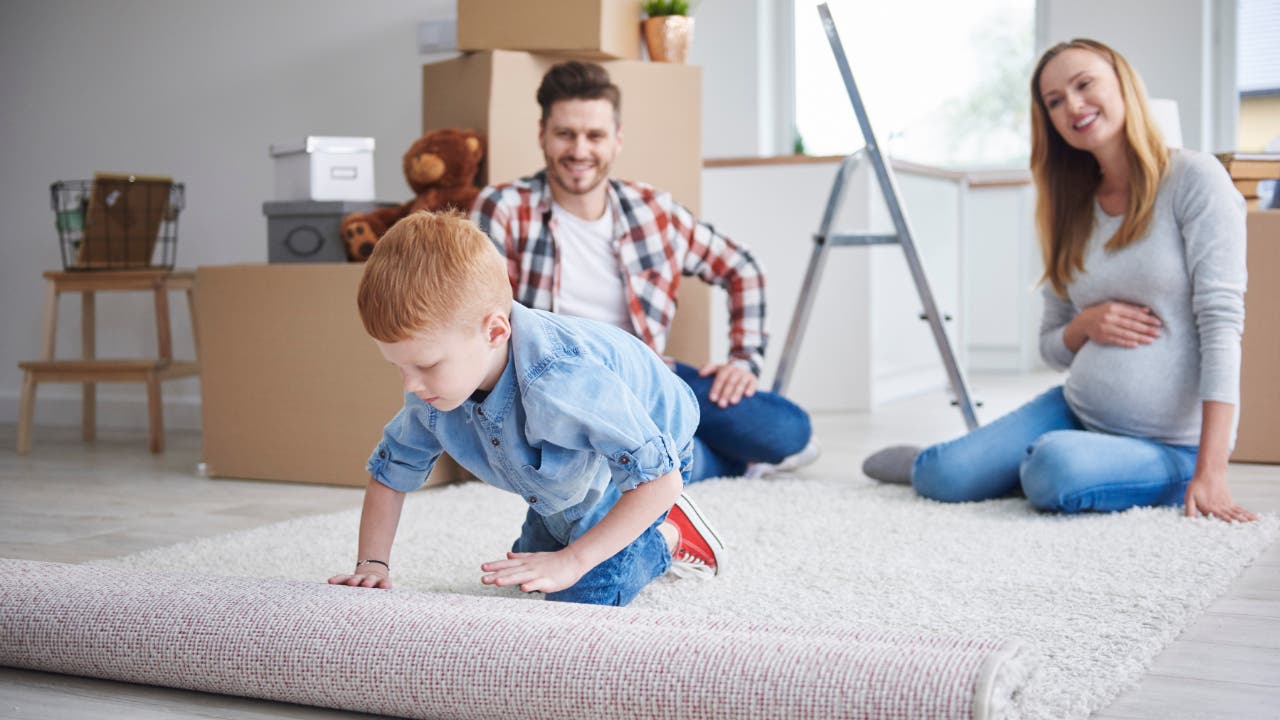 Renting an apartment or home gives people many options and the flexibility to move. But many renters have homeownership as a future goal so they have a place of their own and build financial security.
Renting vs. buying a home is a major decision for many people. It's also a costly endeavor. So how do you know when you're ready to stop renting and own a slice of the property pie? Here are eight signs that you're ready to make the switch from renter to homeowner.
1. You're tired of paying someone else's mortgage.
When paying a landlord every month is no longer appealing and you want to build "equity for the future," it's time to figure out what loan you qualify for, says Bill Golden, a sales associate with ReMax Around Atlanta and a Realtor for more than 30 years.
In many cases, Golden says renters are typically ready to buy a home once they have achieved financial stability, want to customize or control their homes, reap the tax advantages or simply want the pride of owning their own place.
"If one or more of those is tugging at your heart, at least look into the possibility of owning rather than renting," Golden says.
2. Rent payments keep going up.
Rents are going up in some parts of the country, making it harder for renters to anticipate monthly housing costs and put money toward other financial goals. This uncertainty is another reason why renters want to buy homes.
"If you've seen your rent escalate significantly but you feel trapped renting, it means the balance may be tipping toward buying," Golden says. "With today's escalating rental rates and low (mortgage) interest rates, chances are your monthly outlay could be less on a purchase than on a rental."
3. Your credit score is in better shape.
Some renters are locked out of homeownership because they can't qualify for a mortgage. A low credit score, too much monthly debt or not enough savings are reasons why renters can't make the leap to owning a home.
However, once you have addressed these issues, homeownership becomes less out of reach. One of the signs that a renter is ready to buy a home is a healthier credit score, says Bruce McClary, vice president of marketing with the National Foundation for Credit Counseling in Washington, D.C.
Although borrowers can qualify for a mortgage with a credit score as low as 500 for some loans, they'll pay higher down payments and mortgage rates. The higher your credit score, the lower interest rates you'll receive from lenders. Plus, you'll have access to more conventional loan programs with lower down payment requirements.
First, get a free copy of your credit report. Look for and address issues that might be hurting your score, such as late payments, high balances and debt collection activity. A lender or non-profit credit counseling agency can work with you to identify what issues to tackle first to boost your score faster.
4. You're good at managing debt.
Another item lenders look at when qualifying potential homebuyers is their debt-to-income ratio, or DTI. This is a key metric, expressed as a percentage, that's calculated by adding up all monthly debts then dividing the sum by your gross monthly income. The higher your DTI ratio, the more risk you pose to a lender.
Some conventional loans allow a DTI ratio of up to 50 percent, but many lenders prefer a ratio of no more than 43 percent. If you previously had a high DTI ratio and have paid high balances down, you'll be in a stronger position to get preapproved for a mortgage. You'll also have more wiggle room in your budget to put money into an emergency fund for home repairs and other unexpected expenses.
5. You have enough money set aside for the extra costs of owning a home.
When a pipe bursts or the air conditioner goes out in a rental, you don't have to worry about paying for it; that's the landlord's problem. Sames goes for property taxes, ongoing maintenance and homeowner's insurance.
If your income has risen or you've been able to set aside savings, you might realize you have enough extra money to shoulder the added expenses of homeownership. Becoming a homeowner means you don't have to worry about a landlord raising your rent or not renewing your lease, Golden says.
6. You can afford the down payment and closing costs.
The old 20 percent down payment requirement is an outdated myth, says Shelby McDaniels, executive director of corporate home lending at Chase. Some mortgages insured by the Federal Housing Administration, known as FHA loans, require just 3.5 percent down. Conventional loans backed by Fannie Mae and Freddie Mac require just 3 percent down and government loans guaranteed by the U.S. Department of Veterans Affairs and the U.S. Department of Agriculture require no down payment at all. Renters interested in buying a home should compare different loan programs to see which one is best for them.
"In addition, certain areas across the country have different grants or low-to-moderate income programs that can also assist with down payments for first-time homebuyers," McDaniels says.
7. You're ready to settle down in one place.
While no one works at the same company for several decades anymore, a renter who is ready to buy a house should have a moderate expectation of job security, says Mark Hamrick, Bankrate's senior financial analyst. A stable job means stable income, which lowers the risk that won't be able to make mortgage payments and lose your home.
"For two-income households, obviously the risk and opportunity are twice that of situations where there's just one wage earner," Hamrick says. "In a perfect world, (buyers) would buy a home well beneath their means so they aren't devoting so much of their income to the mortgage and other related costs."
Buying a home involves a lot of upfront costs that can take a few years to recoup, so if you anticipate moving in a few years or don't like to be tied down in one place, homeownership might not be right for you yet, Hamrick says.
8. You're going through a major life change.
Many renters decide to purchase a home when major life events happen. Whether it's a new marriage, having kids, a new job or an empty nest, life events are a leading catalyst for people to buy a home, says Henry Yoshida, CEO of Rocket Dollar, an Austin, Texas-based self-directed individual retirement account and solo 401(k) provider.
Keep in mind that if you're relocating for a job, it might be a good idea to rent in the short term until you've familiarized yourself with a new city. That way, you choose a home and neighborhood you really love. And with property search websites making it easier than ever to find listings online, as well as digital mortgage applications, the home-buying process isn't as cumbersome as you might think, Yoshida says.
Ready to leave renting behind? Here's what to do next
Before you start looking at potential homes, shop around with lenders and get preapproved for a mortgage first. Getting preapproved helps you know how much house you can afford, what loan program is best for your situation and what price range to focus on so you don't overextend your budget, says Ben Creamer, co-founder and managing broker of Downtown Realty Company in Chicago.
"This sets a realistic expectation for what the buyer is qualified to purchase as well as what financial resources will be needed for closing," Creamer says. "Knowing this upfront allows sufficient time to save and test the budget constraints."
Choose a fixed-rate loan for 15 or 30 years if you want predictable, stable mortgage payments. However, don't forget that owning a home involves a lot more than the monthly principal and interest payments for a mortgage. Property taxes and homeowner's insurance are additional expenses that can make your monthly payments go up over time, and there's private mortgage insurance, or PMI, repairs, maintenance and higher utility costs to budget for, too.
As you weigh the decision to buy a home, make sure you can reach your other financial goals. A new mortgage shouldn't prevent you from paying down your student loans and credit cards, or from saving for retirement, Hamrick says.
"In order for (buyers) to be have a good chance of achieving a range of financial objectives, they should also have emergency savings," Hamrick says. "That's because of the inevitable expenses associated with homeownership."
Learn more: