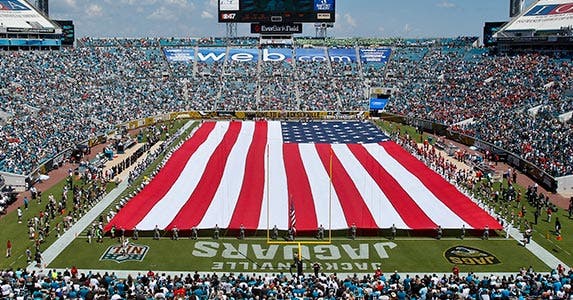 The 5 cheapest NFL stadiums
If you're a football fan but don't want to pay a premium to see a game, it pays to live in Florida. Three of the 5 cheapest NFL stadiums are in the Sunshine State.
Team Marketing Report, a sports information publisher, looks at how much it would cost, on average, for a family of 4 to attend an NFL game per team. It uses a measurement called the Fan Cost Index, which takes into account 4 tickets at average price, 2 small beers, 4 small sodas, 4 hot dogs, parking, 2 programs and 2 adult caps.
You'll find league-leading value at these 5 NFL stadiums.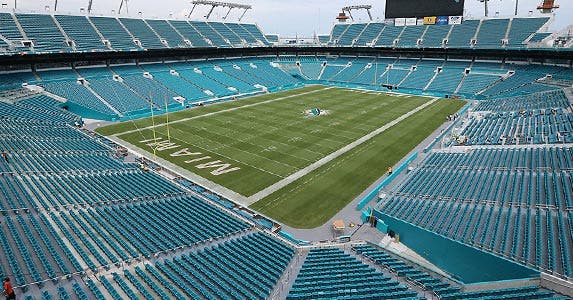 No. 5: Sun Life Stadium
© David Santiago/ZUMA Press/Corbis
Team: Miami Dolphins
Fan cost index: $398.12
The average nonpremium ticket to a Dolphins game is $65.16 in 2015, the same as last season and over $20 less than the average league ticket price. That's a bargain to see a burgeoning offense led by quarterback Ryan Tannehill, as well as all-world defensive tackle Ndamukong Suh.
If you're looking to cool off from the South Florida sun, a beverage won't set you back too much. A soda costs just $4, and a beer costs $7.75.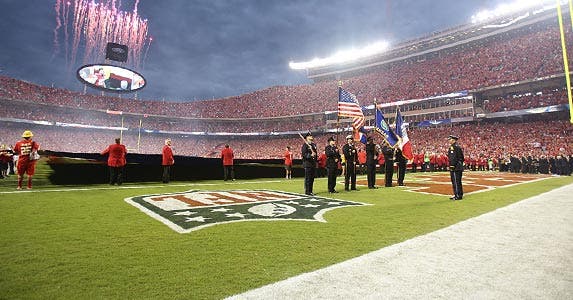 No. 4: Arrowhead Stadium
© James Allison/Icon Sportswire/Corbis
Team: Kansas City Chiefs
Fan cost index: $396.02
Arrowhead Stadium opened in 1972 but underwent a $375 million renovation that was completed in 2010. It has 76,416 seats, 4th highest in the league. And best of all, it doesn't cost much for one of those seats. An average ticket costs $68.38, while a premium seat costs $202.25. Both tickets are well below league average.
Frugal football fans will find deals inside the stadium, too. Game programs are free, and soda and beer are $4.50 and $7.25, respectively.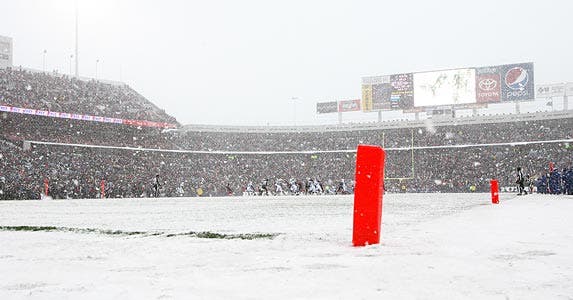 No. 3: Ralph Wilson Stadium
© Jerome Davis/Icon SMI/Corbis
Team: Buffalo Bills
Fan cost index: $391.04
Bills fans have been flocking to Ralph Wilson Stadium since its opening over 40 years ago. They not only get to enjoy electric athletes such as Percy Harvin, LeSean McCoy and Sammy Watkins, but also the 3rd-lowest average ticket price at $64.01and a free game program.
Parking at Ralph Wilson costs $25, but once inside, be sure to wear layers because it won't exactly be financially prudent to "warm up" on the $9 beers.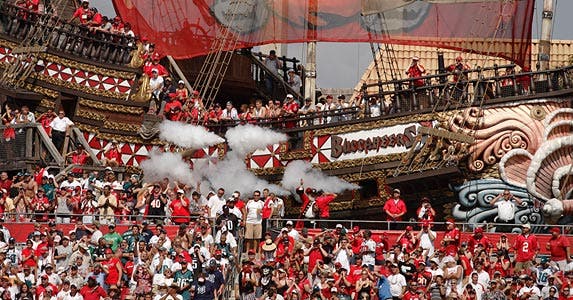 No. 2: Raymond James Stadium
© David Bergman/Corbis
Team: Tampa Bay Buccaneers
Fan cost index: $373.76
If you want to see the top overall draft pick Jameis Winston play but don't want to shell out major cash, you're in luck — if you can get to Tampa, Florida. The average nonpremium ticket price is $63.59, and that includes a complimentary game program. Refreshment prices are right around league average, and parking costs a relatively modest $25.
The Bucs' home schedule includes games with the New York Giants, Dallas Cowboys, New Orleans Saints and Atlanta Falcons.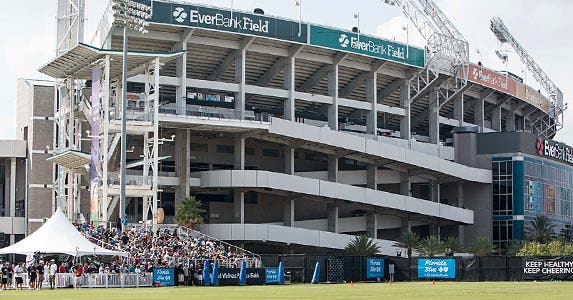 No. 1: EverBank Field
© Gray Quetti/ZUMA Press/Corbis
Team: Jacksonville Jaguars
Fan cost index: $347.60
The cheapest fan experience in the NFL belongs to the Jacksonville Jaguars. Despite being the cheapest draw for a family of 4, the team over the years has found itself in the bottom half of the league in attendance.
An average nonpremium ticket costs $57.65, the same as last season. A game program is complimentary, while a soda and hot dog cost just $5 each. If you're looking for fan gear, a hat costs just $20, slightly below league average.
The Jaguars' home schedule includes games against the Houston Texans, San Diego Chargers and Indianapolis Colts.