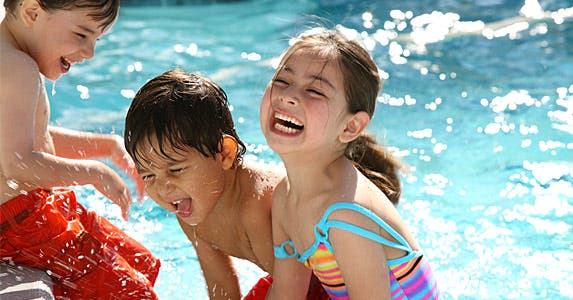 DIY pool maintenance?
Editor's note: Each week, 1 of Bankrate's personal finance reporters is investigating new ways to save and chronicling the journey. This week, I tried DIY pool maintenance to see what would happen to my budget.
Having a swimming pool at home in the warmer months of the year can be a blast. Especially if you have kids, the pool provides a great way to spend time outside, get exercise and relax without getting too overheated.
But there's a less fun side to owning a pool: maintenance.
Maybe that's why pool cleaning is a huge industry. Nearly 51,000 pool cleaning services in the U.S. alone employ more than 66,000 workers and generate $3 billion a year in revenue.
While pool services are popular, they can be costly. A full-service contract can run homeowners $100 a month or more in many areas of the country, says Richard English, a swimming pool consultant based in San Diego.
With that in mind, does it make sense to maintain your own pool to save money?
Thinking of putting in a swimming pool? Check personal loan rates today on bankrate.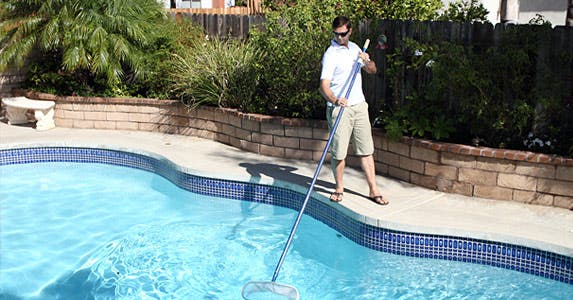 Pool maintenance can be lots of work
While it can vary depending on your climate, here's the bare minimum you have to do each week, says English:
Skim leaves and other floating debris from the surface of the pool.
Clean dirt and debris from the bottom and sides of the pool.
Clean out the strainer baskets in the pool pump and other pool machinery.
Test the water for pH levels, alkalinity and chlorine levels.
Add chlorine and/or acid as needed to keep pool chemistry in check.
As if that weren't enough, some less frequent chores such as winterizing your pool in colder climates or replacing pool filter cartridges can seem pretty overwhelming.
I've been taking care of my own pool since January. It was tough at first, but it's become much easier. Thanks to some helpful instruction from my local pool-supply store and learning the rhythms of my pool over time, I now know when and how much of each chemical to add, what really needs to get done and what I can put off a little while longer. That's made taking care of it less painful.
These days, I spend an average of an hour each week on pool maintenance. It's not fun, but it's not as grueling as yardwork.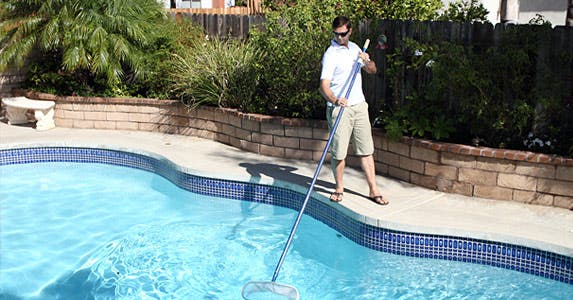 Cost comparison
Now that you know what kind of work is involved, it's time to talk money.
Many pool servicing companies offer 2 levels of pool-cleaning services:
A basic service that involves a maintenance person coming out at regular intervals to test water and add chemicals as needed. The cost of this service starts at around $50 a month, depending on the size of the pool.
A full-service option that involves everything in the basic service as well as a more intensive cleaning and vacuuming, a thorough check of the pool's equipment, and cleaning the pool's filter cartridge or sand. The cost of this service starts at around $70 to $100 a month or more.
Expect other charges, too. You may incur extra charges for things like adding special chemicals, cleaning out and replacing pool filter cartridges or sand, winterizing and opening the pool, and making repairs to the pool's structure or machinery, English says.
Prices can vary depending on where you live; I was quoted prices ranging from $75 to $100 a month from 3 different providers for full service in my area.
So how does that compare to DIY maintenance? After you've bought equipment, chemicals typically cost $20 to $30 a month, English says.
I spend about $52 a month on chemicals for my pool. That's a little high, but assuming a full-service cost of $87.50 a month (the midpoint of the estimates I got), I still save about $426 a year taking care of my own pool.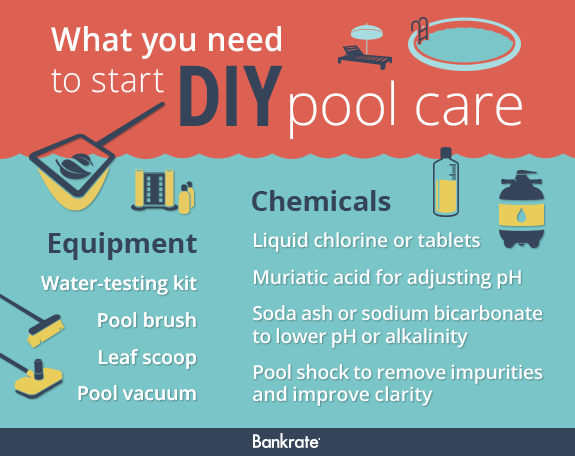 Should you DIY?
Because I live in South Florida, my pool operates 365 days a year, meaning I'd be paying year-round for pool maintenance without a break. It also means that I don't have to worry about winterizing my pool and opening it up in spring, which English says can be challenging to do correctly for DIYers.
Another factor with my pool: the vegetation. It's not screened in, making DIY equipment such as brushes, skimmers and an automatic pool cleaner mandatory. If I waited for a pool guy to come once a week, the thing would look like a set from "Jumanji," so I didn't factor the cost of buying that equipment into whether to DIY.
One tip: If you do decide to go the professional route, ask about their qualifications — especially whether they've taken any classes or received any certifications in pool maintenance, English says.
Most states don't have any licensing requirements for pool-cleaning services, he says, so it's "buyer, beware."
"The biggest problem I see is a total lack of certification, training, licensing in the industry," English says. "You can come out tomorrow and buy a truck and start servicing pools with no education whatsoever."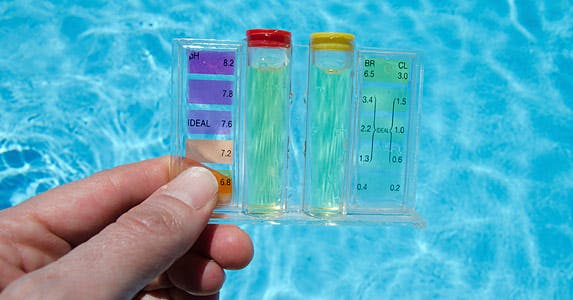 How to get started on the DIY path
If DIY seems right for you, take the time to learn the basics.
"Education is always the key," says Rodney Williamson, a business development engineer at Splash Pool and Spa in Avon, Indiana. "Understanding what you have, how big it is, is always a starting point."
Three basic elements are needed to keep a pool healthy, Williamson says.
Filtration.
Circulation.
Water chemistry.
Particularly important are free chlorine and pH levels. If those aren't kept in a specific range (a pH of 7.2 to 7.6 and free chlorine levels of 1 to 3 parts per million), the pool can quickly become uncomfortable or even unsafe to swim in, Williamson says.
Free chlorine levels
The amount of active chlorine in a pool that's available to sanitize water and hasn't been combined with other substances that render it much less effective. It is combined chlorine, not free chlorine, that gives pools the familiar "chlorine smell."
pH levels
A measure of the acidity. In a pool, a pH that is too high results in overconsumption of chlorine. A pH that is too low can result in damage to pool surfaces.
"As soon as the chlorine drops out, then you open the door for any type of bacteria or algae to get into the pool," Williamson says. "Once that starts growing, it just gets cost-prohibitive to not treat it immediately."
But what else should you watch for?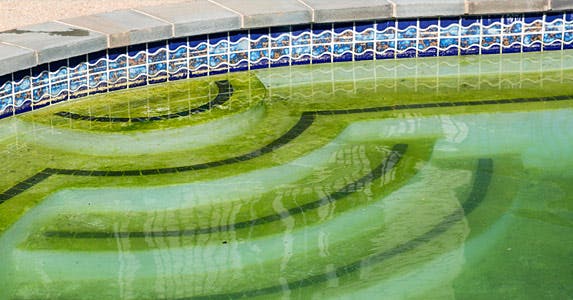 Then what?
It's also important to measure alkalinity: If it goes outside the recommended range of 80 to 120 parts per million, it can cause the pool's pH to fluctuate rapidly, Williamson says.
If this makes your head spin, many pool supply stores offer classes on pool maintenance. But for those looking for a more thorough education, homeowners can go through a 2-day class that grants a Certified Pool Operator certificate, English says.
"You can go into Home Depot and buy a test kit, but knowing how to interpret the results is going to take a little bit of reading, a little bit of education," English says.