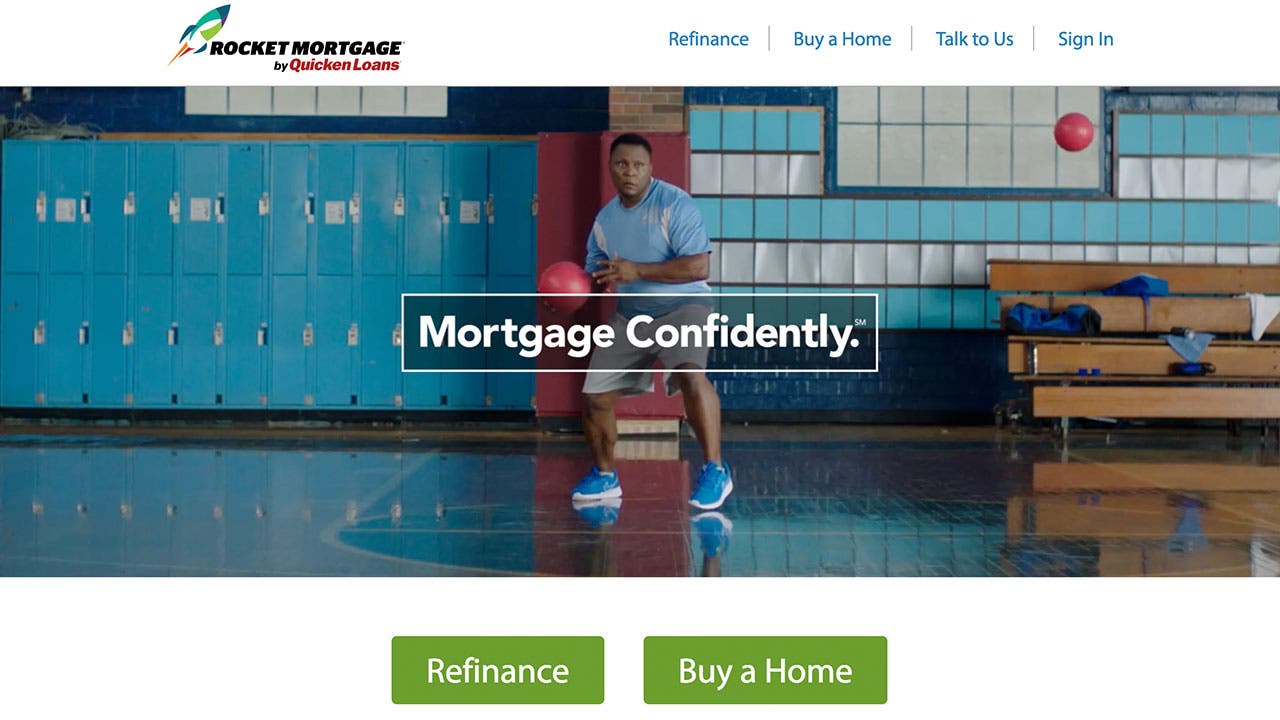 Rocket Mortgage is a new loan product from Quicken Loans that lets you apply and be approved for a mortgage in minutes using nothing more than a smartphone app.
Rocket Mortgage's loans are actually the same vanilla mortgages and refinances that most lenders offer, but with less paperwork and more push notifications as you proceed through the mortgage process. Rocket Mortgage verifies your personal information online as you apply, ultimately cutting down the time it takes to close on a home.
While many lenders are looking at similar technology, Rocket Mortgage got a head start. It gained more than 2 million users since it launched during Super Bowl 50 in 2016.
Rocket Mortgage Snapshot
Rocket Mortgage is an online-only product, so you will need a computer or mobile device to get started.
Quicken Loans' Rocket Mortgage products include both fixed-rate and adjustable-rate mortgages.
Rocket Mortgages feature similar credit and down payment requirements as the traditional mortgage you might get from a brick-and-mortar location.
Available in all 50 states.
What Rocket Mortgage offers
Rocket Mortgage home purchase and refinance loans start at eight-year terms and go up to 30 years for a fixed-rate mortgage. There are also adjustable-rate mortgage options ranging from five years to 15 years.
Like most lenders, a Rocket Mortgage stays within competitive market rates, with Quicken Loans offering ways to "buy down" points on your interest rate. You can compare them to other lenders here.
Minimum borrower requirements
Rocket Mortgages stick to the conforming loan requirements for mortgages approved by Fannie Mae and Freddie Mac as well as those backed by the Federal Housing Administration (FHA) and the Department of Veterans Affairs (VA).
Down payments for these types of government-backed loans are typically 3% or more but can go as low as requiring no down payment for a VA mortgage. Credit score requirements also follow government standards, which means you need at least a 620 credit score (or 580 for FHA loans). And your total debt should be less than 43% of your income.
How to apply for a Rocket Mortgage
To begin, you first have to create an account online. That allows you to leave the application process at any time and pick it up again later.
"It's built so people can go as fast or as slow as they want to," says Regis Hadiaris, Rocket Mortgage product lead at Quicken Loans.
What fees you will pay
With a Rocket Mortgage, you can expect to pay mortgage insurance as well as costs to lock in or lower your rate.
Quicken Loans offers a calculator that you can use to determine the cost structure of your Rocket Mortgage immediately. And you can always check how much of a home you can afford before applying for mortgage through Bankrate's mortgage calculator.
Advantages
Rocket Mortgage's online technology minimizes the hassle of paperwork that a traditional mortgage requires, which means you can typically close faster on your home purchase.
"We've seen our fastest applicants go to creating an account and closing within eight days on a refinance and 16 days on a home purchase," says Hadiaris. "A majority of our loans close on 30 days or less and are typically two weeks faster than most lenders."
Because this is an online application, you can set up alerts by text or push notifications so you know how your mortgage is moving along in the process or if more information is needed. You no longer have to wait for a busy mortgage lender to call you back.
Quicken Loans retains the servicing rights of its mortgages, which means you should not have to deal with another company during the life of the loan. This can be helpful if you run into financial problems and need to work out new payment options with your lender.
Disadvantages
Because Rocket Mortgage is only online, you won't have a face-to-face option with a lender. However, there is a link to call or chat with a lender online at any point in the mortgage process.
Rocket Mortgage does not offer home equity lines of credit. Additionally, Rocket Mortgage mainly comprises conforming loans, so if you don't fit the box for any of the government-backed programs, you likely won't be approved for this type of mortgage.
What people are saying about Rocket Mortgage
Quicken Loans has had the highest ranking for customer satisfaction as a primary mortgage originator during the last seven years, according to J.D. Power. However, Rocket Mortgage itself has fared less well.
Not only have there been complaints filed with the Consumer Financial Protection Bureau, but users have also taken to the rating pages of Rocket Mortgage's app on the Android and iTunes app stores to express their frustration. Many of these complaints are related to confusion about the online application process.
Keep in mind that when you click the "get started" button, it starts an actual application process, not just a rate quote. This means allowing Rocket Mortgage to pull your credit report, a process that can lower your credit score, which some users of its services found out the hard way.
With a traditional mortgage, you can always call the lender first to get a rough quote without pulling your credit report. Rocket Mortgage can do the same by phone.
It's also important to read and understand all the terms and have them on hand as you proceed through the lending process. Rocket Mortgage offers tutorials and quick-link videos in understanding areas like your credit score as you move through the application.
More mortgage lender reviews