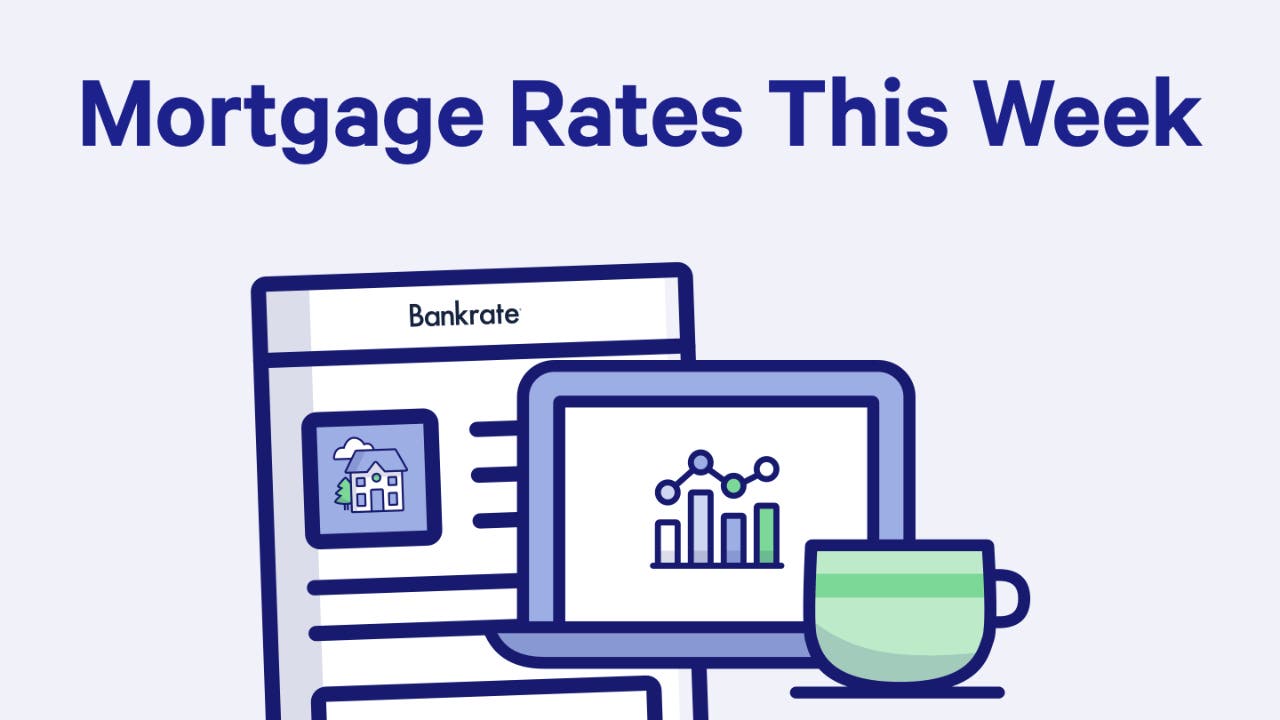 Mortgage rates were mixed this week after steep declines a week ago.
The benchmark 30-year fixed-rate mortgage stayed flat at 3.81 percent, according to Bankrate's weekly survey of large lenders. A year ago, it was 4.70 percent. Four weeks ago, the rate was 4.05 percent. The 30-year fixed-rate average for this week is 1.29 percentage points below the 52-week high of 5.10 percent, and is the same as the 52-week low of 3.81 percent.
The 30-year fixed mortgages in this week's survey had an average total of 0.32 discount and origination points.
Over the past 52 weeks, the 30-year fixed has averaged 4.51 percent. This week's rate is 0.70 percentage points lower than the 52-week average.
The 15-year fixed-rate mortgage rose to 3.20 percent from 3.15 percent.
The 5/1 adjustable-rate mortgage fell to 3.54 percent from 3.65 percent.
The 30-year fixed-rate jumbo mortgage rose to 3.77 percent from 3.75 percent.
At the current 30-year fixed rate, you'll pay $466.53 each month for every $100,000 you borrow, unchanged from last week..
At the current 15-year fixed rate, you'll pay $700.24 each month for every $100,000 you borrow, up from $697.82 last week.
At the current 5/1 ARM rate, you'll pay $451.28 each month for every $100,000 you borrow, down from $457.46 last week.
Results of Bankrate.com's weekly national survey of large lenders conducted Aug. 14, 2019, and the effect on monthly payments for a $165,000 loan:
"Trade tensions and unrest in the financial hub of Hong Kong have kept markets on edge, with bond yields and mortgage rates remaining at multi-year lows," says Greg McBride, CFA, Bankrate chief financial analyst. "It's hard to see any meaningful increase in rates in the near-term without the unlikely event of the skies clearing completely on the trade and geopolitical fronts."
Mortgage applications spike as rates hover near three-year lows
Low mortgage rates are spurring homebuyers to apply for home loans. Total mortgage applications shot up 21.7 percent from one week prior, according to data from the Mortgage Bankers Association's applications survey for the week ending Aug. 9.
Refinances continued to lead the surge in loan activity, with refi applications jumping 37 percent over the week prior, the index's highest level since July 2016. Refinance applications rose a staggering 196 percent over the same week a year ago.

Meanwhile, purchase applications edged up 2 percent from the previous week. The unadjusted purchase index was 12 percent higher than the same week a year ago. 
"The 2019 refinance wave continued, as homeowners last week responded to extraordinarily low mortgage rates," said Joel Kan, MBA's associate vice president of economic and industry forecasting, in a statement. "Fears of an escalating trade war, combined with economic and geopolitical concerns, once again pulled U.S. Treasury rates lower."

The government refinance index is seeing a notable surge, too, led by a 25 percent jump in Veterans Affairs refinance applications. VA refinances are now at their highest level since May 2013, Kan said.
The "Bankrate.com National Average," or "national survey of large lenders," is conducted weekly. The results of this survey are quoted in our weekly articles and national media outlets. To conduct the National Average survey, Bankrate obtains rate information from the 10 largest banks and thrifts in 10 large U.S. markets. In the Bankrate.com national survey, our Market Analysis team gathers rates and/or yields on banking deposits, loans and mortgages. We've conducted this survey in the same manner for more than 30 years, and because it's consistently done the way it is, it gives an accurate national apples-to-apples comparison.