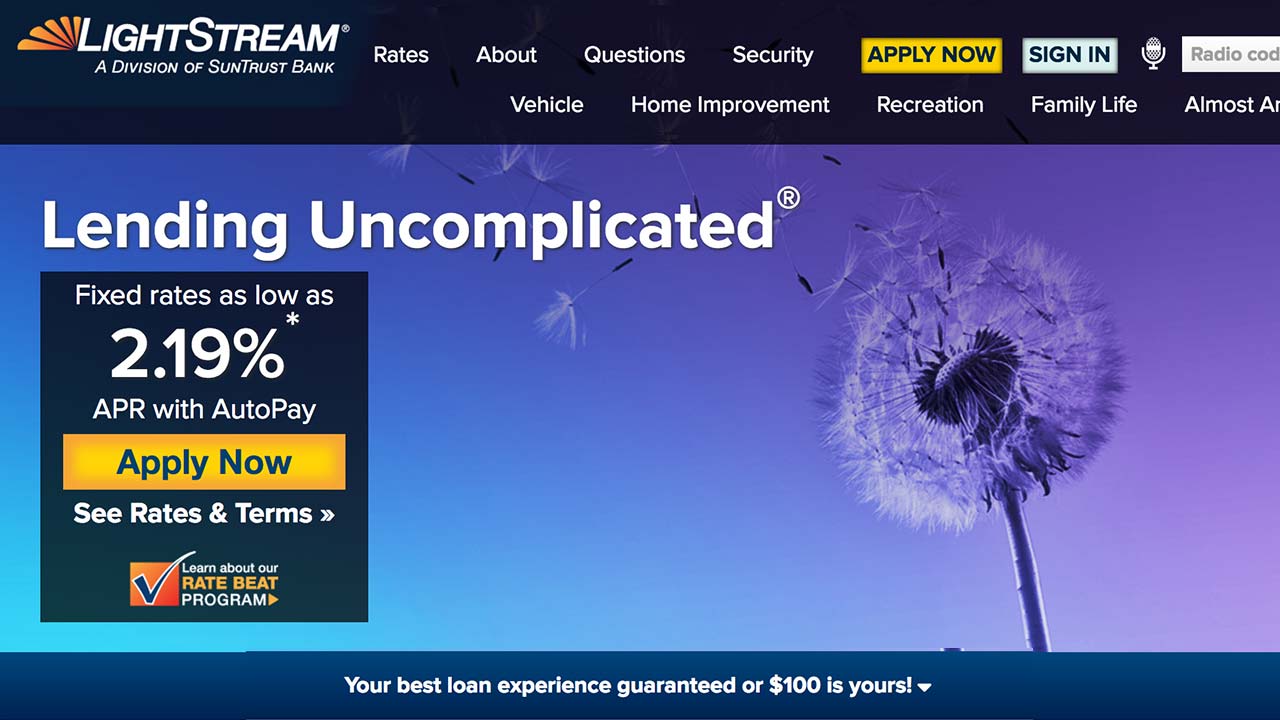 LightStream, the online consumer lending division of SunTrust Bank, offers unsecured personal loans to customers with good to excellent credit. Loans can be for anything from home improvement to medical bills to adoption financing. The firm also offers secured loans for those with thin credit files who have a qualifying vehicle to use as collateral.
LightStream has originated $5 billion in loans since its launch in March 2013. The lender offers loans for "practically anything" with a unique guarantee of $100 if you aren't satisfied with the ease of your loan process.
Who is this loan good for?
Lending terms
Minimum borrower requirements
Fees and penalties
How to apply
What to do if you're turned down
Because the screening process for its unsecured personal loans is entirely virtual, there are fewer loan underwriting costs, which means LightStream may be able to offer better interest rates and quicker turnaround times than brick-and-mortar lenders.
LightStream says that if a competitor's rate is better and it meets certain terms and conditions, LightStream will beat that offer by one-tenth of a percentage point.
Who is a LightStream personal loan good for?
Someone with good to excellent credit. Borrowers typically must have a minimum credit score of 680. That's slightly below the national average FICO score, which is 695. Check your credit score for free before you apply.
Borrowers with an established credit history. The lender says borrowers should have "several years of credit history." But simply having established credit isn't good enough. LightStream also looks for borrowers with a variety of credit types, including credit cards, an auto loan and a mortgage.
Savers. Although the lender doesn't specify how much you have to have in the bank, LightStream wants evidence you have liquid assets like a savings account or stock ownership.
Anyone borrowing for a non-traditional purpose. LightStream, like other lenders, offers personal loans for debt consolidation. But it also advertises unsecured loans to purchase cars, or to fund adoption, medical procedures, home improvement, orthodontics, weddings and timeshares. The company says it will tailor the annual percentage rate based on the loan purpose.
Borrowers who want to file a joint application. LightStream is one of a few lenders that allows multiple borrowers on a single loan.
Anyone who is comfortable with an entirely on-line loan experience. You can only apply through its online application for a LightStream loan. Making loan payments by mail will increase your interest rate by half a percentage point. You cannot go into a SunTrust Bank branch to make a payment in person.
How LightStream compares

| | LightStream | Lending Club |
| --- | --- | --- |
| Loan amounts | $5,000 to $100,000 | $1,000 to $40,000 |
| APR range | 2.19% to 17.49% | 5.99% to 35.89% |
| Origination fee | None | 1% to 6% |
| Minimum credit score | 680 | 660 |
| Time to funding | Same day | 14 days |
| Soft credit check with application? | Yes | Yes |
Who should not accept a loan
Anyone with bad credit. If you have bad or thin credit, LightStream may not approve you for a loan. Or, the lender could require collateral to secure a personal loan.
Consider applying for a balance transfer credit card or a home equity loan if either of those offer more favorable terms.
Lending terms
LightStream aims to fill a niche with its unsecured loans — customers with strong credit profiles who may not be able to borrow money elsewhere for their purposes. The two notable exceptions to what they'll consider a loan for are college tuition and business loans.
LightStream offers loans that range from $5,000 to $100,000. Its unsecured personal loans carry a fixed annual percentage rate of 2.19% to 17.49%, assuming you choose the autopay option. If you choose to pay manually after receiving an email invoice, the quoted APR will be 0.50 percentage points higher. The quote you receive is based on multiple factors, including credit history, the amount you're asking for, and if you want 24 to 84 months to pay it off.
Unlike many other lenders, LightStream doesn't charge origination fees, which can add on to the overall cost of your loan.
Once approved, it takes about one to two business days to receive the funds in your bank account.
Minimum borrower requirements
The typical LightStream customer has a minimum FICO score of 680, according to a company spokesman. That's not the only factor the lender uses to consider an applicant, however. LightStream also will review credit history, payment history, credit card and other debt history and income information.
Fees and penalties
LightStream charges no origination fees.
The lender does not charge late fees.
You'll be charged a 0.50 percentage point higher interest rate if you pay by check. There is no fee if you set up an automatic ACH debit through your bank account.
You won't be penalized for paying off your loan early.
How to apply
The application process is straightforward and fast. You'll first enter some basic information in the online application, like the amount and purpose of the loan and the length of time you'd like to pay it back.
LightStream will conduct a "soft" credit check, which won't impact your credit rating. In most cases, LightStream's loan rates are tailored to the purpose of your loan.
If you're approved, the screen will display your individualized loan offer, including the loan amount, the terms, the annual percentage rate and the monthly payments due. If you accept these terms, click on the "Proceed to Loan Agreement" button, and the bank will perform a hard credit pull, which can adversely impact your credit score. A loan officer will review your application.
If you don't like the terms you're seeing, you also have the option to start over and ask for new terms with a different loan amount or repayment period or just cancel your application altogether.
What to do if you're turned down
If LightStream rejects your application and you believe your financial standing is strong enough, consider asking for clarification. The explanation could be as simple as a processing error. Or there may be a negative mark on your credit report that you need to investigate.
If you know your credit history is poor, consider applying for a loan from Avant or OneMain Financial, or for a secured credit card, which can help you rebuild your credit.