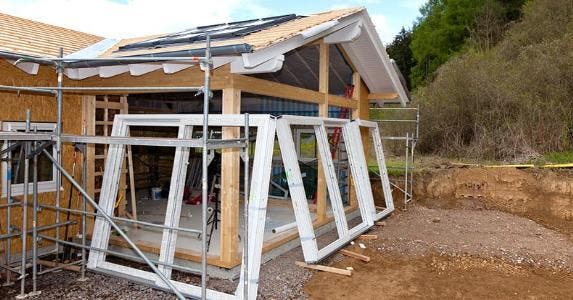 Dear Real Estate Adviser,
I want to buy a piece of land where I'd build a prefabricated house. Can I use my first-time homebuyer status for this and if so, what kind of first-time buyer programs are out there?
— P. Turgeon
Dear P.,
Yes, most first-time homebuyer programs, which typically include smaller-than-average down payments and low closing costs, include loans for prefabricated, or "modular" homes, though not for manufactured and mobile homes.
There's more than 1 option
In fact, you may have even more financing options with a modular home, which is built in sections offsite and assembled onsite, including financing through the manufacturer.
If you go the conventional-lender route, you may prefer a 1-stop "construction to permanent" loan, where the lot, home construction and mortgage arrangements are covered in a single loan. In these, you pay 1 set of closing costs and make only interest payments during construction, after which your loan liability is rolled into a mortgage. Or you can get 2 separate loans, 1 for the building period followed by a permanent loan from a different lender that pays off the construction loan. Separate loans tend to be a little less expensive, especially if you comparison-shop.
On a prefab home, builders will likely need periodic payments to finance the ongoing building process plus payment in full before work can be finished, details that can change the loan structure and likely raise costs.
RATE SEARCH: Compare mortgages today.
Consider the drawbacks
As for a federally insured "first-timer" loans, while your down payment and closing will likely be less costly, your hands may be tied if you need to resell quickly, refinance or otherwise change the terms of your debt or collateral. So be wary. You'll also be required to pay a little more for insurance, either through private mortgage insurance (PMI) or specific insurance tied to the loan program, which can mean higher fees and longer terms. While national banks offer first-time homebuyer loans under favorable circumstances, credit unions and local lenders are a little more accepting of such a trade.
Look for government programs
The Department of Housing and Urban Development maintains a list of first-time homebuyer programs. By the way, all government-backed first-time homebuyer loan programs require participants to attend HUD-approved housing-counseling classes.
Cities and states also offer financial assistance to first-timers through the federally backed Affordable Housing Assistance Program (AHAP). Do a search for "AHAP loans" paired with your town and then your state. There are also programs such as USDA Rural Development, where you can borrow 100% of appraised value for your project, though the property must fall within certain geographical areas outside city limits.
Other stuff to think about
Because you lack collateral, project monitoring by the lender will occur and builder funds will be disbursed based on these progress reports. Timeliness shouldn't be an issue since most prefabs take less than half the time (4 months) to complete than "stick-built" homes (about 9 months). As noted, some modular-home dealers offer financing on their homes, so be sure to compare their rates with conventional lenders
Using a real estate agent/broker in some capacity is also suggested for first-time buyers because the many details can be overwhelming, especially when you're also buying land. And realize you may need utility infrastructure (expensive) and a septic system (more expensive) on that plot. These needs can skew your buying equation. Also know that modular homes tend to linger longer on the resale market than conventional ones.
Be sure to shop around, though, no matter what type of loan product you seek. A little homework can save you thousands.
Good luck!
RATE SEARCH: Get prequalified today.
Ask the adviser
To ask a question of the Real Estate Adviser, go to the "Ask the Experts" page and select "Buying, selling a home" as the topic. Read more Real Estate Adviser columns and more stories about real estate.
Bankrate's content, including the guidance of its advice-and-expert columns and this website, is intended only to assist you with financial decisions. The content is broad in scope and does not consider your personal financial situation. Bankrate recommends that you seek the advice of advisers who are fully aware of your individual circumstances before making any final decisions or implementing any financial strategy. Please remember that your use of this website is governed by Bankrate's Terms of Use.