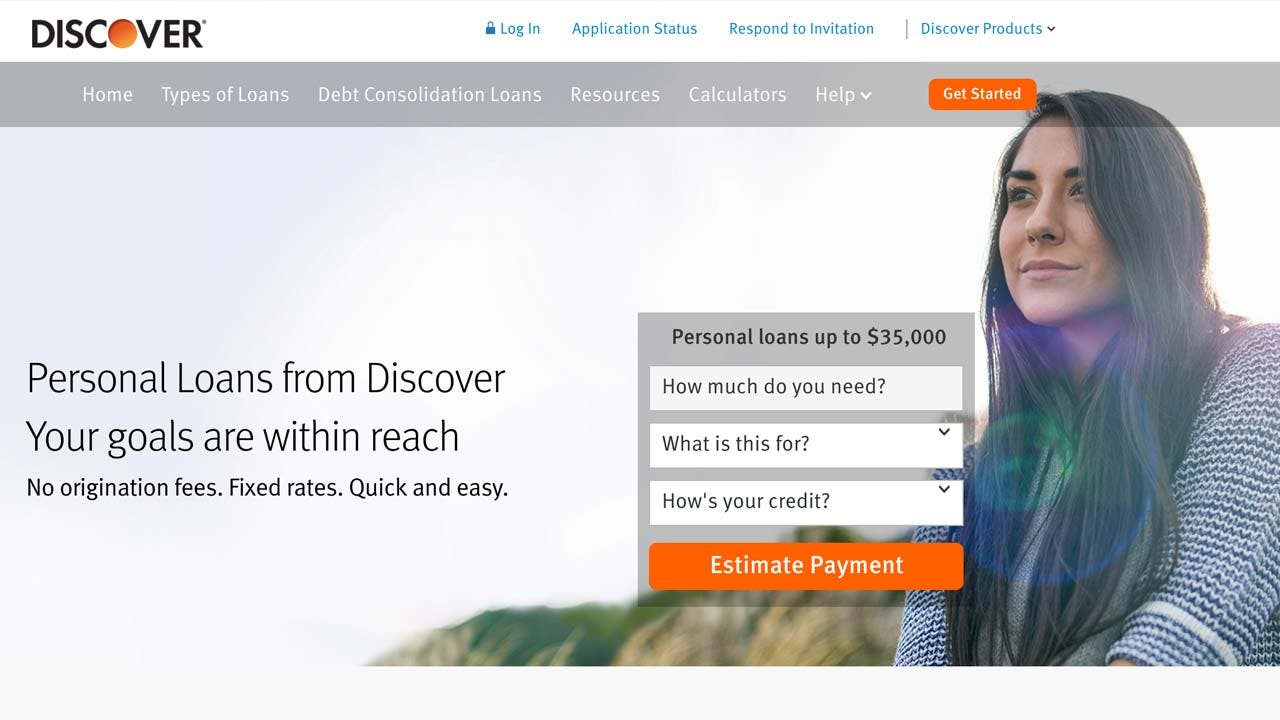 Discover may be best known as a credit card issuer, but what you may not know is that Discover loans are one of only a handful of personal loans that don't include an origination fee.
This is significant because the fees, which typically range between 1% and 6% of the loan value, can tack on hundreds and sometimes thousands of dollars to the overall cost of a loan.
Discover loans are tailored for borrowers with excellent credit scores.
Table of Contents: Discover loans
Who is this loan good for?
Lending terms
Minimum borrower requirements
Fees and penalties
How to apply
What to do if you're turned down
Reasons to consider a Discover loan
No loan origination fees
No fees as long as you pay on time
Fixed rates ranging from 6.99% to 24.99%
Flexible payment plans up to 84 months
Design loan terms around you
No penalty for prepayment
Free consumer education tools
Discover's interest rates start as low as 6.99% for those with the best credit, which is one of the lowest personal loan interest rates available.
Although Discover typically lends to people seeking debt consolidation, borrowers can apply for a Discover loan for other reasons, including weddings, or other large purchases. Discover also is the only large lender advertising "green loans," aimed at helping homeowners fund eco-friendly home improvements like geothermal units and solar panels.
The free consumer education tools on Discover's website are a nice bonus. There's a personal loan calculator to estimate your monthly loan payments and a debt consolidation calculator to determine how much you could potentially save in interest charges. Discover also has an online library of articles that explains various aspects of personal loans, ways to save and how to manage debt.
Who is a Discover personal loan good for?
Anyone with excellent credit. Discover borrowers have an average credit score of 750, significantly better than the national average FICO score of 695.
Someone who needs flexible payment options. Many personal lenders only offer three- or five-year loans, but Discover offers loan repayment terms up to seven years.
Someone who wants the bulk of their loan to go directly to creditors. For debt consolidation loans, Discover requires a minimum of 70% of the loan goes directly to your creditors.
Someone who wants to pay off their loan early without penalty. There's no penalty for prepayment, so if you're expecting a life change like a new job or you find yourself with some extra cash and you want to whittle away your debt, you can do so without accruing an extra charge.
Who should not accept a loan
Anyone with poor credit. If you have less-than-stellar credit, Discover may not approve your loan request.
Consider applying for a balance transfer credit card or a home equity loan if either of those offer more favorable terms.
Discover loans Lending terms
Discover loans are fixed-rate and range from $2,500 to $35,000. The quote you receive is based on multiple factors, including credit history, the amount you're asking for, and if you want 36 to 84 months to pay it off.
Discover charges an annual percentage rate (APR) of 6.99% to 24.99%. The amount of interest you will pay on your loan will depend on the amount you borrow, the interest rate and the length of your loan.
For example, if you borrow $10,000 for 60 months at a rate of 9.99%, your monthly payments will be $212. Over the life of the loan you will have paid $12,720 — including $2,720 in interest on top of the original $10,000 you borrowed.
How Discover compares

| | Discover | Best Egg |
| --- | --- | --- |
| Loan amounts | $2,500 to $35,000 | $2,000 to $50,000 |
| APR range | 6.99% to 24.99% | 5.99% to 29.99% |
| Origination fee | None | 0.99% to 5.99% |
| Minimum credit score | 660 (750 borrower average) | 700 for the best rates |
| Time to funding | Next business day | Next business day |
| Soft credit check with application? | Yes | Yes |
With a Discover loan for debt consolidation, you'll need to commit to sending a minimum of 70% of the funds to the creditors, otherwise you risk losing final approval or adversely affecting the APR you're approved for. You can set it up with Discover to send loan payments directly to the creditor.
Discover also has a unique 30-day money-back guarantee if you find more favorable terms from another lender. Within that window you can return Discover's loan without any penalties or interest charges.
Minimum borrower requirements
The minimum income requirement is $25,000 annually, but that's not the only factor Discover considers in evaluating an application. "We evaluate each applicant based on a number of factors including the applicant's overall financial health and assess each application based on the customer's personal financial situation including their credit score, income and existing credit and debts." a spokesman said. "However our typical customer's average income is much higher than the minimum."
Discover loans Fees and penalties
Discover does not charge origination fees.
Late payment fee is $39, which is higher than that of many other lenders.
You won't be penalized for paying off your loan early.
How to apply for a Discover personal loan
The application process is straightforward and fast. Enter some basic information in the online application, including the loan amount you want, what you want to use the money for and the length of time you'd like to pay it off. Discover's online calculators can give you an estimate of how much your monthly payments will be at different loan lengths and interest rates.
Before finalizing your Discover loan, the company will do a "hard" credit check, which can adversely impact your credit score. Once approved, the company will call you to verify your identity.
A Discover personal loan applicant could receive a decision on the same day they apply as long as their application is complete with no missing information. Once the application is approved, and the applicant accepts the loan terms, funds can be sent as early as the next business day.
What to do if you're turned down
If Discover rejects your application and you believe your financial standing is strong enough, consider asking for clarification. The explanation could be as simple as a processing error. Or there may be a negative mark on your credit report that you need to investigate.
If your credit is lower than 700, consider applying for a personal loan at a credit union or another online lending partner. You may find more favorable rates and fewer lending restrictions.