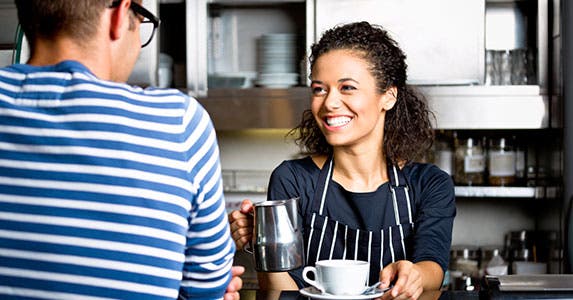 What's a bargain in September?
Straddling 2 seasons, September brings deals on summer and fall favorites.
Consumers will find discounts on seafood, summer clothes, outdoor grills and patio furniture, along with great prices on harvest season staples, like apples, pears and roasting chickens.
September also offers some nice freebies. How about a free cup of primo coffee? Or 2-for-1 ticket deals to a hot Broadway hit?
And whether you want to travel around town on a new bike or leave town for a little getaway, you'll find some deep discounts.
Here are more than a dozen items that will be on sale in September, along with a rundown of the best Labor Day sales.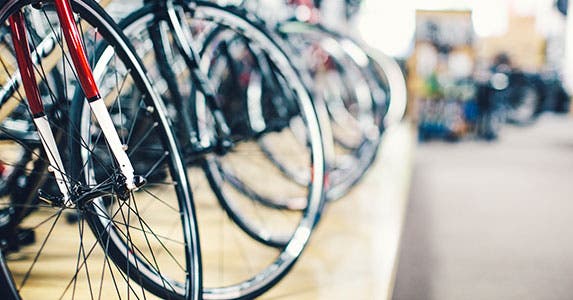 Bikes, travel deals
What you might not expect: end-of-season deals on bicycles.
Not only is this the end of the bike season, it's also the month that a lot of the new models hit the stores, says Kendal Perez, spokeswoman for CouponSherpa.com. "So older models, as usual, will go on sale."
Look for discounts of 20% to 50% off from bike shops, she says. And some stores also will have deals on biking clothes and accessories.
But if you want to go a little farther from your own neighborhood, you also can find some travel deals this month.
"September is considered shoulder season" for travel, Perez says. And that means discounts on hotels and airfare.
"Hotels will often offer some good savings — up to 50% off — to encourage people to continue to travel in September," she says. "September is slow for them."
And it's also a good time to get a jump on your holiday reservations, and score a nice discount in the bargain, she says. "You save when you book and get what you want as well, because options are more available."
Book now and you can expect to shave about $75 to $150 from the cost of holiday airfare, says Perez.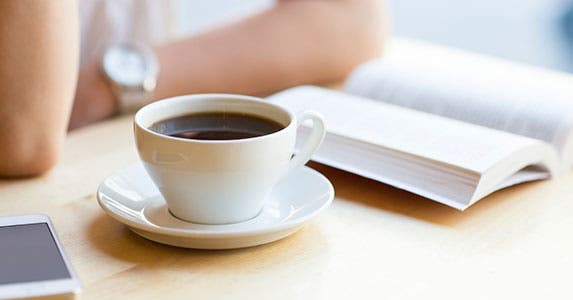 Free coffee, Broadway BOGO
Tuesday, Sept. 29 is National Coffee Day, and that means free coffee.
"Deals vary from year to year," says Perez. "If last year was any indication, consumers can expect free coffees" from some of the major coffee chains, as well as some of the independent coffeehouses, she says.
Freebies will most likely be for a plain cup of joe. Consumers also may find discounts on coffee-based drinks and more exotic offerings, she says.
How about a free extra ticket to a Broadway hit?
September is considered "offseason" on Broadway, Perez says. And a biannual promotion — generously dubbed "Broadway Week" — runs Sept. 7 through Sept. 20, featuring 2-for-1 ticket specials.
"There are lots of great options," including major hits, she says. And with some regular ticket prices topping $100, "2-for-1 is really a great deal," says Perez.
You can purchase tickets through NYCGo.com (the city's marketing and tourism organization) starting as early as 10:30 a.m. on Aug. 19. If you miss out, check back in early January for tickets to a 2nd "Broadway Week" often scheduled later that month.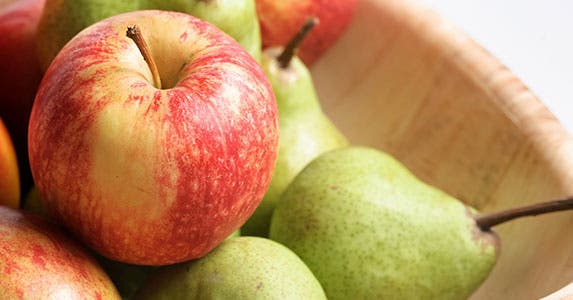 Apples and pears
Apples are popular for school lunches.
While you'll still find some great buys on stone fruit (peaches, plums and nectarines), September is "really the beginning of what we call 'hard fruit season'" — when this year's crop of domestic apples and pears starts hitting the stores, says Chris Romano, associate global produce coordinator for Whole Foods Market.
This year, because of warmer weather, "the harvest is 2 to 3 weeks ahead of last year," he says.
By September, consumers "will start seeing some really nice values," along with an abundance of early apple varieties, like Gala, Ginger Gold and Honeycrisp, says Romano. Look for price cuts of 20% to 40%, says Romano.
Love pears? Look for similar discounts on Bartletts and Anjous, he says.
And some of last month's great fruit prices are either still around or getting even better. Remember those August grape deals? Take another 10% to 15% off that price this month as the supply gets even more abundant, he says.
Likewise, raspberries still will be a good value, he says. Consumers "will continue to see 20% to 40% saving" over offseason prices this month, says Romano. "It should be a good season for them."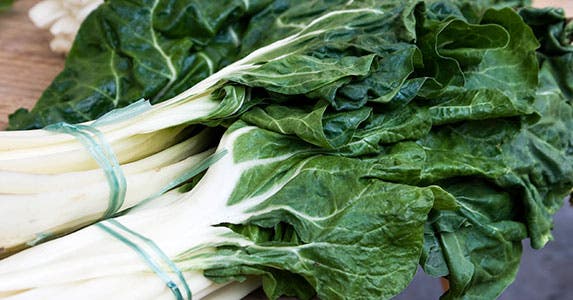 Save green on greens
Cooking greens — like kale and chard — "will begin to be prolific" this month, says Romano. And a lot of the crop will be local, no matter where you live, he says.
Look for bigger displays, fresher greens and deals offering as much as 25% off. "It's a great time to eat greens," Romano says.
You can saute them lightly with a little garlic or throw them on the grill, he says. Grilling whole kale with a little olive oil and salt "gets it all crispy and crunchy, and it's a nice addition to a sandwich," Romano says. And "a lot of folks are pan-frying it, too."
September is a great time for lettuce greens. "They also like the cool nights," he says.
As the California crops come to market, look for 20% to 30% off romaine, red leaf and green leaf varieties. "It's salad-bowl time," Romano says.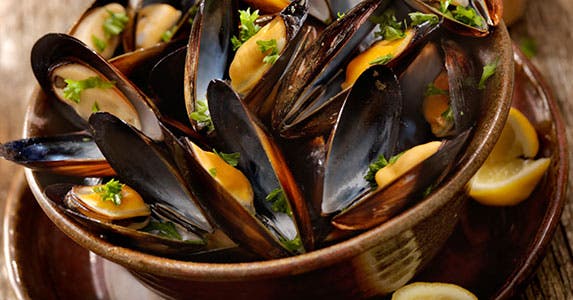 Shellfish
Want an affordable dinner that isn't the same old same old? Think shellfish.
The big ones this month: mussels, clams and, in some locations, oysters.
These farmed shellfish varieties get the gold star for sustainability, health and affordability, says Elizabeth Fitzsimons, outreach coordinator for sustainable seafood programs at the New England Aquarium.
Not only are the mollusks tasty and good for you, but growing the crop often improves the local water quality, she says. Farmed clams and farmed mussels will be good buys this month, Fitzsimons says. Depending on how close you are to oyster production areas, you could get a good deal on those beauties, too.
Look for prices of $3 to $5 per pound for mussels and $3 to $6 per pound for clams, depending on the size, she says.
"For someone cooking (shellfish) at home, they are foolproof," says Fitzsimons. Steam them or grill them, "and they open up and tell you when they're done."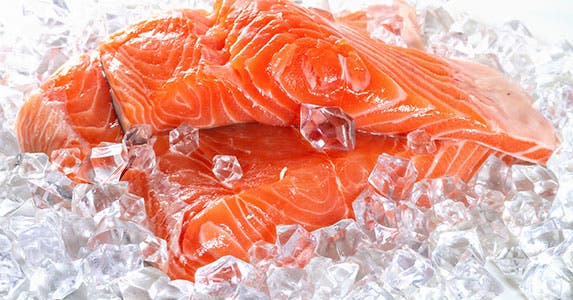 Salmon, mackerel
September is the end of Alaska's wild salmon season, and it's "an amazing choice," says Fitzsimons.
"You can find it fresh in a number of markets or flash frozen," she says.
Can't swing the $22 to $26 per pound for fresh salmon? Look for "quick-frozen" or "IQF," for "individually quick-frozen," on the label, she says. Often frozen the day it's caught, it's "a great way to get your seafood at a good price" — often around $12 to $16 a pound this month, Fitzsimons says.
Or, opt for the canned varieties — a staple for salmon patties and salmon salad — which are about $4 to $5 per can, she says.
Another great fish that's on sale this month is mackerel.
"September is really the ramp-up of the fall mackerel season," Fitzsimons says.
It's "a fish that stands up to a lot of strong flavors," so much so that you can even serve it with red wine, she says. And because it reproduces quickly, it's resilient to overfishing.
With mackerel, you want to buy it fresh rather than frozen, and that will run about $6 to $8 per pound, Fitzsimons says.
You can grill it, use it in fish stews or try something a little more gourmet, like pan-seared mackerel with tomato and feta.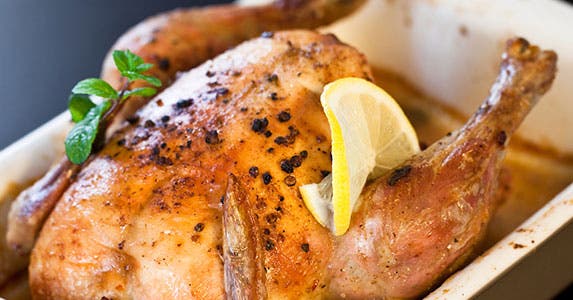 Roasting chicken
Looking for an inexpensive dinner that will feed a group? Think whole chickens.
In September, roasting chickens should be right around $1 per pound, and running 5 pounds to 7 pounds, says Stanley Lobel, president of Lobel's of New York, a renowned butcher shop in Manhattan .
It will feed 6 and leave plenty of leftovers for chicken sandwiches or chicken salad the next day, he says. Or, cook up some chicken and eggs for a protein-rich breakfast, he says.
When it comes to the meat counter, "whole roasters are the least expensive and give the most bang for your buck," Lobel says.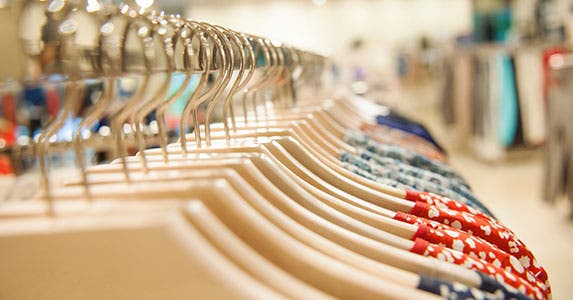 Labor Day sale deals
Want a last taste of summer for a discount?
This year, Labor Day sales will include clearance sales on summer goods along with some deals on the first of the fall merchandise, CouponSherpa.com's Perez says.
You'll find some of the best buys on summer clothing, with weekend sales of up to 60% off, and clearance racks sporting discounts of up to 75% off, she says. They'll likely be available all month or until the goods are gone.
You'll also find 20% to 40% off sales on fall clothes "just as an incentive to get people through the door," Perez says.
And look for end-of-season price cuts on sunglasses in both big-box stores and specialty boutiques, she says. What you can expect is 20% to 40% off and some free shipping offers if you buy online.
Another hot item this month is patio furniture.
"September is really where these prices shine because retailers are eager to get them off the floor," Perez says. And you'll find up to 90% off some leftover pieces, she says.
Want to grab a new grill and a bargain? It's also a good month to shop around, Perez says. While not all grills will be on sale, you can find up to 50% off on certain models, she says.