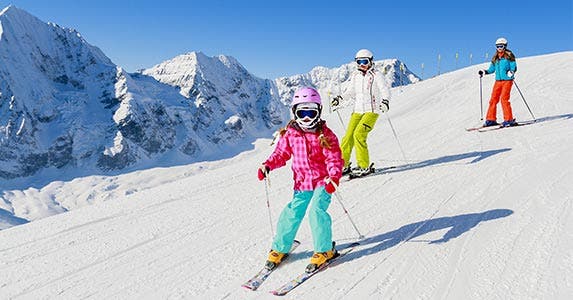 6 ways to save on holiday travel
That storied holiday trip to grandmother's house today might involve several legs and a whole lot of money: an Uber to the airport, a high-priced flight for peak-period air travel, fees for overweight luggage, expensive airport meals for four, and a rental car for getting to your final destination.
To save money on your upcoming holiday trip, use these tips and tricks offered by travel experts. You'll discover new ways to plan, take and save money on a holiday vacation, whether you're headed to Grandma's, the ski slopes or even the home of Mickey Mouse.
What will you do with those savings? Buy more presents, of course, and maybe a few things for yourself, too.
RATE SEARCH: Want to save up for upcoming holiday travel and presents? Get some interest on your savings starting today by shopping money market accounts.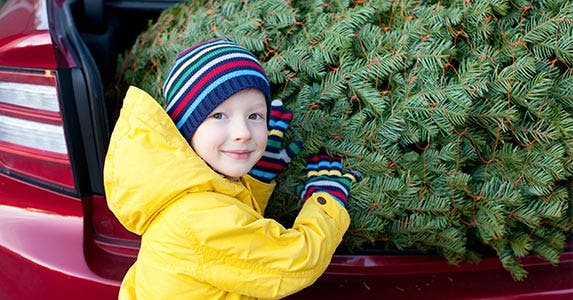 Say farewell to pricey holiday air fares
Aleksei Potov/Shutterstock.com
If you're booking a Christmas flight now, you may not have much time left to snag a low-cost fare, says Suzanne Rowan Kelleher, family travel expert for MiniTime.com.
It's best to book at least six weeks before your holiday travel dates to save money.
But be flexible with your dates to find the best deals.
"Realize that almost everyone is locked into the same schedule during holiday breaks," Kelleher says. "Not surprisingly, most folks who book a Thanksgiving getaway want to fly out on Wednesday evening and fly back home on Sunday. Demand is higher, so air fares will be higher on those days."
If you book and the fare drops before your departure, most airlines will refund the difference, minus a rebooking fee, via a voucher. But you must request the refund and your ticket must have been purchased directly from the airline.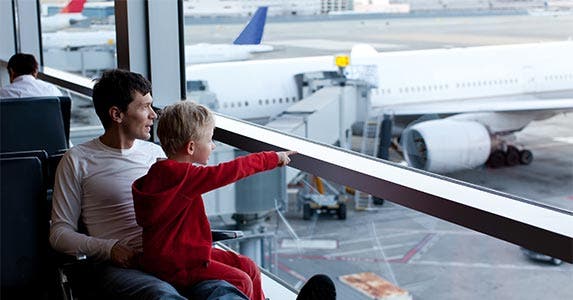 Eliminate other flight costs
Aleksei Potov/Shutterstock.com
To save additional money when you fly, skip airport meals by bringing your own food, says Jon Lal, founder of BeFrugal.com. He suggests buying granola bars and other dry, easy-to-pack snacks from a low-price store such as Costco.
Luggage fees can really add up during holiday travel when suitcases may be stuffed with gifts. Check suitcase weight on either your bathroom scale or by buying your own luggage scale.
A luggage scale is small, and you'd have it available for your return flight home. One example is the palm-sized Precision Voyager, which costs $15-25 and clips to a suitcase; just lift it and the weight appears instantly.
If you're pushing the weight limits, Lal suggests reconsidering heavy items like shoes, books and electronics, or redistributing heavy items into lighter bags.
"An overweight bag can cost you $25 to $400 each," he says. "If your bag is heavy and may be over the maximum luggage weight, weigh your bags at home. Then, rearrange some heavier items to redistribute the weight if you need to, rather than pay extra."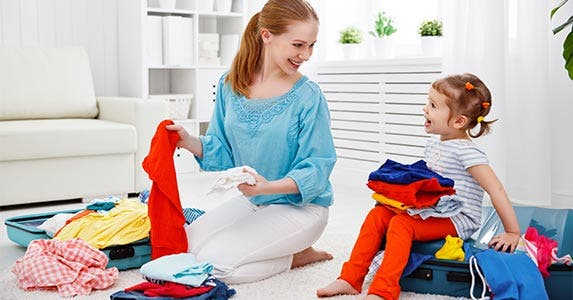 Look for a tour deal
Evgeny Atamanenko/Shutterstock.com
When taking a holiday vacation, skip expensive guided tours or a hop-on, hop-off buses. Instead, find out in advance whether the city you're visiting offers free tours or has a see-it-all bus route, which can save money.
Lydie Thomas, author of "Your Guide to San Francisco for Free," suggests doing Google searches such as "Free tours + name of city" or "Free walking tour + name of city." Or, contact the tourism bureau or visitors bureau to ask. San Francisco and Paris are two cities that offer free tours, she says.
You might also rely on public transit to see a city. In Paris, bus route 69 passes by the Eiffel Tower, Musee d'Orsay, the Louvre and the Bastille.
"Traveling with locals is going to take you out of your comfort zone, and you may have to stand in a crowded bus," Thomas says. "But it is also the opportunity to chat with a Parisian or a San Franciscan and learn more about the city."
RATE SEARCH: In the market for a new credit card? Compare local checking account rates today.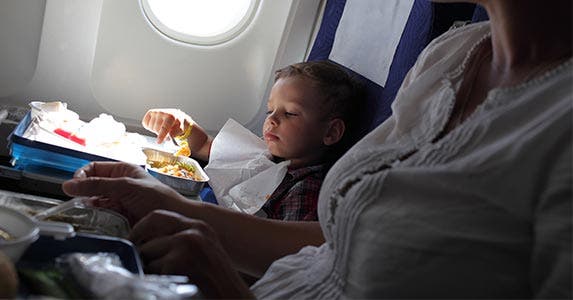 Check out Disney deals
Chubykin Arkady/Shutterstock.com
For a memorable holiday trip with the kids, Walt Disney World in Florida offers four theme parks — Animal Kingdom, Epcot, Hollywood Studios and Magic Kingdom — plus two water parks.
Consider staying on-site and requesting adjoining rooms.
"Adjoining rooms are generally $200 less than a family suite," says Jed Davis, owner of Monorail Magic, a Disney-themed travel agency. He adds that staying on Disney property also allow you to save on parking and have easy transportation, which reduces travel time by 30 to 60 minutes, and you can qualify for additional savings via a meal plan.
"Several restaurants offer character-dining experiences," Davis adds. "So, you no longer have to wait hours in the hot Florida sun to see your favorite character. Instead, they come to your table."
Kids who are 2 years old or younger are admitted for free, so a Disney visit might make a great Christmas present, he says.
But be warned that Christmas is one of the busiest days of the year at Disney World, and you'll pay peak ticket prices.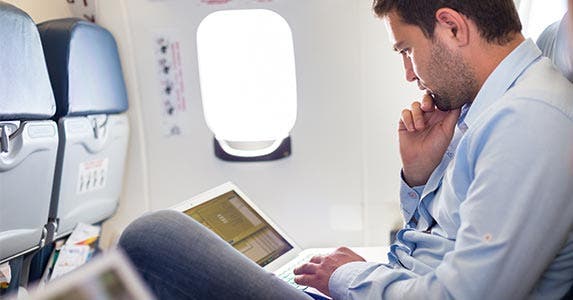 Go holiday travel clearance-shopping
Matej Kastelic/Shutterstock.com
It's not too early to start looking for travel providers' "last-minute" holiday deals.
"As travel and destination providers realize that a certain time of year or new offering may not be booked, they start offering deals months out ahead," says Wayne Dunlap, who runs the travel website Unhook Now. So, start stalking travel-clearance sites for holiday vacation packages.
For example, Dunlap points to an all-inclusive seven-night fall vacation to the Dominican Republic that he recently saw, starting at $799 per person, which includes taxes, transfers, round-trip air fare from the East Coast and an upgraded room at a beachfront resort.
But don't wait too long to book.
"That is a very busy time for travel and things do book out," he says of the holiday season. "They also sometimes have holiday blackout dates on the travel discount offers. Taking advantage of last-minute deals that include many great ones that can be booked months before is a good idea."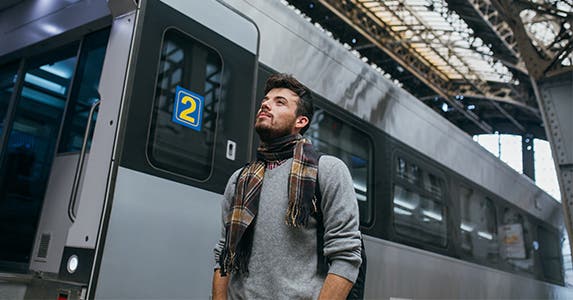 Resort to bargains
Tetiana Iatsenko/Shutterstock.com
If you're staying at a ski resort for the holidays, take a few tips from Hope Maloney, chef concierge at the Four Seasons Resort in Jackson Hole, Wyoming.
"When traveling to a ski destination during winter months, ship your ski gear or luggage in advance so you don't have to worry about delayed baggage or excess luggage weight," she says.
Pack lighter by investigating online discounts for ski gear, and rent bulky baby gear such as playpens and swings at a shop near the resort. Or, order that stuff or other luggage-hogging, premium-priced baby needs, such as diapers from discount online suppliers such as Babies R Us and Baby's On The Go, then have it all shipped to the resort.
You'll save luggage space for snow hats and mittens, not to mention money that you can spend on hot chocolate or a massage.
In addition, inquire about airport shuttle services to the ski area. "Most ski resorts have very inexpensive or complimentary transportation," Maloney says.
RATE SEARCH: Shop Bankrate today for the best high-yield CD rates.