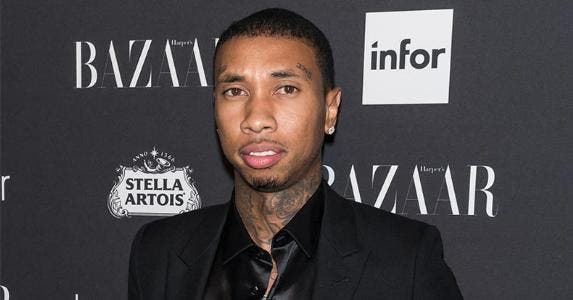 Tyga
Net worth: $2 million (as of February 2017)
Year of birth: 1989
Education: Gardena High School
---
How Tyga's net worth was built
Tyga's net worth of $2 million comes predominantly from his career in rap music. Michael Ray Nguyen-Stevenson, better known by his stage name Tyga, was still in school when he started his career as a rapper. Tyga loved to share mix tapes with his friends, and he entered rap contests to prove he had what it took to become a successful rapper. His cousin Travis McCoy, of Gym Class Heroes fame, invited Tyga to join his band's tour. This connection to McCoy gave Tyga the exposure he needed to launch his own career.
In 2008, the release of his hit "Coconut Juice" helped Tyga become a household name. Not only did critics praise this catchy summer tune, but a larger audience also began to listen to his music. Since 2008, Tyga has released five albums.
A small portion of Tyga's wealth comes from Last Kings, the clothing store that he owns and operates in Los Angeles. The interior of the store is notorious for its bold, extravagant décor.
You can use this net worth calculator to see your net worth.
---
What he's up to now
Tyga's album, "The Gold Album: 18th Dynasty," was released in 2015 to surprisingly low sales. The album was a surprise independent release under Tyga's Last Kings label. During a performance at New York's Highline Ballroom in September of 2016, esteemed rapper Kanye West announced that he had signed Tyga to his G.O.O.D. music roster. This announcement came after Tyga's public dispute with Young Money Entertainment and Cash Money Records concerning adequate payment for his hits. Tyga believes that working with West's label will help him achieve a larger degree of commercial success.
---
Accolades
Tyga has received numerous award nominations during his career, though he has yet to take any home as of January 2017. In 2011, Tyga was nominated for the Best Rap/Sung Collaboration Grammy for his work with Chris Brown and Kevin McCall in the song "Deuces." Tyga teamed up with Brown and Lil' Wayne to record "Loyal," a hit that received both MTV Video Music Awards and BET award nominations for its music video. "Loyal" was also nominated for a BET award for Best Collaboration.