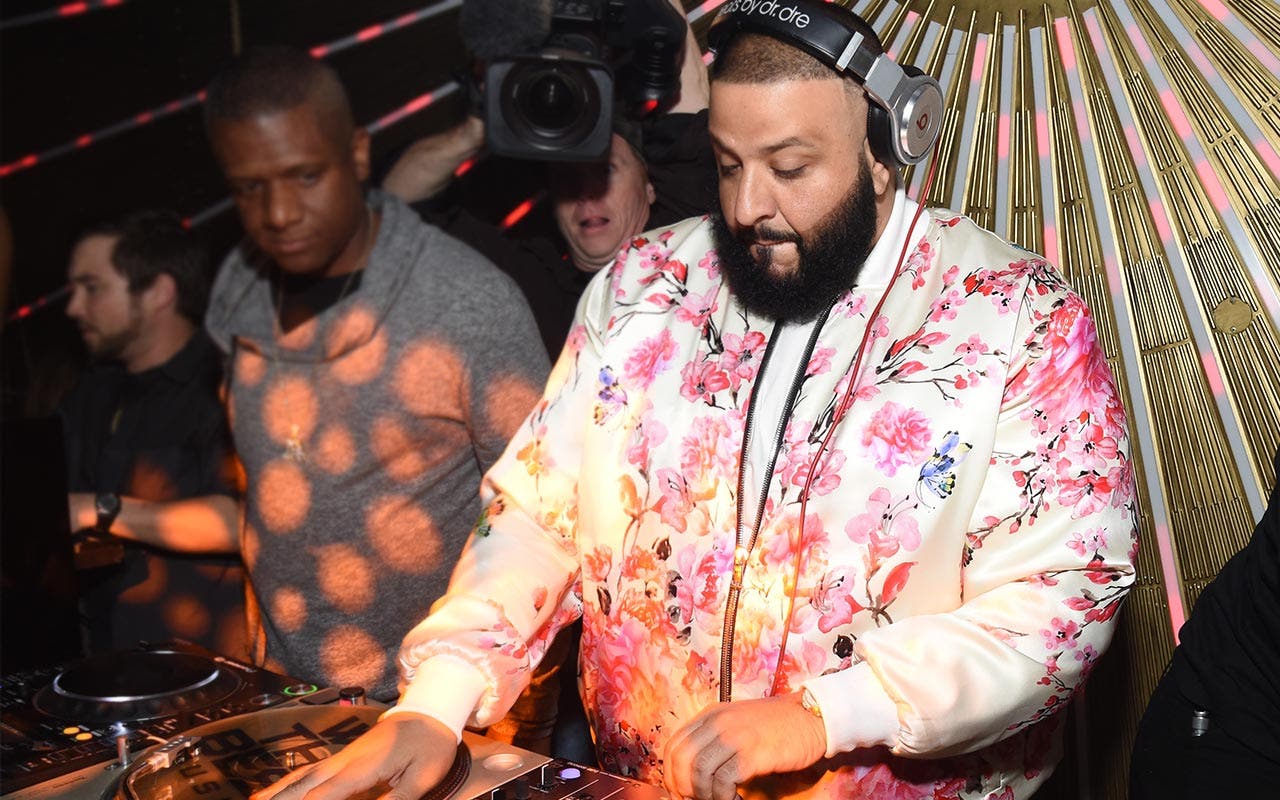 How DJ Khaled's net worth was built
Khaled Mohamed Khaled, known professionally as DJ Khaled, is a DJ, rapper, record label executive, record producer and radio host. Born to Palestinian immigrants, he started taking disc jockey gigs in the 1990s before making his radio debut on "The Luke Show," hosted by former 2 Live Crew frontman Luther Campbell. In 2003, he made the jump to his own radio show while continuing to make connections in the music industry. Much of DJ Khaled's success came after the release of his first album, "Listennn … the Album" in 2006, which hit No. 12 on the Billboard charts.
In 2007, he released his second album, "We the Best," featuring big names like Lil Wayne, Birdman, T-Pain, Akon and others. The record helped propel Khaled to fame. He went on to release many more successful albums, including "Kiss the Ring" and "I Changed A Lot." In 2009, he became president of the Def Jam South record label, and later became founder and CEO of We the Best Music Group. His net worth as of May 2017 is $20 million, according to Celebrity Net Worth.
You can use this net worth calculator to see your net worth.
DJ Khaled
Born: 1975
Birthplace: New Orleans
---
What he's up to now
DJ Khaled remains one of the most sought-after producers in hip hop, working with some of the industry's biggest names. In 2016, he released his ninth studio album, "Major Key," featuring a roster of superstars. It debuted at No. 1 on the Billboard charts. His 10th studio album, "Grateful," is scheduled for release in 2017. Khaled has become a well-known personality in social media and has a huge following on Snapchat. He managed to monetize this presence by signing a deal with Apple Inc.'s Beat Electronics, which pays him to use and endorse its products on Snapchat. In November 2016, he published a book, "The Keys," which details his methods for success.
---
Accolades
The single, "I'm So Hood," from Khaled's 2007 album, "We the Best," reached platinum. In 2008, he received DJ of the Year awards at both the BET Hip Hop Awards and the Ozone Awards. He has received nine BET Hip Hop Awards and two Grammy nominations, one in 2012 and a 2017 nomination for his album "Major Key" with Akon, Rick Ross, T.I., Fat Joe, Lil Wayne, Jay Z and more.
See how DJ Khaled's net worth compares with that of another hip hop artist and producer, Soulja Boy.