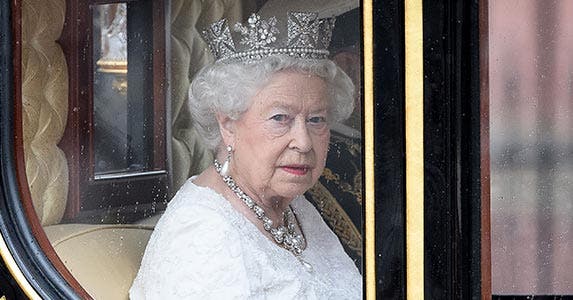 7 bets with major impact
Everybody loves a wager. Betting is one of those universal traits that seem to cut across cultures and classes. Queen Elizabeth II, widely considered one of the richest and most respectable people on the planet, is said to begin her day reading The Racing Post. Her stable of thoroughbreds have won more than 1,600 races.
There are people who will bet on anything at all. Back in the roaring '20s, a young socialite seated next to the reticent President Calvin Coolidge at a dinner party told him she'd made a bet that she could get at least 3 words out of him.
"You lose," said Coolidge. They didn't call him Silent Cal for nothing.
Win or lose, though, some wagers have had larger consequences than the bettors intended.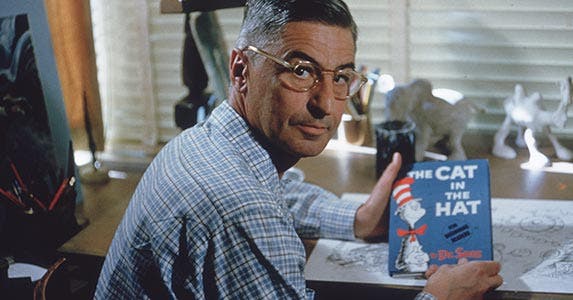 Bennett Cerf's losing bet
Gene Lester/Archive Photos/Getty Images
In 1960, Bennett Cerf, a co-founder of Random House, bet a young writer of children's books $50 that he couldn't write a book using 50 or fewer distinct words. Theodor Seuss Geisel, soon to achieve fame as Dr. Seuss, met the challenge with "Green Eggs and Ham." Cerf lost the bet, but his publishing house made millions on the book, which has remained on juvenile best-seller lists for more than half a century. In 2015, it ranked No. 11 on the Nielsen BookScan Juvenile Top 20.
Sections of "Green Eggs & Ham" (along with portions of Dr. Seuss' other books) have been read into the Congressional Record, most recently by Senator Ted Cruz, who rather unusually interpreted it as a cautionary tale about Obamacare.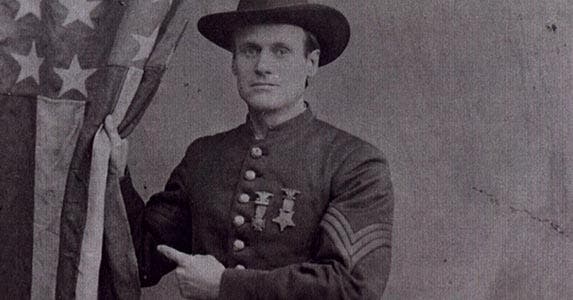 Sergeant Bates' patriotic wagers
McLeanCounty Museum of History/CC BY 3.0
Gilbert H. Bates, who fought in the Civil War on the winning side, was perturbed when, back home in Wisconsin, a neighbor insisted Southerners hated the Stars and Stripes even more since losing the war. Bates bet the skeptic he could carry the flag clear across the South without incident — unarmed, penniless and on foot.
Bates began his trek in Vicksburg, Mississippi, with a reception by the mayor and ended it some 1,400 miles later in Washington, D.C., vindicated and famous, thanks to extensive newspaper coverage. How much that wager brought him is not recorded, though his musings about the journey were published in June 1868.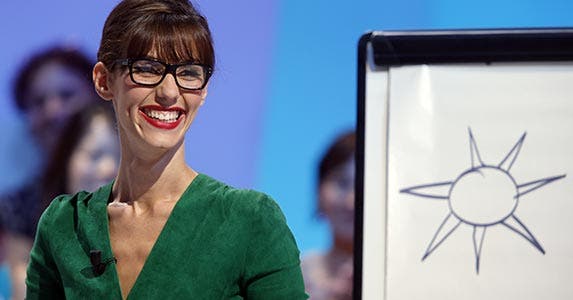 Naked news
FRANCOIS GIULLOT/AFP/Getty Images
Doria Tillier, a 27-year-old French news broadcaster, promised to present the weather in the nude the following day if the French national soccer team beat Ukraine in a qualifying round for the 2013 World Cup. The odds were in her favor. The French team, Les Bleus, was behind 0-2 in a 2-leg playoff and needed to win 3-0 to qualify for the finals — a comeback no European team had ever pulled off, according to ESPN.
When Les Bleus came through, Tillier, a former model and actress, had to do some fast thinking to keep her word and at the same time limit her exposure to the millions of viewers who tuned in.
A clever bit of wordplay saved her skin. She'd promised she would appear à poil — French for naked — if her team won. Tillier broadcast the next day from a small town called Poil, which covered her in a metaphoric sense. She did indeed appear naked, however — except for a pair of rubber boots — but filmed from the rear, across a field at a distance, she wasn't quite the spectacle her audience expected.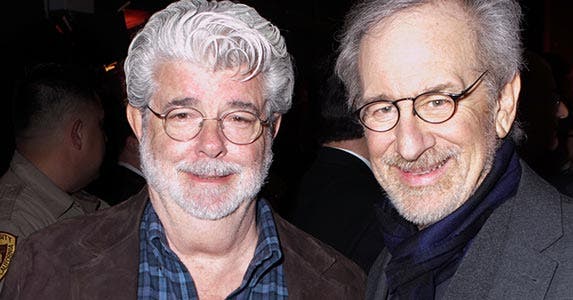 Steven Spielberg's astronomical bet
Gabriel Olsen/FilmMagic/Getty Images
It was just a friendly bet between friends. Back in the mid-1970s, George Lucas was filming the original "Star Wars" movie while his buddy Steven Spielberg was finishing up "Close Encounters of the Third Kind."
According to an interview with Spielberg for Turner Classics Movies, when production problems with "Star Wars" left Lucas "a nervous wreck," he hung around the "Close Encounters" set for a couple of days. Convinced that Spielberg was making a blockbuster while his own movie was likely to be a dud, Lucas suggested a trade: Each director would give the other 2.5% of the take of their respective movies. Spielberg accepted.
"Close Encounters" did indeed turn out to be a classic, grossing $303.8 million worldwide so far. But "Star Wars" dwarfs that, taking in $775.4 million and counting. Spielberg says he's still collecting.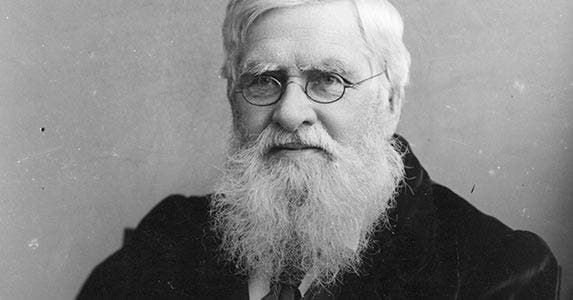 Loser takes all
Hulton Archive/Getty Images
Some people just flat-out can't stand losing.
John Hampden, convinced that the Earth was flat, in 1870 offered 500 pounds to anyone who could prove him wrong. The famous biologist Alfred Russel Wallace took him up on it. They agreed to solve the matter by practical experiment. An independent referee determined that Wallace had won the bet, but Hampden attempted to discredit Wallace's data.
When Wallace was awarded the prize money, Hampden began a long campaign of harassment, described by Wallace as "15 years of continued worry, litigation and persecution, with the final loss of several hundred pounds."
But then, Wallace never had much luck. Although he and fellow biologist Charles Darwin jointly published a paper introducing a theory of evolution based on natural selection, it's now universally known as Darwinism.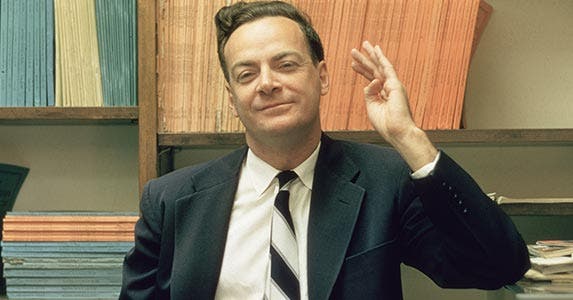 World's smallest wager
Joe Munroe/Hulton Archives/Getty Images
At the conclusion of a speech to members of the American Physical Society in 1959, the physicist and future Nobel Prize winner Richard Feynman said, "It is my intention to offer a prize of $1,000 to the first guy who makes an operating electric motor which is only 1/64th inch cubed."
Several months later, a mechanical engineer named Bill McLellan, realizing that nobody had yet responded to the challenge, decided to give it a try.
It took McLellan about 5 months to put together a working motor with 13 separate components, using such tools as a toothpick and a fine-gauge paintbrush.
He took it to Feynman, who conceded that McLellan had met the specifications. Feynman wrote McLellan a check — although the physicist had hoped his challenge would lead to a new engineering method. And in a way, it did. It fostered more interest in miniaturization, giving birth to a new field of science: nanotechnology.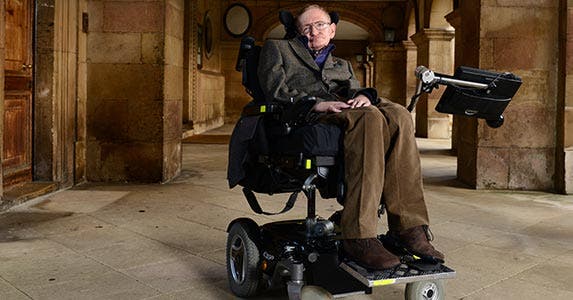 Hawking's bets against himself
Karawi Tang/Getty
Some scientists have a habit of making scientific wagers challenging their peers to punch holes in their theories. Bets made by British physicist Stephen Hawking offer modest monetary rewards, but the stakes for the future of physics are high.
For example, in 1975, Hawking bet Caltech physicist Kip Thorne that black holes — whose existence was largely surmised from Hawking's own research — did not exist. The stakes were not high: If Thorne would win, he would receive a 1-year subscription to Penthouse and if Hawking would win, he would get a 4-year subscription to Private Eye magazine, according to an article in American Physical Society. Hawking lost.
A few years ago, Hawking wagered $100 that the Higgs Boson particle would not be discovered at the Large Hadron Collider. Wrong again.
In a 2013 tribute to Hawking, Preskill acknowledged him to be "without doubt a great scientist, (but) he's a bad gambler."