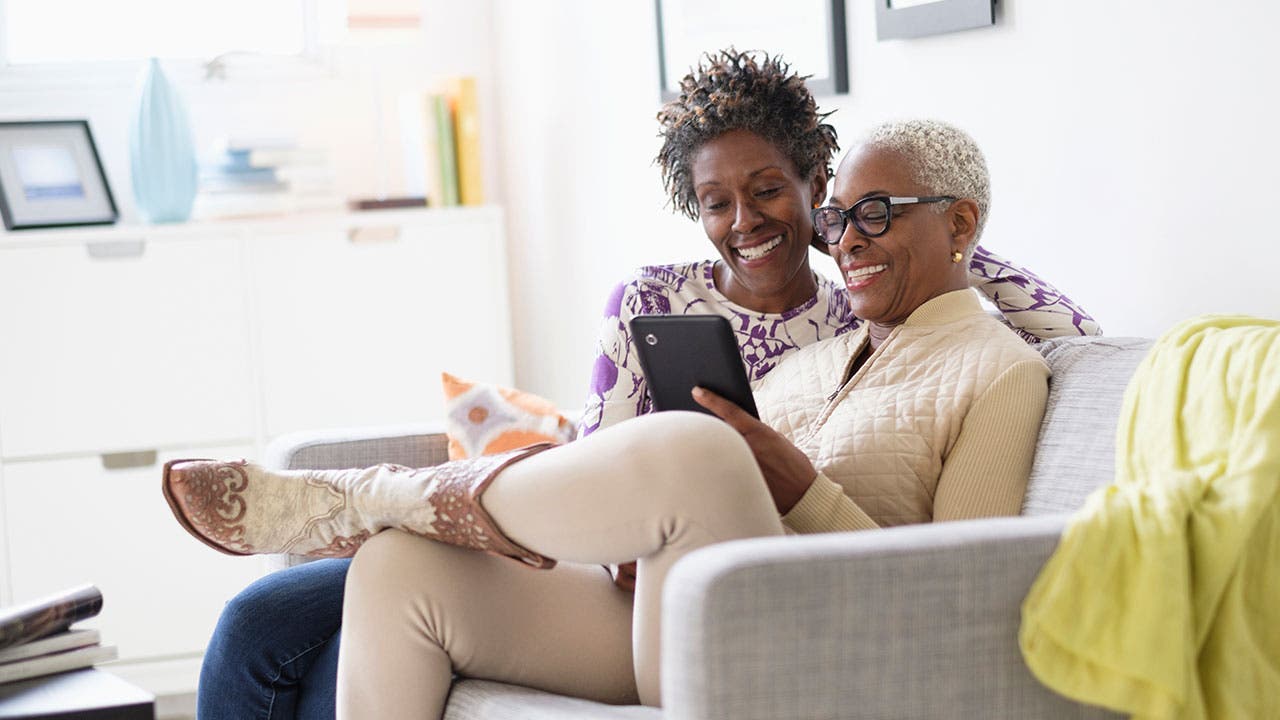 Exchange-traded funds (ETFs) have become tremendously popular because they allow investors to quickly own a diversified set of securities, such as stocks, at a low cost. They also allow investors to get very specific exposure to areas of the market, such as countries, industries and asset classes. ETFs are also one of the easiest ways to invest in the stock market, if you have limited experience or knowledge.
How do ETFs work?
ETFs are funds that hold a group of assets such as stocks, bonds or others. Their shares trade on an exchange like a stock, and they allow investors to acquire an interest in all the fund's holdings by buying just one share. The minimum cost to get into the market is just the cost of one share, often in the range of $20 – $200. So it doesn't require a massive investment to start.
Since many ETFs hold such a broad array of stocks, they're often considered diversified, helping protect investors from a drop in any single stock.  That's especially true for broadly diversified ETFs – such as those based on the Standard & Poor's 500 index – because they hold shares across every industry. But it's less true for more narrowly focused funds, such as those based on a single industry or country. This diversification is a key advantage of ETFs over individual stocks.
While they trade on a stock exchange, ETFs can give you exposure to almost any kind of asset. Of course, you can buy funds that invest in stocks, but also bonds, commodities and currencies. You can even find a fund that invests in the volatility of the major indexes.
There's also another type of ETF called a leveraged ETF, which is designed to provide double or triple the exposure to the underlying investment. They aim to track the daily performance of their stocks, so if the stocks go up 1 percent, these ETFs are supposed to go up 2 percent or 3 percent, depending on the type of fund. But they also go down a similar amount, too, if the stocks move that way. In addition, leveraged ETFs have other risks that investors should pay attention to, and these are not the best securities for beginning investors.
(Investors looking for more conservative funds should check out these ETFs.)
Is an ETF a good type of investment?
ETFs tend to have very low expense ratios – the cheapest funds cost just a few dollars for each $10,000 invested. In large part, that's because they're passive investments, meaning that they use preset indexes to determine what they own, rather than paying high-priced investment managers to actively scour the market for the best holdings. A passive goal of an ETF is to track the performance of the index that it follows, not beat it.
Another huge boon for investors is that brokers are increasingly making ETFs commission-free. That means you can get into and out of the market without paying trading fees, another benefit over individual stocks. For example, Fidelity and Schwab both offer hundreds of ETFs commission-free, making ETFs even better for cost-conscious investors.
5 top ETFs for 2019
Here are five top ETFs for 2019 that investors may want to consider, based on their recent performance, their expense ratio, and the kind of exposure that they offer investors.
Top tech ETF – Invesco QQQ Trust (QQQ)
2018 performance: -1.6 percent
Net assets: $68 billion
Expense ratio: 0.20 percent
The Invesco QQQ Trust owns only non-financial Nasdaq stocks, making it a tech-heavy fund with the big names that you're probably already familiar with. The ETF is one of the largest around, so it's tremendously liquid. It's not too expensive either, with the fund costing $20 annually for every $10,000 invested. The poor performance in 2018 is a reflection of the broader market, not anything specific to the ETF itself. In 2017, the fund was up nearly 33 percent.
Top S&P 500 ETF – iShares Core S&P 500 ETF (IVV)
2018 performance: -4.5 percent
Net assets: $160 billion
Expense ratio: 0.04 percent
The iShares Core S&P 500 ETF tracks the S&P 500, providing a broad-based, diversified portfolio of the largest American companies. The fund is sponsored by the world's largest fund company, Blackrock, and the ETF itself is one of the largest around, with $160 billion in assets. The fund was opened in 2000, and has a razor-thin annual cost of just $4 for every $10,000 invested. The poor performance in 2018 reflects the market's overall performance of -4.4 percent.
Top VIX ETF – ProShares VIX Short-Term Futures ETF (VIXY)
2018 performance: 66.8 percent
Net assets: $176 million
Expense ratio: 0.87 percent
This ETF is unusual in the fund world, because it allows investors to profit on the volatility of the market, rather than a specific security. If volatility moves higher, this ETF increases in value. It's better as a short-term trade than a long-term investment, however, because it has to roll derivatives contracts regularly, costing the fund money over time. Despite relatively few assets, the fund is liquid, and its expense ratio is in line with others in this niche space – costing $87 annually for each $10,000 invested.
Top high-dividend ETF – Vanguard High Dividend Yield (VYM)
2018 performance: -5.9 percent
Net assets: $23 billion
Expense ratio: 0.06 percent
This Vanguard ETF tracks the FTSE High Dividend Yield Index, which includes American stocks paying high-dividend yields. The fund has $23 billion under management, making it highly liquid, and it's sponsored by one of the most reputable names in the business, Vanguard. The fund was founded in 2006 and charges just $6 for every $10,000 invested, so it doesn't cut into the meaty dividend payout too much. The fund's performance in 2018 reflects the broader market fall.
Top health care ETF – Vanguard Health Care Index Fund (VHT)
2018 performance: 5.6 percent
Net assets: $9.4 billion
Expense ratio: 0.10 percent
A Vanguard fund makes another appearance, this time in the health-care space. The Health Care Index Fund charges a cheap $10 for every $10,000 invested, and investors get exposure to over 300 stocks across the sector. This diversification protects you from the negative performance of any company in the industry, but if radical changes affect healthcare generally, then this fund will be affected. The fund has $9.4 billion in assets and was founded in 2004.
Bottom line
ETFs can be one of the easier and safer ways for investors to get into the stock market, because they offer immediate diversification, regardless of how much you invest. To get started, you'll want to open a brokerage account, one that's especially focused on the needs of ETF investors.
(Here are Bankrate's picks for four top brokers for ETF investors.)
Learn more:
Editorial Disclaimer: All investors are advised to conduct their own independent research into investment strategies before making an investment decision. In addition, investors are advised that past investment product performance is no guarantee of future price appreciation.