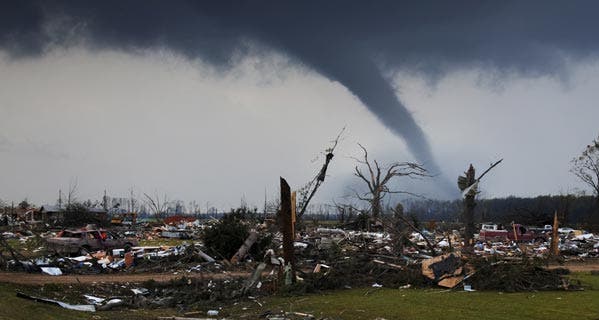 While tornadoes can happen virtually anywhere in the U.S., they do tend to be concentrated in certain regions.
Insurance giant State Farm has named the 10 states where the company received the most tornado and wind damage claims in 2014. Illinois leads the list, followed by Georgia and Texas.
State Farm paid out nearly $900 million in tornado and high wind claims last year. It's the No. 1 home insurance company — by market share — operating nationwide, according to the National Association of Insurance Commissioners.
Damage to the structure of your home caused by a tornado is usually covered by a standard homeowners policy. Your personal belongings would also be covered, so it would be helpful to have an inventory at the ready in the event of a tornado or other natural disaster.
Your policy also would likely include "loss of use" coverage, which would pick up some of your living costs elsewhere if your home is destroyed and needs rebuilding.
Here's the full list of State Farm's top states for tornado and wind claims in 2014, and the number of claims in each state:
Illinois: 10,884
Georgia: 10,148
Texas: 7,999
Ohio: 6,849
Tennessee: 6,395
Indiana: 5,945
Michigan: 4,762
Alabama: 4,612
Missouri: 3,914
Kentucky: 3,583
The U.S. has seen an average of 909 tornadoes per year between 2012 and 2014, according to data from the National Oceanic and Atmospheric Administration.
But so far in 2015, the number of tornadoes has dropped to record-low levels. January and February had the fewest tornadoes in 11 years, according to a report from The Weather Channel.
But don't let that fact be an excuse for complacency. State Farm offers the following tips to help you prepare for a tornado:
Strengthen your garage by reinforcing it with vertical bracing.
Secure your windows with plywood, and use clips.
Remove branches and trees that are on the verge of breaking.
Keep important paper records in a secure location away from home.
Take inventory of your home, and review your insurance coverage.
Learn more about how to protect your family and home from tornadoes.
Follow me on Twitter @CrissiPonder.