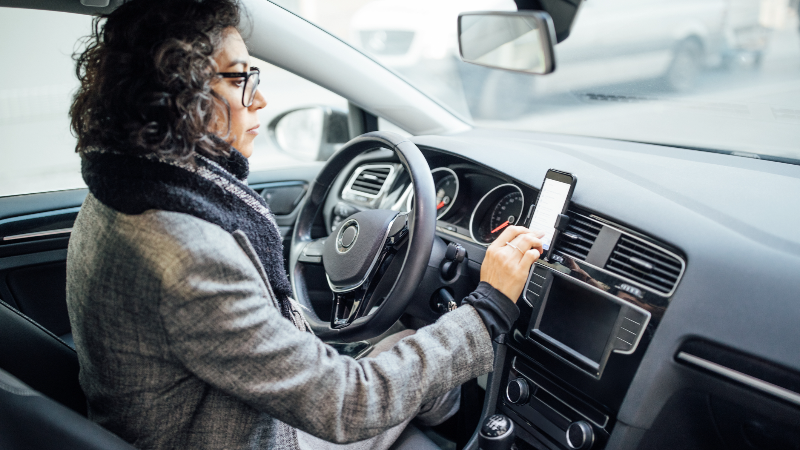 Root Car Insurance lies on the cutting edge of the insurance industry, employing the latest technology, with the goal to offer automobile owners the lowest rates. Root claims to help car owners save up to 52% on their car insurance, but only insures good drivers.
Root Insurance produces quotes and adjusts existing customers' rates based on data collected through telematic technology. To obtain a quote from Root, you must download the Root mobile app to your Android or Apple smartphone and carry it with you while you drive. During a two to three week "test drive" the app collects and sends data about your driving behavior.
The Root app tracks your movements using your mobile phone's GPS system. It collects data on the time of day you drive, how you make turns, how consistently you accelerate and make proper stops and how well you follow road rules. After the test drive period, the Root system will send you a car insurance quote. Other car insurance companies use telematic devices, usually to track drivers' driving habits as part of a discount incentive program, but they do not employ the technology to set initial rates.
Based in Columbus, Ohio, Root opened for business in the 2010s with $3 million in initial funding. Currently, Root sells car insurance policies in 29 states, including Arizona, Arkansas, California, Colorado, Connecticut, Delaware, Georgia, Illinois, Indiana, Iowa, Kentucky, Louisiana, Maryland, Mississippi, Missouri, Montana, Nebraska, Nevada, New Mexico, North Dakota, Ohio, Oklahoma, Oregon, Pennsylvania, South Carolina, Tennessee, Texas, Utah and Virginia.
Root Insurance coverage options and discounts
Root Insurance offers a full lineup of auto coverages, including:
Bodily injury liability coverage, which pays for medical expenses, lost wages or funeral expenses of other drivers or passengers when you are at fault for an accident.
Property damage liability coverage to pay for the damage to another driver's car, or property such as fences and mailboxes, when you are at fault for an accident.
Comprehensive coverage to pay for damage to your vehicle not caused in an automobile accident. For example, if a tree limb falls on your car and smashes the hood, your comprehensive coverage will pay for the repair. Comprehensive insurance also pays to replace stolen vehicles.
Medical payments coverage to pay the medical expenses of you and your family, regardless of who is at fault for an accident. If another driver is at fault for an accident, their bodily injury coverage will pay your medical expenses first and your medical payments coverage will kick in if costs exceed the other driver's liability limit.
Personal injury protection coverage to pay the medical bills, lost income or funeral costs of you and your passengers, regardless of who is responsible for an accident. Unlike medical payments coverage, many states require PIP insurance.
Uninsured and underinsured motorist bodily injury coverage to pay your medical expenses if an uninsured or underinsured driver is at fault for an accident. Many states require you to carry UM/UIM insurance.
Rental car coverage to pay for a rental car while your vehicle is in the shop following an accident. Root also allows you to choose Lyft credits in lieu of a car rental.
Roadside assistance, which Root includes in all policies, to pay for service fees associated with emergencies such as flat tires, jump starts or dead batteries.
Like traditional car insurance companies, Root allows you to choose the amount of coverage you want and set deductible limits.
Except for reduced rates based on good driving habits, good telematics reports and low mileage, Root does not offer discounts.
Root Insurance ratings, reviews, customer satisfaction and complaints
Rating services such as Moody's, Standard & Poor's and A.M. Best have not produced financial ratings for Root. The Zebra, a private research company that studies the insurance industry, gives Root a "Good" rating for financial strength and an "A" rating for customer satisfaction.
According to an August 2019 Wall Street Journal report, Root recently secured $350 million in funding from Coatue Management and DST Global, elevating its valuation to $3.65 billion.
The Better Business Bureau gives Root an A+ rating. Most complaints filed with the BBB against Root center on rate increases, without notice or discernible reasons. Other customers point to failures in the Root app, claiming that the technology cannot distinguish when a user is a driver or passenger. For example, one customer claimed her Root driving score drastically dropped after riding in a rideshare vehicle driven by an erratic driver.
Reasons why Root Insurance is a great option
Root Car Insurance is a good option for good drivers. All others need not apply.
Most car owners are accustomed to discount programs that help them reduce their rates for getting good grades, taking a defensive driving course or bundling their insurance policies. Root Insurance offers none of those, just a straightforward deal that claims lower rates for maintaining good driving habits.
Root is best suited for people who have become accustomed to app-based, low-touch services. While Root staffs a call center to field customer calls, they encourage policyholders to communicate through the Root app, even when filing claims.
If working toward discounts incentives and high-touch, personal customer service is what you look for in a car insurance agency, Root probably is not for you.
Root is not just the new kid on the block, its a kid who looks and behaves like none other. Since Root's system determines rates based on driving habits, it is virtually impossible to conduct an apples-to-apples comparison with other car insurance providers. A September 2019 The Zebra report compared how one car owner's Root quote stacked up against his current car insurance carrier.
| | | |
| --- | --- | --- |
| | Root Car Insurance Quote | State Farm (Current Policies) |
| Price | $290 for six months | $392 for six months |
| Collision Deductible | $500 | $200 |
| Comprehensive Deductible | $1,000 | No coverage |
| Bodily Injury Liability Limit | $100,000 per person, $300,000 per accident | $250,000 per person, $500,000 per accident |
| Property Damage Liability Limit | $100,000 per accident | $100,000 per accident |
| PIP Limit | $10,000 per person | $5,000 per person |
| UI/UIM Medical Limit | $30,000 per person, $60,000 per accident | $100,000 per person, $300,000 per accident |
| Uninsured Motorist Property Damage Limit | $50,000 per accident | No coverage |
| Rental Car Limit | $50 per day, $1,500 per accident | $50 per day, $1,200 per accident |
| Roadside Assistance | Included | Included |
Additional policies offered by Root Insurance
Root Car Insurance only offers automobile insurance.
Frequently asked questions
What information is needed in order to get a quote from Root Insurance?
To obtain a quote, you must drive your car with the Root app on your smartphone for two or three weeks. After the Root system has obtained enough information to form an opinion about your driving habits, it will send you a quote.
How do I file a claim with Root?
Root Insurance encourages customers to file claims through the Root app. Using the app, you can describe the type of damage sustained and take photos to send to the claims department. Root also offers phone and email support.
How do I know if Root Insurance is available in my state?
Root features an availability map on its website. Currently, Root offers policies in 29 states, with plans to expand to other markets.
Does Root also sell homeowners and renters insurance?
Root Insurance only sells automobile policies.