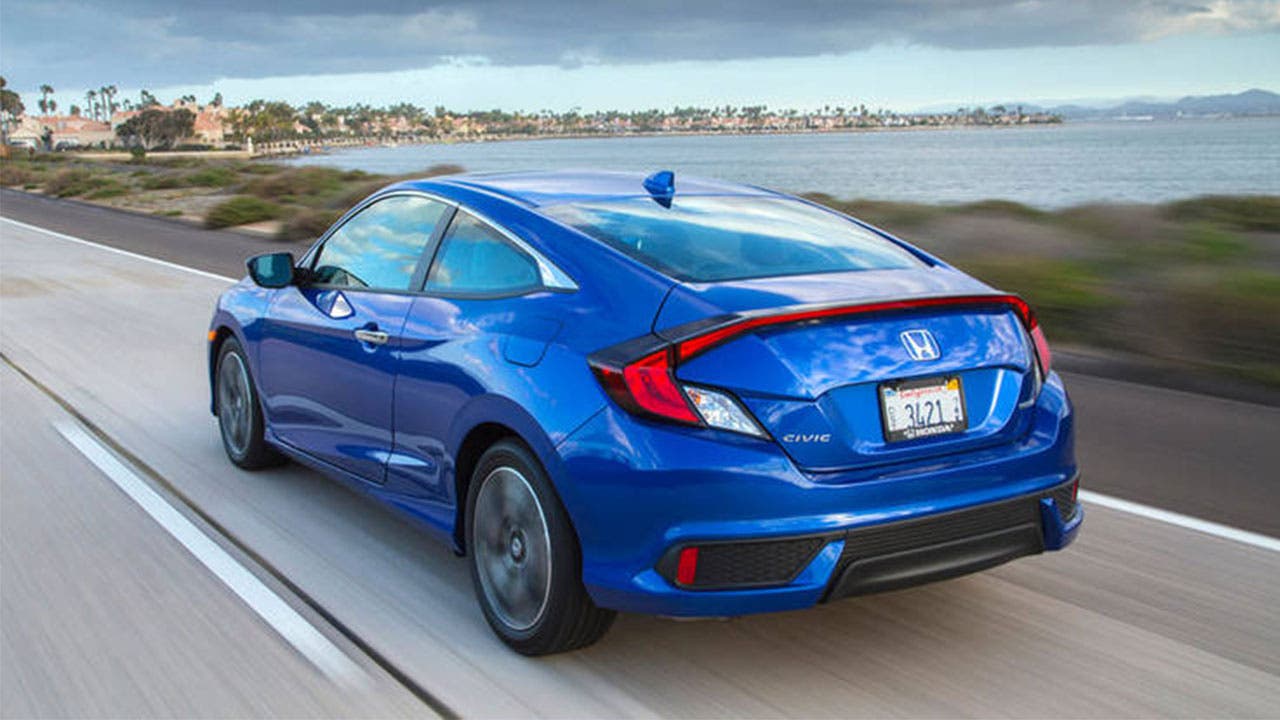 Having a young driver in the house can be stressful.
According to the Insurance Institute for Highway Safety (IIHS), the risk of a teenage driver being in a fatal crash is nearly triple that of drivers over the age of 20.
For maximum protection, the IIHS recommends that parents of teenagers and teen drivers buy or lease a car with electronic stability control and a high safety rating and to stay away from cars with high horsepower.
Additionally, the American Automobile Association reports that newer cars tend to be safer for all drivers regardless of age as older cars can often cost more to maintain, get poorer gas mileage, and sometimes lack the safety features available in newer cars.
The good news is that there are plenty of excellent cars for teen drivers on the market for $10,000 or less. Here are some of the best options available today.
1. Honda Civic (2012-16)
The Honda Civic has been one of the best-selling small cars in the United States for years, with a winning combination of price, features, safety, reliability, and residual value. The sedan has been an IIHS Top Safety Pick every year since 2009, and nearly every configuration of the car made since the start of the car's ninth generation in 2012 has gotten at least a 4-star overall safety rating from the NHTSA.
The Civic is good on gas, with EPA estimated averages around 34-35 miles per gallon. While finding one under $10,000 isn't difficult, used Civics tend to have around 50-60,000 miles, putting them right at the edge of their 5-year, 60,000-mile powertrain warranty.
2. Ford Focus (2015-17)
Since 2015, every style of Ford Focus has earned a 5-star overall safety rating from the NHTSA, whether the sedan or hatchback. Several of the post-redesign Focus' can be found in this price range, including some within the 3-year, 36,000-mile factory warranty, and some 2017 models.
The 2015 Focus was the first model to offer a standard back-up camera, with blind spot detection and lane departure warnings. Ford also offers MyKey, a program which allows parents to program a key that will set limits on the car's speed and radio volume as well as added seatbelt alerts.
3. Nissan Altima (2013-16)
Every model of the Nissan Altima since 2013 has earned a 5-star safety rating. Even in the base models, Bluetooth connectivity and push-button start are standard features, while in the 2016 model the backup camera extends as far down the product line as the one step above the base S-trim.
The 4-cylinder engine with continuously variable transmission(CVT) can log EPA estimated fuel economy in the high-30s on highway driving, peaking at 39 miles per gallon on the 2016. In this price range, expect to find these cars with around 50,000 miles – leaving plenty of life to take a first car well into the college years.
4. Hyundai Sonata (2011-17)
While Hyundai and Kia are known from their 100,000-mile warranty, it's important to note that those warranties do not transfer to secondary owners. Still, the Sonata has high reliability ratings from the U.S. News and World Report, and all but the early release 2011 model carry a 5-star overall safety rating from NHTSA.
Used Sonatas in this price range can easily be found with less than 50,000 miles, and even some with under 40,000. Base models are loaded with standard safety features including front and side curtain airbags and stability control.
5. Toyota Camry
The Camry often ranks near the top of the list for one of the best-selling cars in the nation, which means that they should be easy to find used one would think. Unfortunately, Camry owners tend to hold onto them for the long haul, meaning that a Camry under $10,000 without excessive miles is hard to come by.
Highly rated in crash safety tests, and with great longevity, reliability and fuel economy, they're a great first car – if you can find one.
6. Toyota Rav4 (2012-newer)
NHTSA testing became more rigorous starting with the 2011 model year, meaning test results from before this time are less reliable versus the current standards. In that first year, the Rav4 only earned a 3-star frontal crash test rating, but 2012 models and newer are all 4-star or higher.
Toyota vehicles are known for their reliability and low cost of ownership, making them great for a new driver, and that also means that buying a higher mileage Toyota is less of a risk than other makes. Even 2012 models still have solid standard equipment and creature comforts, including Bluetooth and USB ports, and plenty of cargo space makes the first drive off to college a much more spacious affair. 28 miles per gallon on the highway with the 4-cylinder engine doesn't hurt, either.
7. Subaru Forester (2011-newer)
All-wheel drive Subaru vehicles are legendary for their capability, utility, and longevity, and combined with 4-star ratings for the 2013 and older models and 5-star NHTSA ratings from 2014 and newer, parents can feel comfortable about their teen driver's car in all types of weather. As is the case with the Rav4, by moving from a car to a crossover or SUV, the vehicles in this price range will likely have more miles on the odometer. Expect to find Foresters to have 80,000 miles or more on them, but their high safety and reliability rankings more than make up for it.
Learn more: