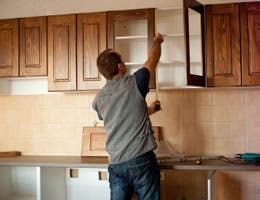 It's home remodeling season, the time of the year when do-it-yourselfers get ready for new home improvement adventures.
DIY projects accounted for 37 percent of all home remodeling projects performed nationwide in 2010 and 2011, according to the Department of Housing and Urban Development and the U.S. Census Bureau.
You can save money by doing a remodeling project on your own, but before you start knocking down walls around the house, make sure you can handle the project.
Homeowners should consider safety risks, time delays and hidden costs before embarking on DIY home improvements, says the National Association of Home Builders Remodelers.
"Remodeling can be complex and oftentimes full of surprises, even for experts like our members," says NAHB Remodelers chairman Bill Shaw.
These are not DIY projects
Projects involving plumbing, electrical work and any structural changes should be avoided by DIYers, says Paul Hamtil, owner of Hamtil Construction in St. Louis, and a member of the National Association of the Remodeling Industry.
"When you start messing with those types of things, you can quickly create a hazard without even knowing," he says. "Do the finishes, smaller surface projects, things like re-tiling."