Which bank should I choose?
Get personalized bank recommendations in 3 easy steps.
If you're in the market for a mortgage, you might want to keep an eye on Brexit. The tumultuous divorce underway between the European Union and the United Kingdom has meant opportunities for U.S. mortgage borrowers — and there could be more to come.
Many Americans saw a chance to lock in a once-in-a-lifetime mortgage rate amid the turmoil last summer immediately after Britain voted to make the split. According to Bankrate data, user searches for mortgages spiked and even doubled.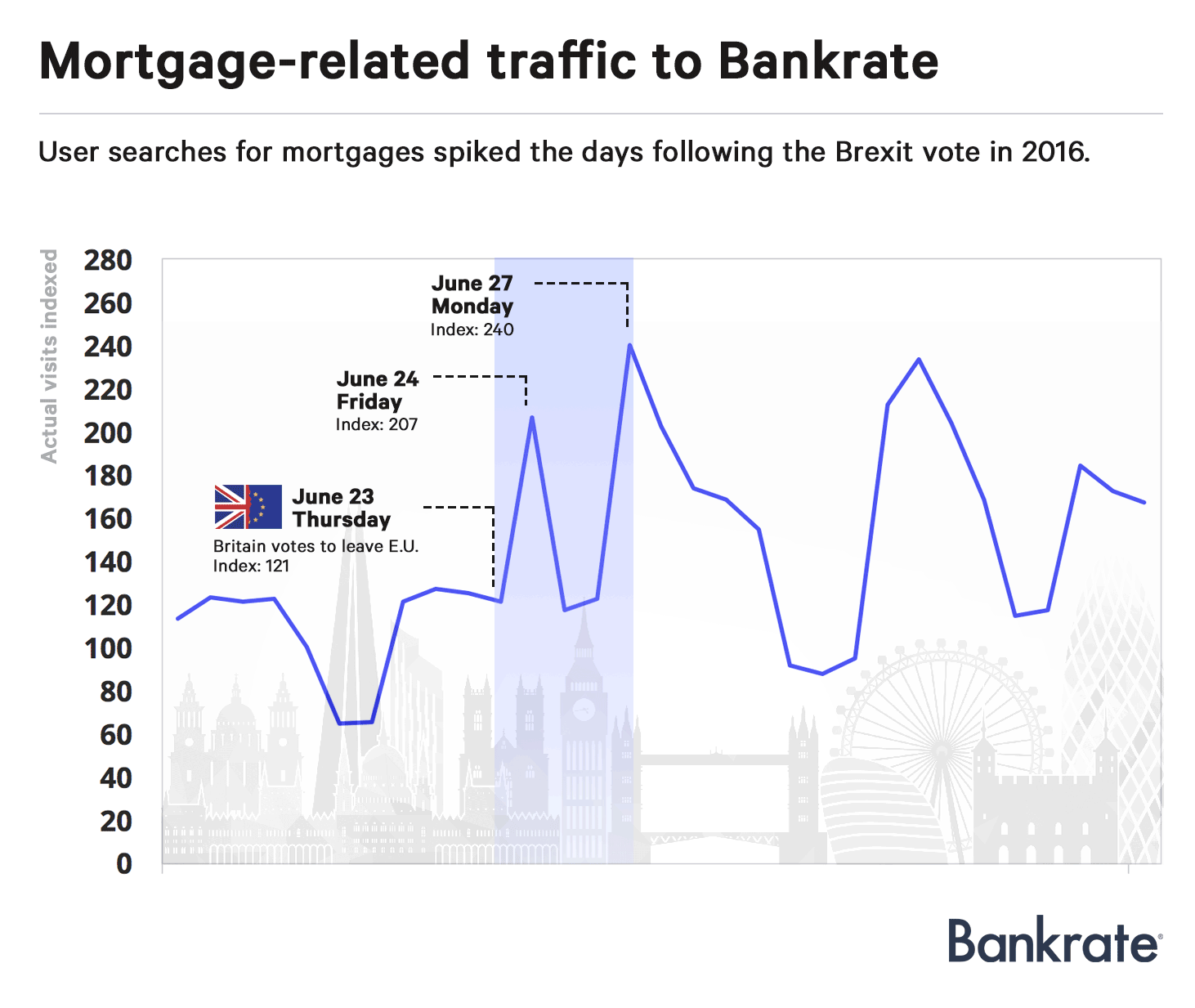 Here's what got potential borrowers so excited: The day before the June 23 vote, our average rate for a 30-year mortgage was 3.73 percent; two weeks later it was 3.52 percent, one of the lowest Bankrate has recorded since we started collecting mortgage rate data in 1985.
Those who chose to lock in their mortgage rate at that time made a wise choice. Since then, rates have trended higher, reaching 4.3 percent in our latest survey.
With the Federal Reserve continuing to raise interest rates and with inflation picking up, it may be many years before we see a mortgage rate like last year's low. (Bankrate's mortgage calculator shows what your payments would be under different rate scenarios.)
Still, rates remain very attractive, and the Brexit drama is far from over.
What's the connection?
What does a spat between countries on the other side of the Atlantic have to do with your mortgage payment? For one thing, foreign investors — including European investors — own tens of billions' worth of U.S. mortgage-backed securities (basically giant blocks of residential mortgages used as investments). Economic events that cause those investors to buy or sell the securities can affect rates here.
Mortgage rates also are sensitive to what investors believe will happen to economic growth and inflation. Think about it: If you were trying to figure out how much to charge to lend out money for up to 30 years, you'd want at least an idea of where interest rates might go.
The last thing you'd want is to be getting 3.5 percent when you could be charging 5 or 10 percent, which mortgage lenders can get when growth is humming or inflation is moving faster than it is today.
Conversely, when a shocking event like the Brexit vote puts a cloud over the global economy, interest rates — including mortgage interest rates — tend to fall.
What's ahead
The Brexit process could drag on for two more years, following British Prime Minister Theresa May's recent action formally starting the clock. As the divorce is worked out, many potential rough spots could shake up the world economy.
This month the European Council, made up of the leaders of European Union countries, will meet to discuss how to negotiate the terms of the British exit. And mortgage borrowers may want to tune in.
But if you're ready for a mortgage right now, don't delay. Find your best mortgage rate today at Bankrate.com.