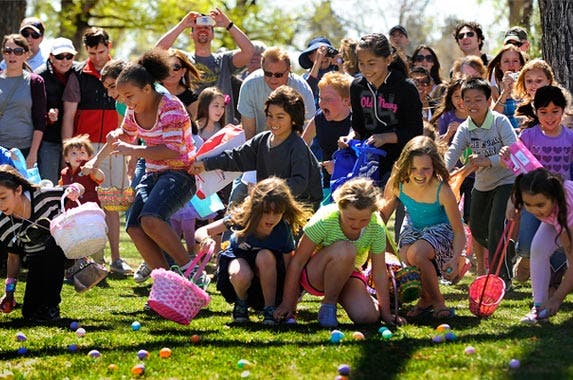 12 eggs-ceptional places to visit
Easter is always an eggs-traordinary holiday, especially for those who love that wonderful oval food product.
Easter egg hunts are scheduled in many towns, and families hold them in the privacy of their backyards. But eggs are extolled in many more ways.
Be a good egg and go on our virtual Easter egg hunt. You'll be surprised at the ways that Americans celebrate eggs and the other delicacies of the holiday.
RATE SEARCH: A personal loan is a good way to pay for a vacation. Find the best rates today at Bankrate.com.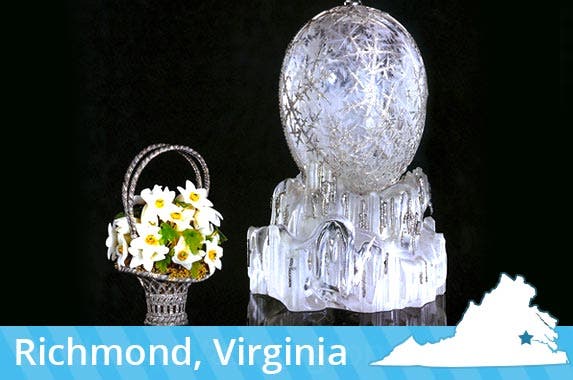 Virginia: Fabergé eggs
7927/Gamma Rapho/Getty Images
A series of Easter eggs was created by Fabergé for the Russian imperial family from 1885 to 1916. Of the 50 eggs delivered to the imperial family, 43 have survived, and they are valuable. The Winter Egg, made from white quartz, nephrite, gold and demantoid garnets, sold at Christie's in New York in 2002 for $9.6 million. The Virginia Museum of Fine Arts owns 5 eggs.
RATE SEARCH: Need a vacation but not sure how to pay for it? A personal loan can be a great option.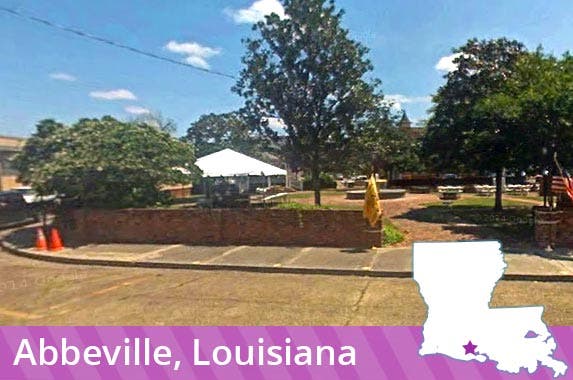 Louisiana: Giant omelette
© 2016 Google
The Giant Omelette Celebration: Abbeville, Louisiana's Magdalen Square is the setting for this popular festival that began in 1987. It offers an egg-cracking contest, but the highlight is a 5,000-egg omelette cooked in the middle of the street by a group of chefs in a 12-foot skillet. The festival is scheduled for Nov. 4-5. Patrons are asked to pay a $25 festival fee.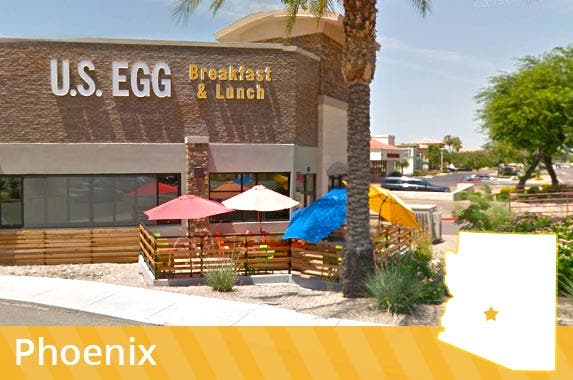 Arizona: Egg salad sandwiches
© 2016 Google
The U.S. Egg restaurant chain offers an egg salad sandwich on wheat bread with lettuce, tomatoes, french fries and coleslaw for $8.79. If you're in Phoenix, try one out. There are 6 locations.
RATE SEARCH: Search Bankrate.com for the best personal loan rates.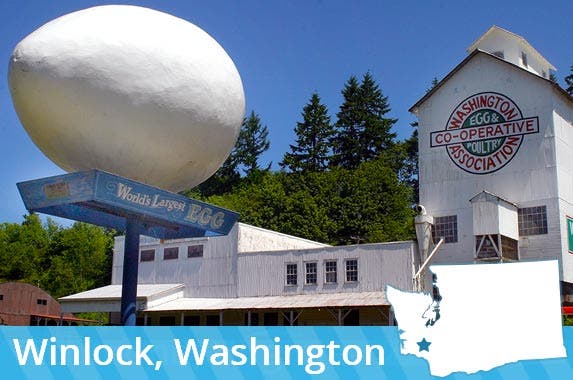 Washington: World's largest egg
© Dan Schreiber/Shutterstock.com
The giant egg in Winlock, Washington, is 12 feet long and weighs 1,200 pounds. It sits on a pedestal in a small park with the inscription: "World's Largest EGG." The first big egg was fashioned from canvas by town boosters in 1923 as part of a celebration around the opening of the Pacific Highway. A plastic version replaced it in 1944, and it was upgraded to Fiberglas in 1960. The Roadside America website rates it "worth a detour."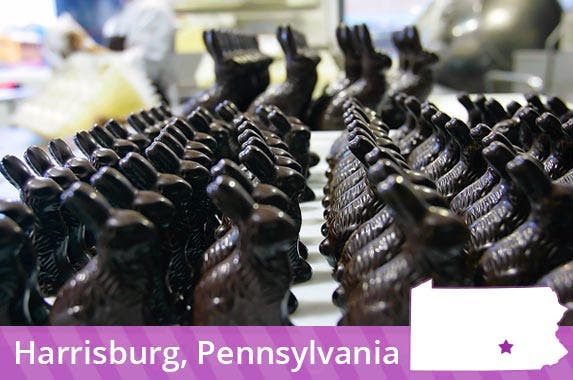 Pennsylvania: Chocolate bunnies
Stephen Chernin/Getty Images
Matangos Quality Candies in Harrisburg, Pennsylvania, creates 2 1/2 feet tall chocolate bunnies every year for Easter. They sell for about $144 and are made by Wilbur Chocolate, a company in Lititz, Lancaster County. Last year, Miesse Candies in Lancaster sold 3 3-feet-tall, 25-pound bunnies for Easter. The rabbits were priced at $500 each.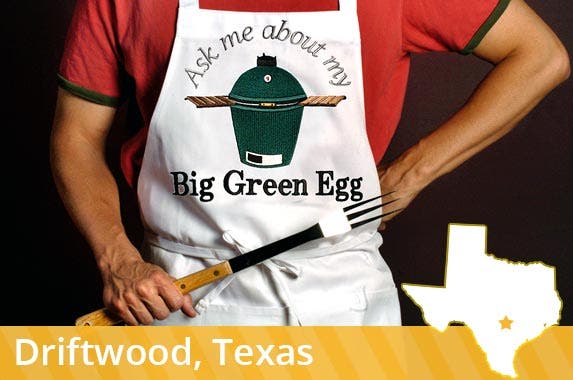 Texas (and other states): EggFest
Helen H. Richardson/Denver Post/Getty Images
EggFests are cook-offs held around the country for chefs to use the Big Green Egg grill to cook a variety of dishes for competition. Events are scheduled for Hommassa, Florida; Driftwood, Texas; Hiawassee, Georgia; New Haven, Indiana; Columbia, Illinois; and Oklahoma City. The Texas EggFest in Driftwood charges an admission fee of $25. T-shirts are $20.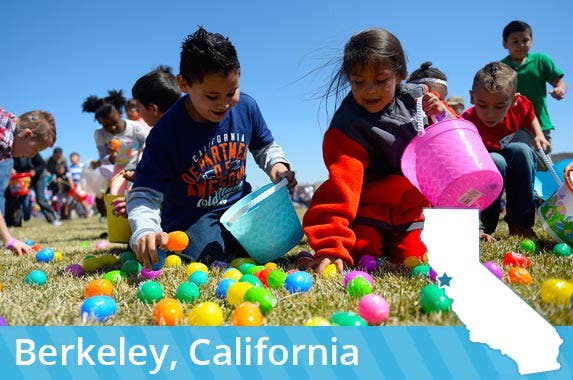 California: Eggster festival
Brent Lewis/Denver Post/Getty Images
Eggster is an independent student organization at the University of California at Berkeley that holds a free 1-day carnival called the Eggster Hunt and Learning Festival with 40 learning booths and egg hunts for about 1,000 children. It raised $10,000 in donations last year for local nonprofit children's agencies.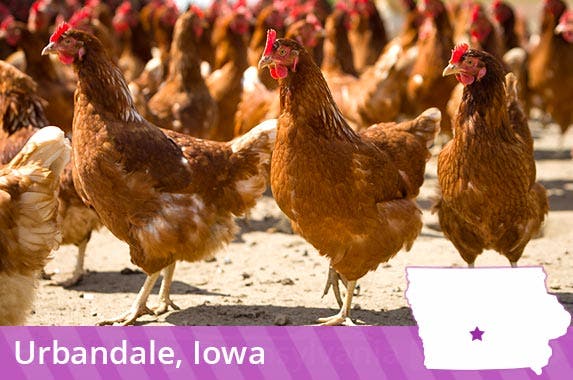 Iowa: Millions of hens
© goodmoments/Shutterstock.com
The No. 1 state in egg production is Iowa. According to the American Egg Board, the state has 36.7 million hens, with the 2nd-highest number from Ohio, with 30.8 million hens. The industry contributes $2 billion in sales and 8,000 jobs to the state, according to the Urbandale-based Iowa Egg Council.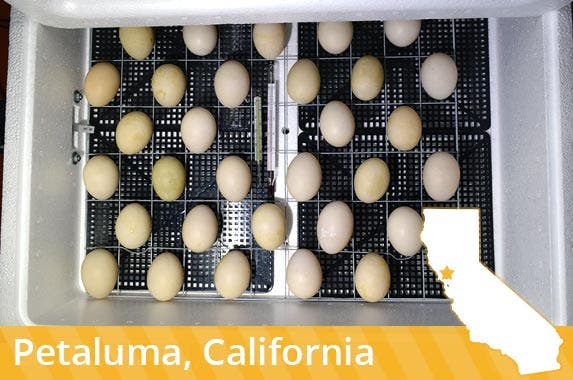 California: Egg incubator
© Leonid Eremeychuk/Shutterstock.com
A mural created in 1998 and updated in 2000 in Petaluma, California, depicts the town's heritage, with a section showing Lyman Bryce, the co-inventor of the first egg incubator. The mural also shows a chicken farm, an egg-packing plant and shipments of eggs being sent by boat to San Francisco and Sacramento. The town had been known as "the egg capital of the world" until the industry gave way to dairy farming.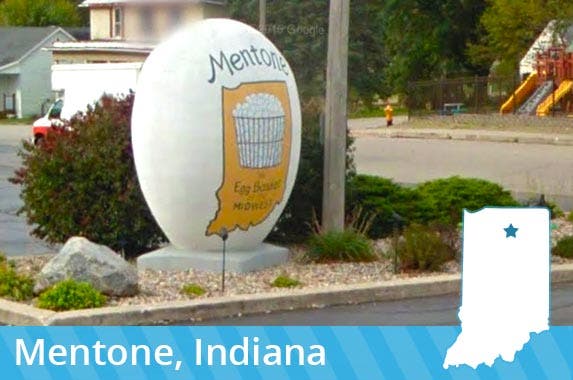 Indiana: Mentone Egg Festival
© 2016 Google
Mentone, Indiana, is the self-proclaimed "Egg Basket of the Midwest." The Mentone Egg Festival will be held June 2-4, with a parade, Miss Chick and Mr. Rooster contest for kids age 3 to 6 and a cornhole tournament. A 3,000-pound, egg-shaped monument was constructed in 1946 and now stands at the corner of Main and Morgan streets on land donated by the Northern Indiana Co-op Association.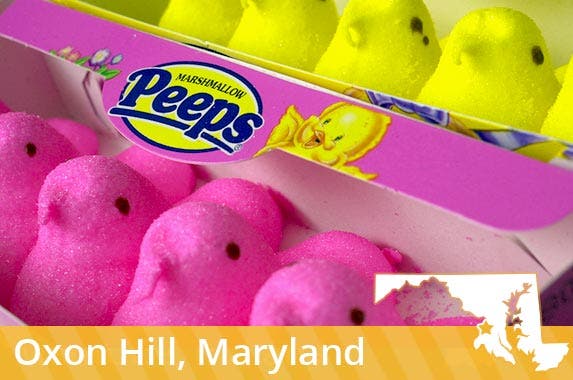 Maryland (and other states): Peeps store
William Thomas Cain/Getty Images
The first Peeps-themed store opened in 2009 in Oxon Hill, Maryland, outside of Washington, D.C. The stores carry Peeps of all colors, flavors and shapes, in addition to Peeps-brand merchandise, such as T-shirts and plush toys. The company has since added stores in the Center Valley, Pennsylvania and Minneapolis.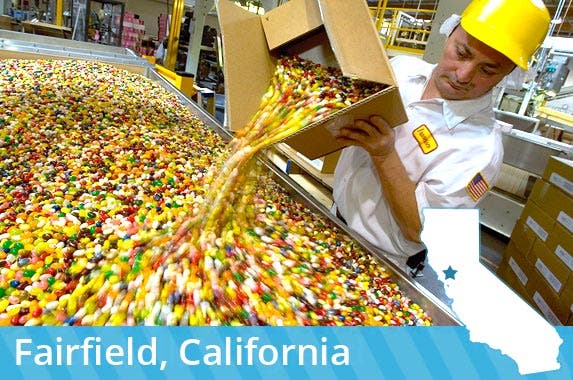 California: Jelly bean factory
David Paul Morris/Getty Images
OK, so jelly beans are not eggs. But they have a similar shape, and jelly beans are popular during Easter season. Take the jelly bean factory tour in Fairfield, California. A factory there shoots out 30 tons of them every weekday. There are also portraits of Ronald Reagan, Johnny Carson, Joe Montana and George H.W. Bush made of jelly beans.