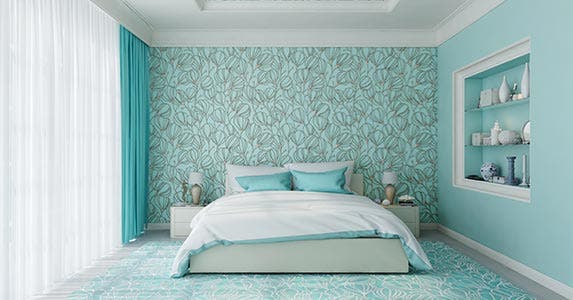 10 room decor ideas on a tight budget
Big style doesn't have to cost big money.
You can design a beautiful room on a budget — especially when the pros are spilling a few of the secrets they use in their own homes.
Trends? Forget about it. The real key is to keep it simple, pare down and stick with things you love.
And if you have no idea where to start, it turns out there's a trick to that, too.
Look to a treasured item, says Leatrice Eiseman, member of the American Society of Interior Designers, or ASID, author of "Colors for Your Every Mood" and executive director of the Pantone Color Institute.
It could be a piece of furniture, an accessory or even a piece of clothing. If looking at it really makes you happy, "That could be the core of your color" scheme, she says. "The proviso — it has to be something you love."
Ready for some great room decor ideas on a budget? Here are 10 designer strategies you can mix and match.
RATE SEARCH: Have you found the home of your dreams? Compare mortgage rates at Bankrate.com today!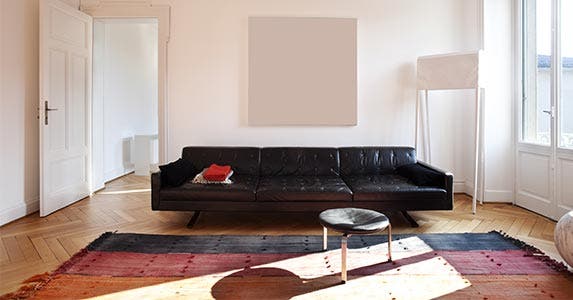 Be smart with 'negative space'
© alexandre zveiger/Shutterstock.com
Want to give a room a new look for free — or even make money on the deal?
"One of our favorite things that a lot of people don't think of is to take a hard look at what's in a room and what you can pull out," says John Petersik, co-author with his wife Sherry of the best-selling book "Young House Love," as well as a popular DIY blog of the same name.
Doing a "thoughtful purge of items is a free way to give a room a fresh look," he says. And if you sell what you're no longer using, you can even make a few bucks.
"You do want some negative space for the eyes to rest," says Nan Sloan, ASID, interior designer with The Sitting Room, a studio and boutique. And too many houses have too many things, she adds.
One secret: Strip the room and add back the large pieces, like a sofa and rug. Then add smaller pieces — lamps, art and small accessories, says Sloan.
Pushing the furniture up against the walls is another practice that takes away from achieving that professional, elegant look.
Instead, pull furniture away from walls and create conversation areas with a couple of chairs at 90-degree angles or parallel, Sloan says. Or get the same effect by turning a corner chair or table on the diagonal.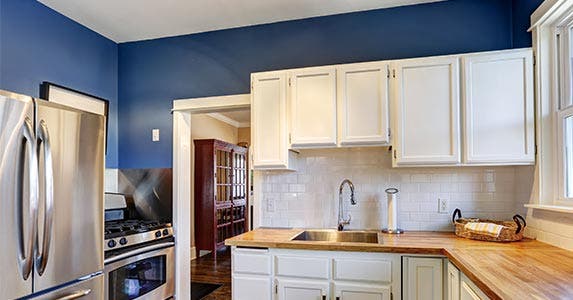 Use classic colors
© Artazum/Shutterstock.com
Start with a classic color scheme that isn't too trendy," says Kerrie Kelly, ASID, author of "Home Décor" and creative director of Kerrie Kelly Design Lab.
These days, that doesn't have to mean gray or beige, she says. Today's neutrals can include everything from navy blue to some shades of yellow.
Do walls and big pieces in neutrals, "and don't hesitate to add texture," she says.
Use smaller pieces of furniture and accessories to add punches of color, says Kelly. Those items are "easy to change in and out with the seasons and with your mood — and it's not expensive."
You know the old-school advice about white making rooms look bigger? Forget it.
If you're decorating for yourself and not staging to sell, stick with the colors you love. If that means painting a small room in a darker color, do it, says Kelly, who painted her own small dining room a navy that she loves. "Go bold."
"Create a neutral backdrop and put on the layers," says Kelly. "Your gut will tell you when it's right."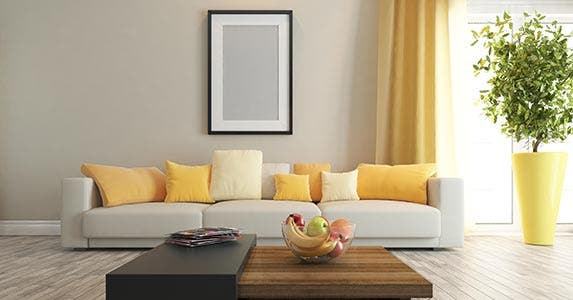 Don't be afraid of paint
© sedat seven/Shutterstock.com
It's a design classic: "A can of paint is the most affordable and can make the most difference," says Eiseman. "Even if it's one wall."
It can make a room look "dramatic, fresh and clean," she says.
Decorating a smaller space on a budget? Unify a number of rooms with a "nice, somewhat neutral" color, says Sloan. "Get something that will flow from room to room."
One of her favorite places to start is Benjamin Moore's "Historical Collection," she says.
And remember that paint colors change with the light, the hour, the season, the home and wall. If you want a true neutral shade consider those complex, "chameleon colors that are hard to name," she says.
Rather than yellow walls, says Sloan, "I want someone to notice my yellow throw pillows."
You can also use a breakout color in one room and still have the house look pulled together, says Eiseman. One trick is to find a way to add that color in the adjoining space.
Eiseman does this with a chili-pepper red on her dining room walls, then continues the red in the adjacent space in large pieces of art. "Visually, that takes you from one area to another and elongates the space," she says.
RATE SEARCH: Need a personal loan? Get matched to the best loan for you at Bankrate.com today!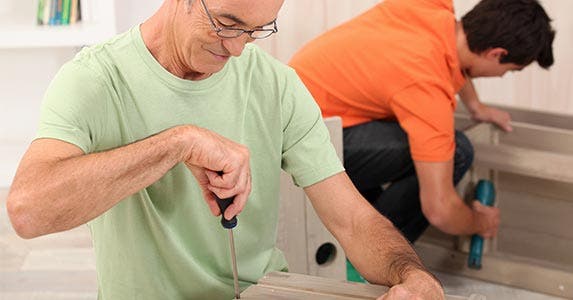 Room redesign recycling
© Phovoir/Shutterstock.com
"A lot of it is the re- stuff," says Sloan. "Repaint, reuse, repurpose."
Sloan has a 3-drawer pine chest that has been, at various times, a TV console, a nightstand and a side table.
Or put a dining room hutch in an office or library and fill it with books instead of dishes, says Kelly.
Sloan turned an outdated but beloved skirt into throw pillows — salvaging a pattern she really liked and repurposing it for her home. "It's the joy of walking into a room and seeing that pattern I love," she says.
You can also use paint, upholstery and new cushions to freshen up flea market finds or family pieces, says Kelly. For one of her clients, she had a set of aging mauve damask dining room chair seats recovered in a herringbone pattern. "It transformed a dated piece of furniture into something beautiful," she says. "It's one of her favorite areas of the home now."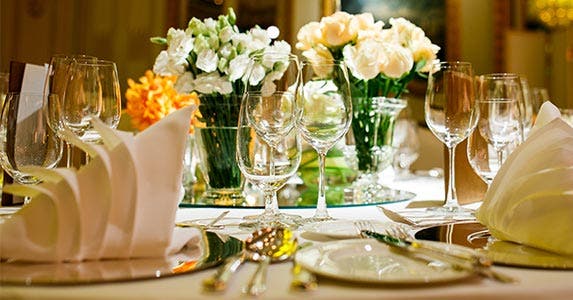 Stop saving the 'good stuff' for company
© Patagape/Shutterstock.com
You know all those "special" items you break out for guests or holidays? Stop saving them and start using them, says Eiseman.
Surround yourself with the things you get joy out of seeing, she says.
Or display a couple of carefully chosen items from a collection — anything from Grandma's tea cups or anything else you love — on a shelf you can buy from a home store. "Don't overdo it," says Sloan. "Editing is key."
But a few well-placed personal accessories tell a story and make a space warm.
Natural materials work well, too. Display a selection of shells, rocks or pine cones, and "all of a sudden, it's a pretty accessory," says Sloan, who uses this technique in her own home.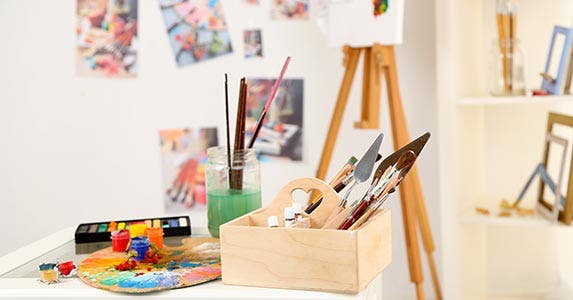 Tricks for affordable art
© Africa Studio/Shutterstock.com
Art can unify a room and make it look finished. But it can also be pricey.
For a budget alternative, look in your favorite discount, big-box or craft store for matching frames in a variety of sizes, says Sloan. Use the frames and the matting for your own photos, children's artwork, pictures from an old book, or something you create, she says. An object with personal meaning "is so much more interesting," says Sloan.
Or add a shot of color by framing pieces of a favorite fabric or wallpaper, she says.
Another room decor idea: Use a filter on family photos to give them an old-fashioned sepia-toned look, says Sloan.
RATE SEARCH: Thinking about getting a home equity loan? Compare home equity rates at Bankrate.com today!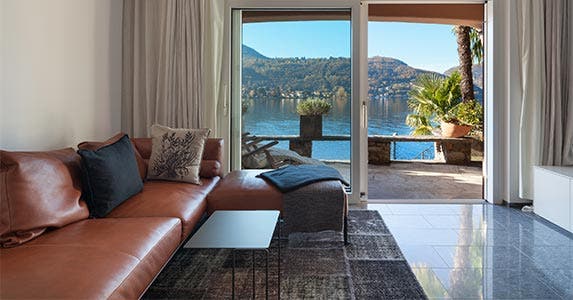 Give curtains a custom look for less
© alexandre zveiger/Shutterstock.com
Want custom drapes or curtains without the custom cost?
Go for floor-to-ceiling curtains or drapes, rather than just covering the windows, says Kelly. "It draws the eye up." And it's an optical trick that you can also use in the bathroom with a shower curtain, she says.
To make it less expensive, add a few inches of fabric to ready-made drapes or curtains. "It looks like custom, but you start with a base of something affordable," says Kelly.
The same strategy works with hanging light fixtures or art high to draw the eye up and make walls look taller.
You can also make your own curtains from scratch if you can sew a straight line or use iron-on tape, says Sherry Petersik, co-author with her husband John of the best-selling book "Young House Love," as well as the popular DIY blog of the same name.
Another trick to let in more light and make windows appear larger is to extend curtains and rods well beyond the window on both sides, too, she says. That way, open curtains won't block any of the glass, and larger window treatments give the illusion of larger windows, says Petersik.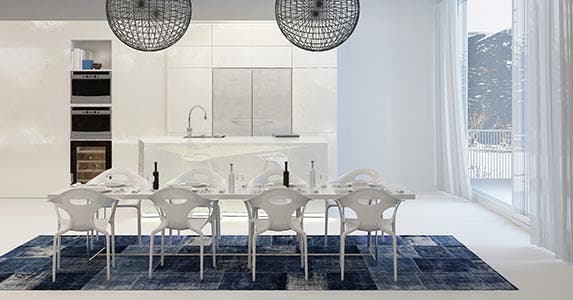 Save on rugs
© PlusONE/Shutterstock.com
Rugs add color, pattern, texture and personality to a space, says John Petersik.
"We're big fans of area rugs in any room — even a carpeted room," he says. "They're a great way to define a space."
But they're not cheap. Some ways to save:
Look for flat-weave rugs. Often meant to be used with a carpet pad, they're thinner and less expensive, says Sherry Petersik.
A little online sleuthing can net you rugs at a nice discount. The Petersiks recommend looking online for buys, particularly at home discount stores (such as IKEA and HomeGoods), and e-tailers, (Overstock.com and JossAndMain.com).
Since online buying often means you can't see or touch the actual fabric, they recommend reading customer comments to get an idea of the quality. Google the exact name of the item and you may find it — plus more comments and maybe a few pictures from folks who bought it — on other sites, too, says Sherry Petersik.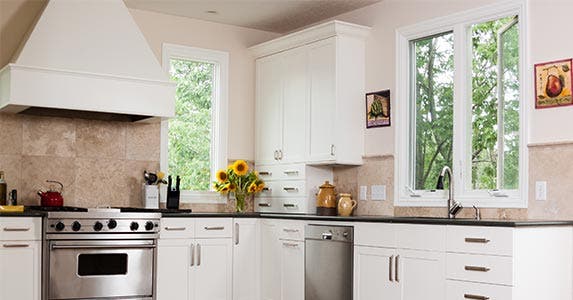 Kitchen nip/tuck
© eurobanks/Shutterstock.com
Want to freshen up a kitchen on the cheap? Paint the cabinets and change out the hardware.
One new trend: Metals don't have to match appliances or plumbing fixtures, says Kelly. "Go with your gut and what you love."
RATE SEARCH: Thinking about refinancing your mortgage? Compare mortgage rates today at Bankrate.com!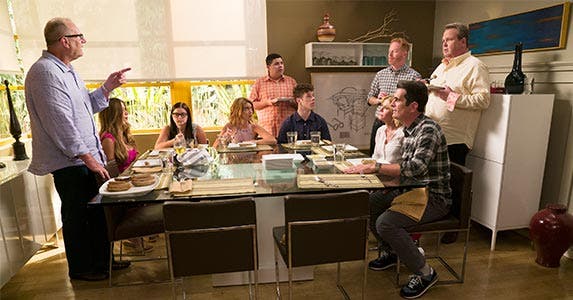 Steal ideas
© Peter "Hopper" Stone/Shutterstock.com
Pop culture is a great place to pick up pointers on arranging furniture and accessories.
Whether it's a design site, your favorite TV show or real estate sites, you can get some great room décor ideas for your own home. So start checking out rooms that really appeal on the big or small screen with a critical eye to see ideas you like. You're not wasting time — you're doing research for a budget redesign.
Whether it's colors, fixtures or furniture and accessories, when you start surrounding yourself with what you love, says Kelly, "the things that speak to us — that's when the fun starts to happen."