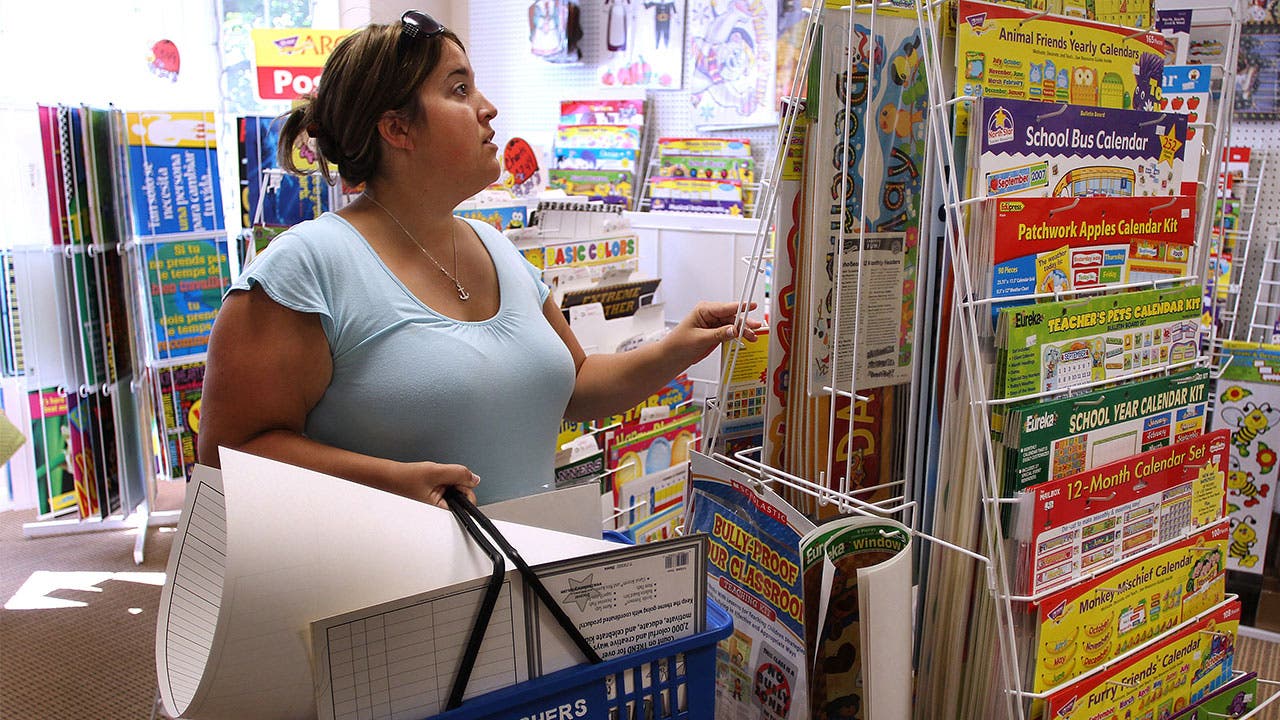 Teachers' 6 back-to-school tips
Back-to-school shopping doesn't have to mean a major subtraction from the family bank account.
Whether you're outfitting a first-grader with a pencil case and backpack or shipping off a college freshman to that first dorm room, you can prepare your kids for the new school year without kissing all of your cash goodbye.
Follow these strategies from teachers to help you spend less while getting your kids ready for the school year.
Before you shop for back-to-school, shop for the best credit cards from our partners.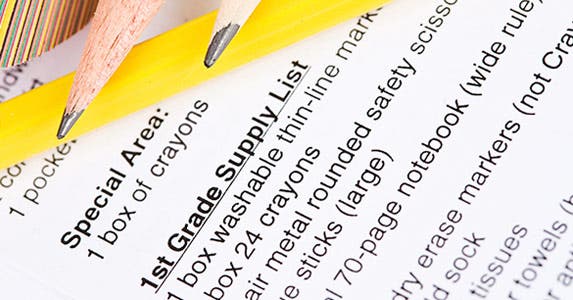 Know wants vs. needs. Then make a plan
Sean Locke Photography/Shutterstock.com
There's a "real (financial) danger" in using back-to-school as a shopping opportunity, says Jonathan Fox, director of the Iowa State University Financial Counseling Clinic and professor of human development and family studies.
The problem arises when you blow through your budget but don't end up with everything you actually need.
To make sure you don't buy what you don't need, look at the school's supply list. "Pretty much all of them will have a cost-effective list," Fox says.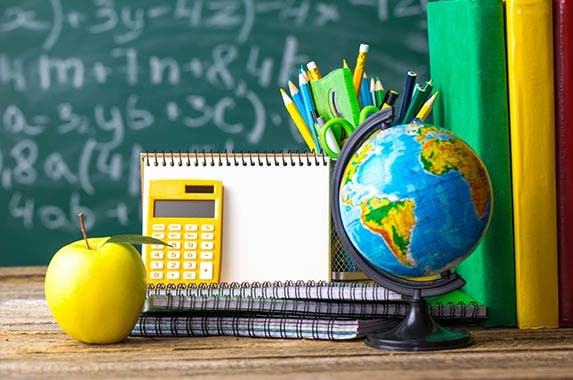 Stick to the basics
Zadorozhna Natalia/Shutterstock.com
When it comes to school supplies, some parents believe that more is always better.
The truth can be just the opposite.
"Stick with the basics," says Jillian Kartchner, librarian and elementary school teacher in Everett, Washington.
With younger kids, a lot of those supplies will be stored, shared and used together for the group, rather than individually, so the 8- or 16-pack of crayons or pens can be more practical than the deluxe 64-pack, she says.
Think about items that can do double duty, says Karen Proehl, a science teacher at Bishop O'Dowd High School in Oakland, California. Proehl says, for example, if your kid is told she needs a calculator for math or science, find out whether the calculator built into her laptop or tablet computer will suffice.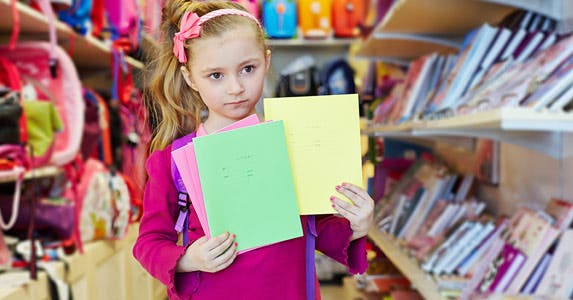 You don't have to buy everything at once
Pavel L Photo and Video/Shutterstock.com
For a lot of parents, back-to-school shopping is "a box that needs to be checked and you're done," Fox says.
But that's a big mistake for your wallet. Instead, buy in bursts and enjoy the process. And whether your kids are going off to first grade or college, realize that you don't have to get everything at once.
Make sure you have the basics like a pen and paper, Proehl says, but reassess needs after a couple of weeks and purchase those items.
Also see if you can hold on to a little bit of cash for things you'll need later that might not be on the list now. This is especially true when it comes to college dorms.
"A lot of that can be acquired later" when you find out exactly what you have room for — and need, Fox says.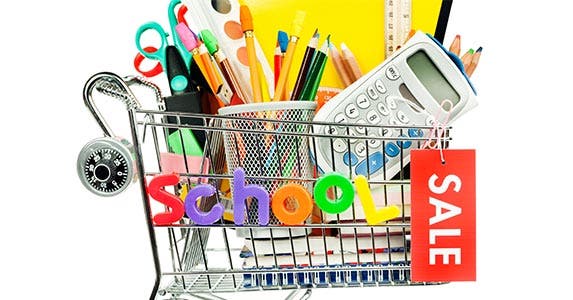 Hit the sales and get creative
ERproductions Ltd/Shutterstock.com
Sometimes a good sale on name-brand merchandise is just as economical.
Kartchner, the teacher and librarian in Washington state, suggests perusing sales flyers to get the best buys once you have the back-to-school list. Don't forget to check office supply stores, she says.
You also can consider going in with a few other parents to form your own co-op, says Steve Phelps, president of Bishop O'Dowd High School in Oakland. That way you can get supplies in bulk and split them up — along with the costs.
Another place you may not have considered for back-to-school shopping, especially for college dorms, is "Mom-and-Dad Mart."
Outfitting a college dorm is "a great chance for the parents to have a yard sale where the student is the 'purchaser,'" Fox says.
Need to start planning for the kids' college? Find a financial adviser today.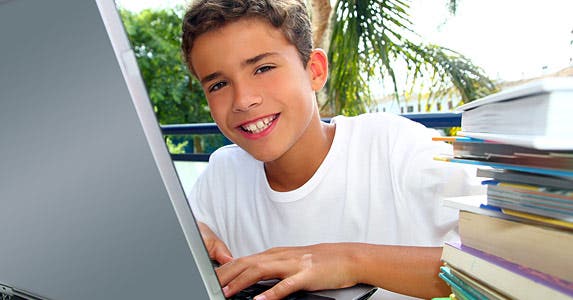 Look for deals on software and tech
holbox/Shutterstock.com
Computer equipment typically accounts for the most expensive items for school. But you can find deals if you know where to look.
Along with computers or laptops, if your student needs specific software for school, the college may offer it for a substantial discount, says Mary Hillberry, principal of Lone Pine Elementary School in Bloomfield Hills, Michigan.
Not only do some companies offer special prices for students, but many schools — including some middle and high schools — have deals with manufacturers to provide their products at a discount.
Even if your school doesn't offer any discounts, you may not have to pay full price. Makers often offer special prices to teachers and students, Hillberry says.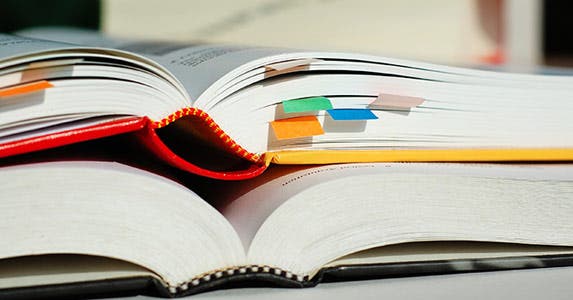 Don't pay sticker price for books
Bildagentur Zoonar GmbH/Shutterstock.com
In middle schools and high schools, books are often provided. But if your student wants to supplement the official class reading list, check e-book offerings, Hillberry says.
And don't forget used bookstores, says Proehl. "I would try that even before" going online, she says.
Note to college students: The campus bookstore isn't the only option for textbooks. And it may not even be the cheapest. Shop at off-campus bookstores and online.
If you have a class outside your major and don't think you'll need the book later for reference, consider renting it instead of buying it.