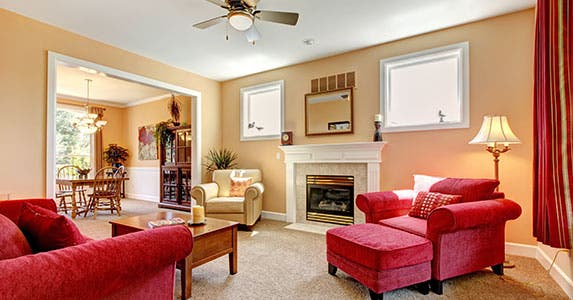 7 home upgrades for aging in place
Updating your home with a few universal design features can enable you to live there longer independently. The cost of the changes can range from a couple of hundred dollars for a comfort-height toilet to more than $100,000 for a downstairs master suite addition.
You can even make some simple changes now — say, adding a few grab bars in the bathroom or some task lighting in the kitchen — while you start planning and saving for bigger, more expensive projects, such as a bathroom or kitchen remodel.
While safety is one of the key principles in universal design, you don't have to sacrifice style or make your home resemble a hospital. These days, many home products designed to help you age in place are as attractive as anything you might find in a designer showroom.
Consider these seven ideas to incorporate into your existing home or add to the wish list for your new retirement haven.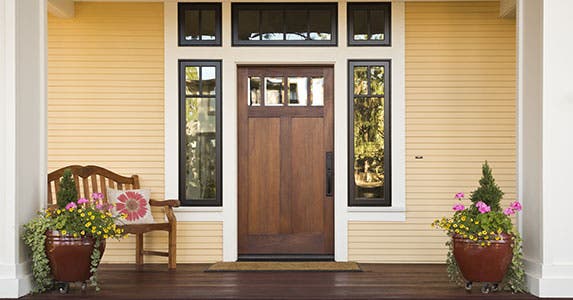 Make it easier to get in and around
Grand front porches, elaborate door handles and raised or sunken decks may lend impressive curb appeal to your home now, but these features can turn into obstacles later if you have arthritis or use a wheelchair.
Bruce Nemovitz, a Certified Seniors Real Estate Specialist in Milwaukee, recommends eliminating steps to decks and patios and instead making them level with the adjacent indoor rooms. Installing a ramp from the garage floor to the door is another good idea, he says.
Replacing door knobs with levers can also help with ease of entry, says Paul Sullivan of NAHB Remodelers in Newton, Massachusetts, who did just that for a client who happens to be well ahead of her golden years.
"It's for a young, single woman, but she loves it because if she's coming in with groceries in her arms, she can elbow the door handle and get through the door," Sullivan says.
To make the inside of your house easier to navigate, consider widening doorways to 36 inches or more to accommodate a wheelchair if needed. A hallway should be at least 42 inches wide for optimum wheelchair access, says Dallas interior designer Barbara Gilbert.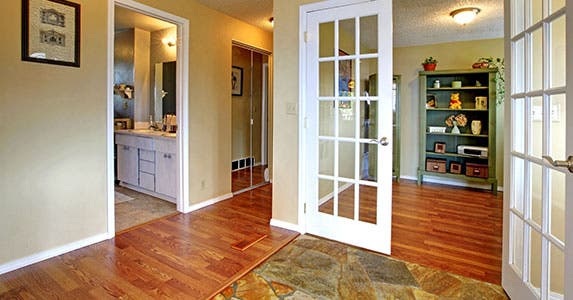 Fall-proof your floors
Choosing the right flooring materials — and removing any stumbling blocks between rooms with different types of floors — can make a big difference in fall prevention.
"We try to make sure they have flush transitions between spaces," Gilbert says of her design projects for senior clients. "Sometimes with hardwood floors, when you go through a door, there's a threshold that can be a hazard."
Area rugs present another chance for unsteady feet to trip, so with aging clients, Gilbert prefers to either eliminate them altogether or make sure they're secured with pads underneath and furniture on top.
The safety factor also goes up when you choose low-pile carpet and avoid high-gloss finishes on hard floors, Gilbert adds.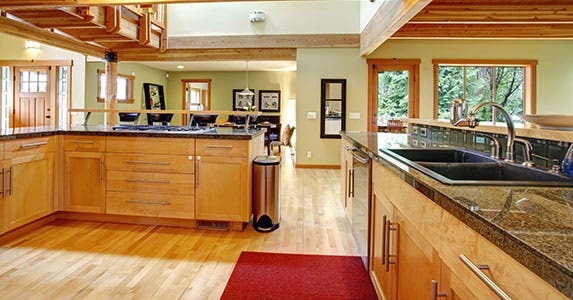 Create a comfortable kitchen
The joy of cooking can turn into a muscle-aching chore for older homeowners whose kitchen design fails to accommodate their needs. When Washington, D.C., designer Ebonee Bachman redid the apartment kitchens of two retirees, both named the difficulty of reaching into upper cabinets as their biggest concern. Bachman responded by using base cabinets for the bulk of their storage space.
"If there were items overhead, (they wanted) some of the bells and whistles, like the pullout drawers and trays, the Lazy Susans, to make accessibility a lot easier," Bachman says.
Installing a single-lever faucet can make your sink easier and safer to use. Having one lever makes it less likely that you'll accidently scald yourself by turning on the hot water and forgetting to temper it with the cold, Sullivan says.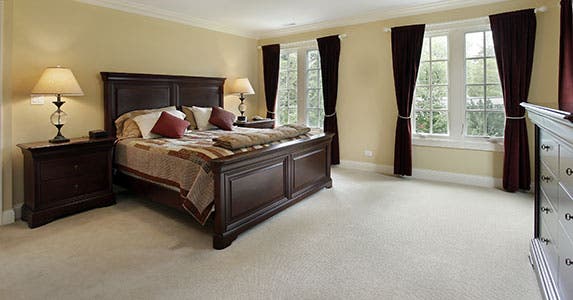 Put the master bedroom at ground level
When homebuyers are looking for a place to live out their retirement years, being able to get to their bedroom without climbing stairs is top priority, says Nemovitz.
"That's the No. 1 request these days from baby boomers," says Nemovitz, who has encountered several couples in their current homes where "one spouse is sleeping on a chair in the living room because they can't go up the stairs to the bedroom."
Nemovitz helped one couple who purchased a two-story home with the master suite on the first floor and other bedrooms on the second floor where the grandchildren sleep when they visit.
Adding a first-floor master suite to your existing home will cost an average of $103,844 for midrange amenities, according to Remodeling magazine's 2014 Cost vs. Value report.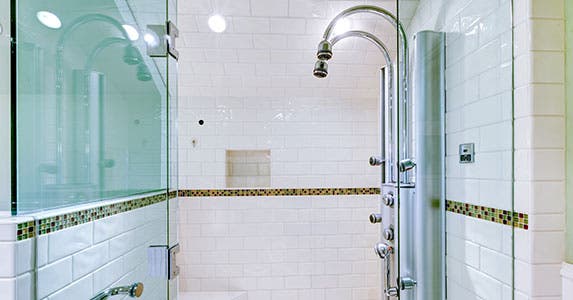 Improve accessibility in the bathroom
One of the hottest trends for boomers doing bathroom makeovers is to swap out the soaking tub for a walk-in shower.
"I've seen people who are remodeling their bathroom get rid of the whirlpool tub, which is standard now in the master suite, and put in a very large luxury shower that has a seat built in," Bachman says.
A wheelchair can be rolled right into a walk-in, or curbless, shower, Gilbert notes. Adjustable-height and handheld shower heads also make things easier for anyone who needs to sit while showering.
Sullivan says an experienced contractor can install a walk-in shower for about the same cost as a conventional one — around $4,650 on average.
"The one thing we have to do is waterproof the floor underneath, so that if water does back up and come out, it won't leak into the floor below," he says. "You're talking maybe 15 (additional) minutes of labor and $50 worth of materials."
If you prefer baths, you can install a walk-in tub, with prices for average models ranging from about $4,000 to $11,000.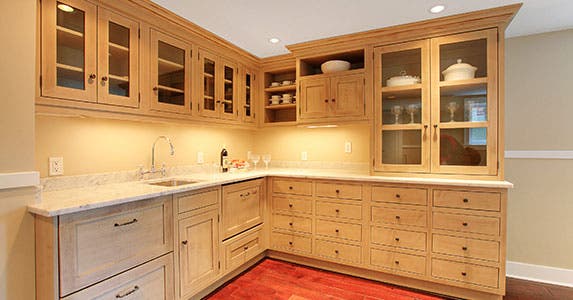 Enhance safety with lighting
Rocker light switches that you gently push instead of flip are a lot easier on arthritic hands, Gilbert says. For safety's sake, the more light you can add to a room, the better.
Automatic motion-sensor lights can make a big difference when you're going to the bathroom in the middle of the night or looking for a certain colored shirt in the back of your closet. In the kitchen, add some under-cabinet lights, preferably low-glare LEDs, Dallas designer Gilbert suggests.
"For elderly people, the eyes don't adjust as quickly as a younger person's, so if they come from a really dark room into a lit room that has glare, it's really hard on them," she says.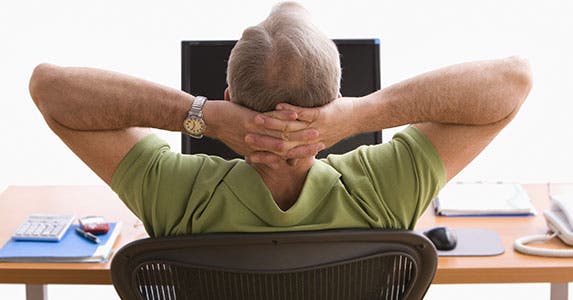 Choose ergonomic furniture
From lift chairs to adjustable beds, you'll find all kinds of special furniture products marketed to seniors. But stylish, conventional furnishings can also provide comfort and accessibility if you look for the right features, such as built-in lumbar support in upholstered pieces.
If you're one of the growing number of people who plan to start a business or second career after retirement, pay attention to how you outfit your home office. Pick a desk and chair with a height that lets you work comfortably and avoid issues like carpel tunnel syndrome, Bachman says.
As you age, you probably won't relish hoisting yourself in and out of a high bed any more than you would like climbing stairs to get to it. While they don't necessarily go for the ultra-modern platform beds, many of Bachman's interior design clients who are aging in place are choosing models that are fairly low to the ground.
"When you get older, having to leap up into bed is not that practical," she says.