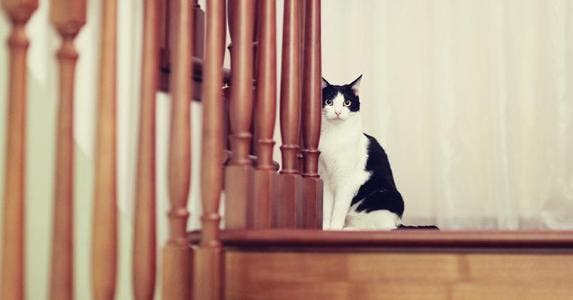 Renters love pets.
They don't love paying extra for the privilege of keeping a pet in their home.
Pets and renters
90% of renters say pet policies are a deciding factor in where they choose to live.
80% of renters who have a pet say they think their neighbors like pets or don't mind living with pets nearby.
80% of renters who have a pet say they were required to pay a pet deposit.
72% of renters say they have a pet.
Source: Apartments.com
If you find out that your renter has sneaked in a pet without your permission, what can — or should — you do about it?
Your options:
Let the pet stay.
Evict the tenant.
Take some action in between.
Context matters
What you do depends on the situation, says Keith Becker, president of DeDe's Rentals and Property Management in Santa Rosa, California.
For instance:
If the pet damaged your property, "you need to deal with that immediately," Becker says.

Most likely, you'll want to make sure the damage-causing pet leaves the property and the renter takes responsibility for the damage.

If the pet is a breed that your property insurance prohibits, you could be exposed to liability if that pet injures someone on your property.

"If your first notification that there is an unauthorized animal on the property is that the (meter reader) notifies you that the animal was being aggressive when he was trying to read the meter, that escalates to a much different level of response," Becker says.

If the pet causes a nuisance to the neighbors, you can start with correspondence telling your tenant to resolve the issue and then "dial it up, if necessary," from there.

Worst case, "you simply give them notice to vacate," Becker says.
Pet policies
If you normally allow renters to have a pet, you might let the unauthorized pet stay if your renter complies with your pet policies, says Andrew Propst, president of Park Place Property Management in Boise, Idaho.
Your pet policy might include a refundable or nonrefundable pet deposit or monthly pet rent, if those charges are permitted where your home is located.
"We will call them up and say, 'We found out you have a pet. The pet has to go or you need to pay a pet deposit,'" Propst says.
Service animals
None of that applies if your renter has a service, assistance or companion animal that is not a pet but provides physical aid or emotional support.
Renters who have a service, assistance or companion animal have legal protections based on the federal Americans With Disabilities Act, or ADA.
If your renter's unauthorized animal might be there for service, assistance or companionship, you should be careful and seek legal advice before you respond.
"If a tenant tells you that they have a service, assistance or companion animal, do not make rash statements, do not make rash judgments and do not presume that you can give an absolute answer on the spot," Becker says. "Take the information, go home and call your attorney."
You can learn more about the ADA and reasonable accommodations in housing for service, assistance and companion animals at the federal government's ADA.org website.