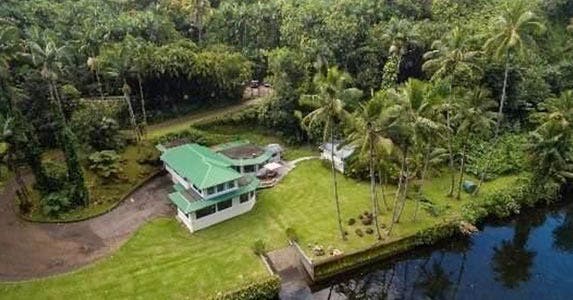 Homes in happy beach towns
If you've always dreamed of a home at the beach, you're part of a major wave.
Our collective longing for white powder sand between our toes and salt sea breeze in our hair has become so epidemic that it has launched countless beach-cottage industries around clothing lines, vacation rentals, suntan products and daydream cable TV fare such as HGTV's "Island Life."
Each year, Coastal Living magazine conducts an online vote to compile its list of "America's Happiest Seaside Towns." The 2016 happy list includes popular and lesser-known beach destinations from all 4 coastal corners of the country, as well as a favorite find tucked away in the Midwest.
Daydreaming aside, how practical and affordable would it be to turn your longing for life at the beach into reality? Toward the elusive goal, we've done some scratching with real estate professionals who sell homes in this year's 10 happiest spots to explore the nuts, bolts and nuances of buying in a beach town.
Ditch your shoes, slip on your sandals and come explore the happiest seaside towns, beginning with this year's top choice in Coastal Living's poll.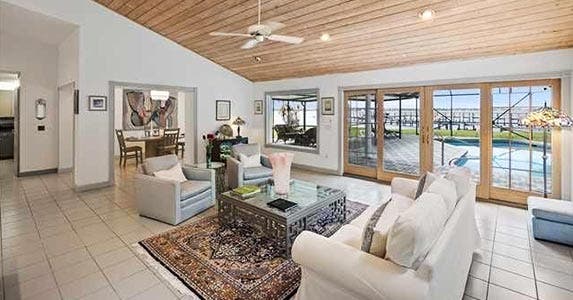 1. Stuart, Florida
Realtor.com
List price: $1.05 million
This open-air contemporary beauty perfectly reflects the laid-back, flip-flop lifestyle of Florida's Treasure Coast.
The 3-bedroom, 3-bath, 3,326-square-foot home built in 1959 features an updated, open-concept kitchen, office loft, spacious family room and a 200-foot dock for those glorious waterfront sunsets on the St. Lucie River.
While the stunning cathedral ceilings, split floor plan, screened-in pool and dramatic master suite with a custom curved-frame picture window set this classic apart from the crowd, listing agent Stephen Ngo of Premier Realty Group says it's the property's 120-foot water frontage that really steals the show.
"Summer sunsets here bleed reds and oranges," he says. "You could close your eyes and still feel the energy of the water and salt air."
What makes Stuart special?
Because Stuart is a low-growth/no-growth, environmentally minded community, it's not likely to allow Miami-style high-rise condos to block its glorious beachfront views. That's helping keep the average home price at $295,000, according to Realtor.com.
Newcomers should know that the natural St. Lucie beachfront more closely resembles northern waterways such as Chesapeake Bay and New England than Miami Beach. "If you love those wide waterfront views, this is going to feel like home to you," Ngo says.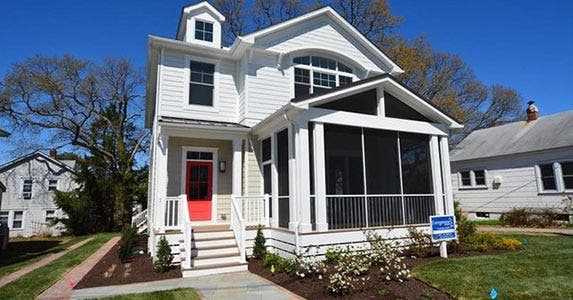 2. Rehoboth Beach, Delaware
Realtor.com
List price: $1.798 million
This charming, 2,800-square-foot seaside cottage may be new to town, but its design fits perfectly into the old-fashioned, mid-Atlantic beach town vibe of Rehoboth Beach, a favorite summer getaway for urban dwellers from Baltimore, Philadelphia, New York and Washington, D.C.
The recently completed 5-bedroom, 4 1/2-bath downtown home — with hardwood floors, granite countertops and custom cabinetry — is situated just a block from the beach, its popular mile-long boardwalk and Rehoboth Avenue's shopping and fine dining.
"Rehoboth is the perfect blend of coastal charm and urban sophistication," says listing agent Debbie Reed, founder of the Debbie Reed Team with RE/MAX Realty Group Rehoboth. "The town boasts gorgeous natural resources at every turn, boutique eateries and world-class tax-free shopping!"
Realtor.com puts the average home price in Rehoboth Beach at $476,950.
What makes Rehoboth Beach special?
Reed says Rehoboth's unique mix of attractions and incentives help keep her inbox full with buyer inquiries.
"Rehoboth is within hours of many major metro areas, making it the perfect place for either a primary residence or a vacation home. Plus, you can always expect low property taxes in Delaware, a novelty for residents of surrounding states," she says. "If you plan to buy a vacation home, new construction is a good way to go, with very little upkeep."
RATE SEARCH: Ready to buy a house? Shop for the best mortgage rates at Bankrate.com.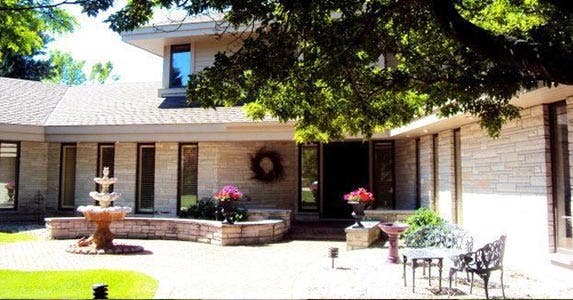 Sturgeon Bay, Wisconsin
Realtor.com
List price: $1.25 million
Built by a shipbuilder in 1989, this stately 4-bedroom, 5-bath waterfront home embodies the craftsmanship, history and popular pastimes of Wisconsin's Door County, the fingerlike peninsula between Green Bay and Lake Michigan renowned for its bass fishing and fruit orchards.
Located just minutes from eclectic art galleries and shops, the 2-story, 7,500-square-foot home features a circular staircase, vaulted ceilings, spacious master en suite with marble spa and 500 feet of bay frontage with a 100-foot boat dock.
"The nice part is the deep-water pier," says listing agent Linda Adams of Coldwell Banker, because it puts boaters 15 minutes from either Lake Michigan via canal to the east or, on rougher days, the calmer Green Bay to the west.
What makes Sturgeon Bay special?
Locals treasure the natural beauty and solitude so much that they're willing to endure some pretty harsh winters. North of Sturgeon Bay, life is very rural, with most towns only a crossroads, Adams says. Realtor.com lists the average home price at $119, 500.
But the local art scene comes alive each summer with theater in the parks and the annual Steel Bridge Songfest.
"Every town has walkways along their beaches and tons of parks, and we have tons of cherries and apples," Adams adds.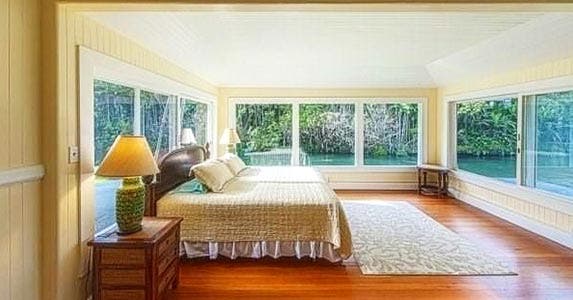 4. Hilo, Hawaii
Realtor.com
List price: $1.99 million
Film sets can only aspire to the old Hawaiian ambiance of this 81-year-old jewel, situated with its own waterfall on 9 oceanfront acres at the mouth of Honoli'i Stream, just a short drive north from Hilo.
The 3,005-square-foot home features 4 bedrooms, 4 1/2 baths, copious picture windows with sweeping water views, an oversized master suite with spacious walk-in shower, and a concrete boat ramp to the stream.
Listing agent Rebecca Hirsch-Keliihoomalu, of MacArthur Sotheby's International Realty, says having one of the island's most popular surfing spots on the home's front porch is "completely unique to the island, if not the state."
What makes Hilo special?
Hilo's bayfront comes alive with sights, sounds and especially the tastes of its popular Suisan fish market, farmer's market and okazuya, an old-school, walk-up deli district that serves traditional Hawaiian, Thai, Indian and Japanese specialties.
Inland from the Big Island's scenic, expensive coastlines, homes are remarkably affordable, with the average price running $259,000 in Hilo, according to Realtor.com.
"The word on the street is, we're supposed to be poised for major growth, and it's a blessing and a curse," Hirsch-Keliihoomalu says. "But we've got a long way to go; we're 4,000 square miles of land and a population of 200,000."
RATE SEARCH: Find the best mortgage rates in your area at Bankrate.com.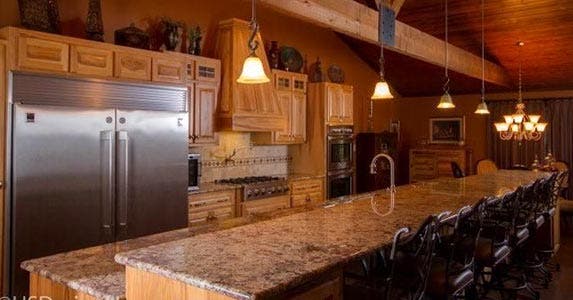 5. Fairhope, Alabama
Realtor.com
List price: $689,900
Southern charm with a beach vibe best characterizes this 3,689-square-foot house situated on 1.5 acres on the eastern shore of Mobile Bay. Amenities of this 5-bedroom, 4 1/2-bath home include a custom kitchen, guest suite with full bath and kitchenette, saltwater pool, stone hot tub and outdoor kitchen.
Listing agent Christi Mossburg of RE/MAX By the Bay says Fairhope's origin as an artist colony lives on in its unusual approach to homeownership.
"Fairhope is a single-tax colony; the founders of Fairhope designed certain areas of Fairhope where the colony still owns that property," she explains. "So when you buy certain properties in Fairhope, you don't buy the land; you purchase a 99-year lease. I think there's only 1 other like it in the country."
The average home price is $235,000, according to Realtor.com.
What makes Fairhope special?
Southern charm aside, the growth of Mobile manufacturing firms, including the shipbuilder Austal and airliner giant Airbus, has put tiny Fairhope on the homebuying radar.
"We're seeing lots of white-collar people moving here, and when they look in Fairhope on the water, they cannot believe how reasonably priced it is compared to other markets," Mossburg says. "The charm of the area just makes for a great quality of life."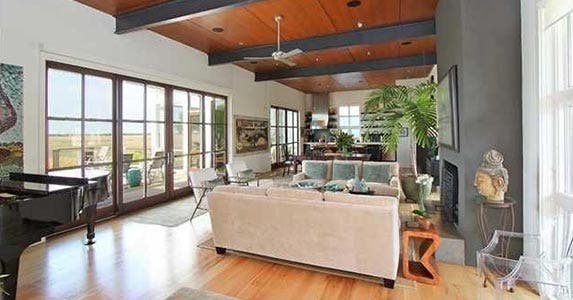 6. Sullivan's Island, South Carolina
Realtor.com
List price: $4.2 million
Carolina One Realtor Everett Presson says he isn't just the listing agent for this 4-bedroom, 3 1/2-bath Carolina coastal charmer; he's also the owner.
Built in 2006, Presson's 4,413-square-foot contemporary features a metal roof, beamed ceilings, open-concept kitchen, infinity-edge pool, boat dock and a serene garden entrance with koi pond.
The Charleston, South Carolina, native has seen Sullivan's Island prices grow as demand outpaced supply. "The inventory has been low for some time," he says. "We have 900 houses on the island and 38 for sale right now."
Realtor.com puts the average home price at a whopping $1,670,000.
What makes Sullivan's Island special?
The island's 1,800 residents prize their paradise. Local zoning won't allow subdivision, the minimum lot size is 0.5 acres, height is restricted to 38 feet and no home can exceed 5,600 square feet.
"We were losing so many of our charming beach houses to people building mega-mansions, so we just put a stop to it," Presson explains.
A more puzzling challenge? Post-Civil War jetties installed at the mouth of Charleston Harbor have caused sand to accrete (build up) on the island's Atlantic shore, sprouting forests in the process. Presson says locals are divided, pro-tree versus pro-view.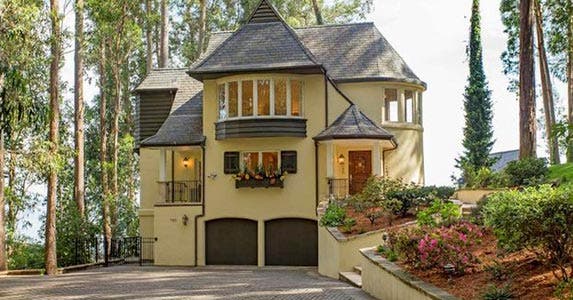 7. Capitola, California
Realtor.com
List price: $4.995 million
There's a whiff of Disney magic about this stunning French traditional nestled in a parklike setting overlooking the Pacific. The storybook 5-bedroom, 4 1/2-bath castle, built in 1997 on 1.25 forested acres, features several oceanfront balconies for entertaining and daydreaming, a large media room, 3-floor elevator access and a charming stone guest cottage with spiral staircase and unobstructed views.
The real magic? This 3,145-square-foot beauty is just a short walk to Capitola Village shopping and restaurants, Capitola Beach and the wooded jogging trails and campfire picnic areas of New Brighton State Park.
What makes Capitola special?
Visitors to Capitola flock to its Esplanade, a captivating mélange of shops, restaurants and historic homes overlooking Monterey Bay. The Beach Blanket Begonia Festival on Labor Day weekend celebrates the town's horticultural claim to fame as the world's top supplier of begonia blossoms.
While Realtor.com lists the average home sale locally at $719,450, Intero Real Estate Services agent Paul Burrowes says it's all about location in the Capitola/Santa Cruz corridor.
"There is a big difference between on-the-coast homes and the near-beach homes of family and working people," he says. "Over the past year, there were only 111 listings that averaged 26 days on the market, and they averaged slightly more than asking price."
RATE SEARCH: Shop today for mortgage rates in your area at Bankrate.com.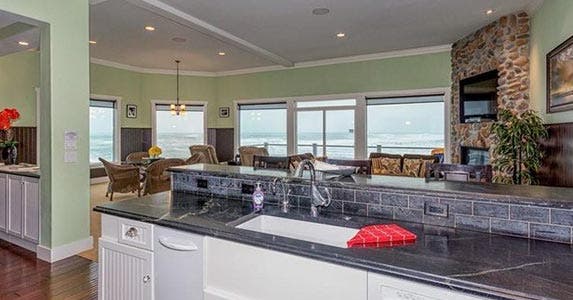 8. Seaside, Oregon
Realtor.com
List price: $1.495 million
This inviting 4-bedroom, 4 1/2-bath wood shake townhome would have been a welcome sight indeed for Lewis and Clark, those original out-of-towners who ended their famous trail trek here at the Pacific coast.
In addition to ocean-view picture windows throughout, the 4,307-square-foot seaside condo features a luxurious island kitchen, stone fireplace, sauna, hot tub, wine cellar and spacious outdoor deck.
"Situated in 'the Cove' at the desirable southern end of Seaside, this property is away from the hustle and bustle of downtown, yet enjoys easy access to the famous 1.5-mile oceanfront Promenade, or 'Prom,'" says real estate broker Hilary Herman of Lostrom & Co. Real Estate in nearby Manzanita.
What makes Seaside special?
Like many coastal towns on this year's "Happiest Homes" list, Seaside is experiencing high demand and low inventory. So far this year, Herman says single-family Seaside homes average 7 months on the market and sell at 97% of list price, or a yearly average of nearly $287,200. Realtor.com lists the average home price at $184,375.
Considering Seaside? Here's a tip: "When considering property in this small coastal town, walkability to the beach is best accessed from homes located west of coastal Highway 101," Herman advises.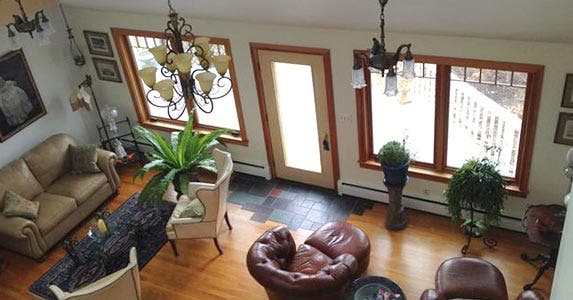 9. Portland, Maine
Realtor.com
List price: $975,000
What beats one cozy seaside cottage on Maine's Casco Bay with sweeping water views of the Portland skyline to the west? How about these 2 saltbox cottages — a main house and a fully urnished guesthouse — on nearly an acre of rolling pastureland, conveniently located across the street from Centennial Beach and a mere 10-minute stroll to the Old Port ferry dock?
Listing agent Rhonda Berg of Harborview Properties says summer visitors and year-round residents alike prefer this Peaks Island location over other Casco Bay islands for the frequent 18-minute ferry service to downtown Portland, as well as the island's spectacular sunrise-to-sunset light shows.
"Compared to other Casco Bay islands, as well as Penobscot Bay and all the way down the coast, Peaks Island has the greatest number of trips to and from the mainland," she says. "The terminal on the mainland is within easy walking distance to shops, green grocers, coffee shops, Italian market, restaurants galore and public transportation, so no car is needed."
The average Portland home sells for $349,950, according to Realtor.com.
FREE TOOL: Before applying for a mortgage, make sure you know your credit score. Get it free at myBankrate.
What makes Portland special?
Berg says life on coastal Maine is like "living in the quiet beauty of a small seaside town with the attractions of Portland, including its world-class Portland Museum of Art, at your fingertips."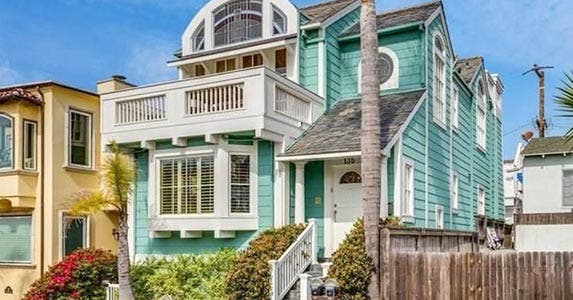 10. Hermosa Beach, California
Realtor.com
List price: $3.699 million
Located on the lovely, hyperkinetic Pacific Strand, this light-and-bright, south-facing Cape Cod epitomizes why Hermosa Beach may be among the most sought-after barefoot real estate in the country.
Built in 1992, this 4-bedroom, 4-bath, 3,464-square-foot beauty features a gourmet island kitchen, master suite with fireplace, office and rooftop deck, all served by a 3-floor elevator.
Average homes in this neighborhood run $2,299,000, according to Realtor.com.
What makes Hermosa Beach special?
To coin the real estate trope, the key to Hermosa Beach is location times 3.
"One of the hottest coastal communities in the nation is Manhattan Beach next door," explains listing agent Gerard Bisignano of Vista Sotheby's International Realty. "Huge money from Silicon Valley and the west side of Los Angeles, including Beverly Hills and Santa Monica, have sort of rediscovered this world-class coastal community right in their backyard in the past 5 years, so Hermosa Beach naturally benefits from that."
In addition to the 4 S's (sun, sand, surf, strand), Hermosa Beach affords the chance to hang with world-class athletes.
"I sold Seattle Seahawks coach Pete Carroll a house down here," Bisignano says. A lot of LA Kings hockey players have beachfront homes here."