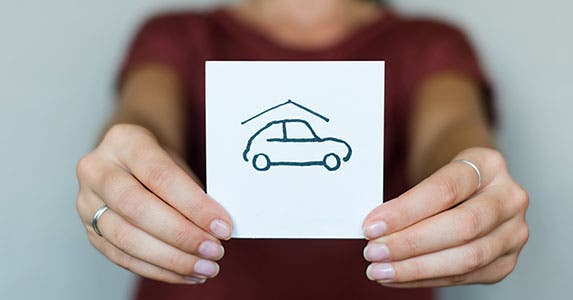 Homes for the price of a car
Ever check out the sticker price on a favorite new car and think, "You could buy a house for that"?
The truth is, you probably can.
Whether you're looking for an uber-practical economy car, a little German engineering or your dream sports machine, you can probably find a home, second home or vacation getaway in that same price range.
Compare today's low mortgage rates
But only if you make that buy as an all-cash purchase. Add financing and all bets are off.
While a $40,000 home would cost you around $200 a month at today's best interest rates with a 30-year mortgage, a $40,000 car would set you back $889 a month with a four-year loan.
Ever wonder just how much house your current car budget would buy? Take a look: Here are six affordable homes that are for sale or were recently sold, alongside cars with the same general price. Which would you want to take for a spin?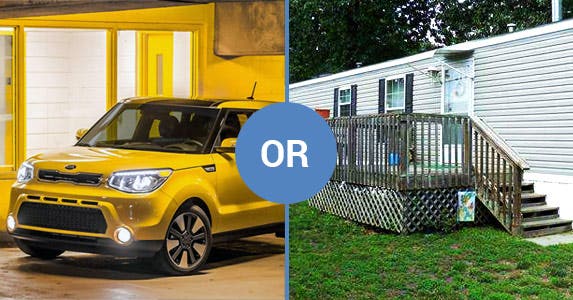 A Kia or a manufactured home
Kia Soul
MSRP: $15,100 to $20,700 and up
Redesigned in 2014, the Soul "is sharp-looking but not alienating," says Philip Reed, senior consumer advice editor for Edmunds.com.
With its "funky styling," it's been one of the most popular models, he says. It also includes a lot of features that other automakers tag as "extras," like backup cameras on some models, a SiriusXM satellite radio and steering wheel-based controls.
With 24 mpg in the city and 30 mpg on the highway, "it's a fairly small vehicle that serves the needs of a lot of people," says Reed.
"It turned into a huge hit," says Eddie Alterman, editor-in-chief of Car and Driver magazine.
Browns Mills, New Jersey
Recently listed for: $26,000
Manufactured in 2006, this home has two bedrooms and two bathrooms.
The layout features a living room and an eat-in kitchen with breakfast bar. And the open floor plan means plenty of natural light, says Edith J.J. Barnett, broker/sales associate for Re/Max 1st Choice.
Interior detailing includes wood molding throughout and solid-surface countertops in the bathrooms, she says.
The master bedroom has a private half-bath, and another bathroom has a skylight, Barnett says.
The refrigerator, range and laundry room with washer and dryer are all included.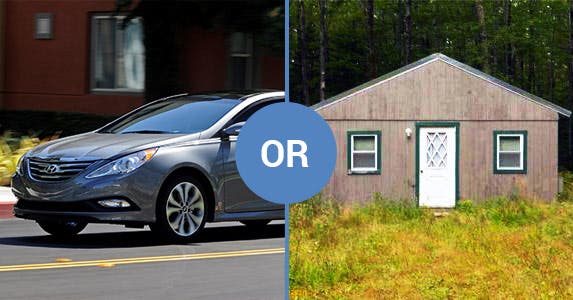 A Hyundai or a cabin in Maine
House: Photo courtesy of Lea Worster, Prudential Northeast Properties
Hyundai Sonata
MSRP: $21,150 to $28,575 and up
This one gets 23 mpg in the city and 32 mpg on the highway, "which is good for a roomy sedan," says Reed.
"It's also sharp, stylish and angular," he says.
Two special features that are included: driver-selectable steering, which lets the driver choose the "weight" of the steering response; and blind-spot monitoring, which uses radar to tell you if someone's in your blind spot, says Reed.
It appears that the Sport 2.0T model's rack-mounted motor-driven power steering is the same as the 2014 model's driver-selectable steering mode.
"A strong warranty and good power make this a great deal," Reed says.
Detroit, Maine
Recently listed for: $29,900
This camping cabin, built in 2003, sits on a half-acre in the woods of Detroit, Maine — an area famous for hiking and fishing. "It's just a cute, little cottage," says Lea Worster, broker for Prudential Northeast Properties.
The interior — with a living room, kitchenette and eat-in area — features pine paneling and painted wood floors. The kitchenette area has wood cabinets and countertops, plus a propane-powered range and oven.
The 480-square-foot space has a separate bedroom and comes fully furnished, says Worster.
A propane generator supplies the electricity, and the cabin is close to restaurants and shopping.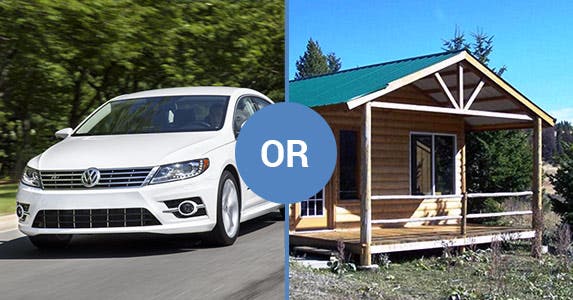 A Volkswagen or a log cabin
House: Photo courtesy of Scott Joyner, Joyner Realty
Volkswagen CC coupe
MSRP: $32,685 to $43,140 and up
"This is what you might call a high-volume luxury car," says Reed. And it will appeal to people who want German engineering, but not necessarily what the neighbor has in the driveway, he says.
"It's a dark horse — not many people know about it," Reed adds.
Some of the standard features include: an AM/FM/CD system with steering wheel-mounted controls, keyless entry, a panic alarm, rain-sensing wipers, electronic stability, leather wheel and heated power front seats.
It offers a lot of features aimed at people who like a well-engineered car and enjoy driving, Reed says.
Marysville, Montana
Recently listed for: $39,900
This one is all about the location.
Set in the mountains, near the Helena National Forest, Beaverhead-Deerlodge National Forest, and the Continental Divide, the view out those windows is "thousands of acres of national forest," says Scott Joyner, broker/owner of Joyner Realty.
It's also just a few miles from the gold-mining ghost town of Marysville — and the area is home to hiking, fishing, horseback riding and cross-country skiing, he says.
Built in 2006, the log cabin clocks in at 296 square feet and has just one room "with a rustic, Western feel," Joyner says.
Bring your own generator and water, but it has an outhouse, he says.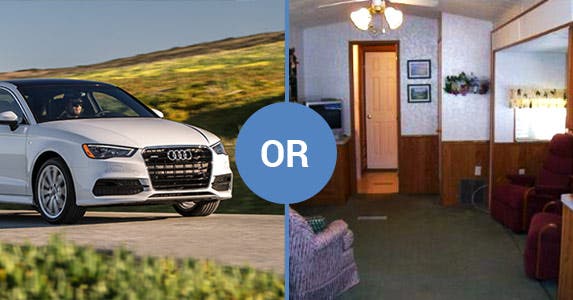 An Audi or a lake getaway
House: Photo courtesy of Rick Hagan, Roche Realty Group
Audi A3
MSRP: $29,900 to $38,350 and up
Redesigned for 2015, "the A3 is a luxury car in miniature," says Alterman.
"It's really at the vanguard of interior quality, fit and finish, he says.
Leather upholstery and steering wheel, 12-way power seats (with lumbar support), dual-zone climate control and power sunroof are standard. So is an advanced sound system with wheel-based control, tilt-steering, a telescoping steering wheel, electronic stability, rain-sensing wipers and brake assist.
And the navigation system "is the best in the business for the price," says Alterman.
Laconia, New Hampshire
Recently listed for: $39,900
This vacation getaway is just off the shores of Lake Winnipesaukee, a popular spot for boating, fishing and water skiing, says Rick Hagan, associate broker for New Hampshire-based Roche Realty Group.
Manufactured in 1999, it has one bedroom, an open floor plan and lots of windows and wooded views, says Hagan.
The main room has a propane stove "to take the chill off in the fall," he says. While the community boasts plenty of winter sports (including fishing and hockey), full-time occupancy (and working utilities) are limited to May 15 through Oct. 15, says Hagan.
An annual $3,250 fee covers lot rent, water, sewer, electricity, trash collection and rights to the 300-foot beach, he says. "It's gorgeous."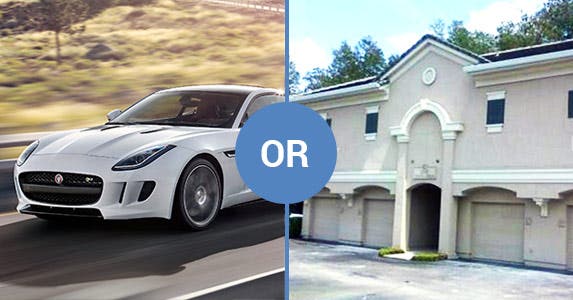 A Jag or a condo in Orlando
House: Photo courtesy of Dioné Tamayo-Brady, Keller Williams Advantage II Realty
Jaguar F-type
MSRP: $65,000 to $165,000 and up
"One of the prettiest cars on the road," says Alterman.
"What Jaguar does better than anyone else are those little touches that impart occasion and quality and make it a special experience," he says. Like: flush door handles that pop out and flush air-conditioning vents that rise out of the dash, he adds.
"But it isn't cheap," Alterman says.
Standard features include: leather interior, padded leather steering wheel with paddle shifters; smart key with push-button start; tire-pressure monitoring system; and an anti-theft engine immobilizer.
"What you're paying for is style and power and grace," he says. "And it's something different."
Orlando, Florida
Recently listed for: $90,000
Walk in and the first thing you see? "A living room with very large windows and a balcony overlooking the conservation area" that's home to cypress trees laden with Spanish moss and egrets, says Dione Tamayo-Brady, broker associate for Keller Williams Advantage II Realty.
It's a glimpse of "old Florida, the original Florida," she says.
The adjoining kitchen has white European-style cabinets, tile floors, a laundry closet, and a breakfast bar pass-through to the living room, Tamayo-Brady says.
The 599-square-foot condo has one bedroom and one bathroom, plus an adjoining one-car garage, "which is very rare," she says.
The monthly fee is $127, says Tamayo-Brady. And the tile-roofed community has a pool, volleyball court, fitness center and clubhouse.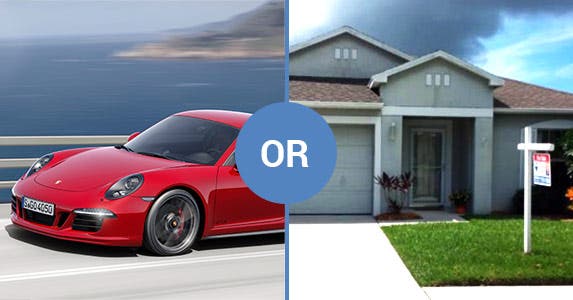 A Porsche or a ranch home
House: Photo courtesy of Brenda Teter, Re/Max Interactive
Porsche 911
MSRP: $84,300 to $194,600 and up
A Porsche is "the quintessential sports car," says Reed. "It bridges the gap between comfort and outstanding performance."
Of course, there's plenty of technology, too. A navigation system is standard, as are CD and MP3 players, theft deterrent system, engine immobilizer and traction control.
The 911 comes with a seven-speed transmission, either manual or automatic. It has "every air bag that you can think of," says Reed. It takes premium gas only and "weighs close to 4,000 pounds."
And, in 2015, the company is offering a 50th anniversary edition, Reed says.
Melbourne, Florida
Recently listed for $204,900
This contemporary ranch-style home has four bedrooms and two full bathrooms on a corner lot, says Brenda Teter, sales associate for Re/Max Interactive.
Built in 2001, the open floor plan features architectural details like cathedral ceilings, arched doorways, half-walls and plant shelves throughout its 1,902 square feet.
The open kitchen has a breakfast bar, eat-in area and tiled floors. The master bath includes a garden tub with separate glass shower. The family room opens to a covered, screened-in patio. It also has lush tropical landscaping, in-ground sprinkler system using reclaimed water and a two-car garage.