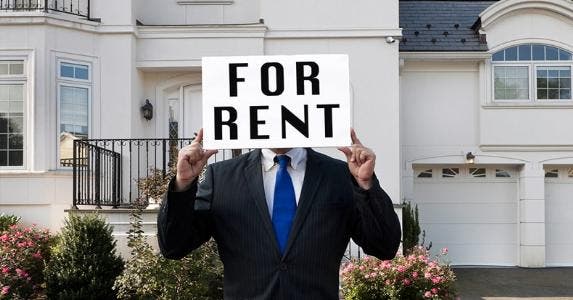 iStock.com
The buzz is building around income property once again, and for good reason: The economy continues to recover, mortgage rates remain low, homes are appreciating and legions of baby boomers are downsizing and scouting post-retirement income opportunities.
Jill Wente, a Realtor with Gary Greene Real Estate near Houston, says those leaning toward becoming a landlord fall into two categories.
"Typically, they're either thinking about renting their own place or acquiring another home and turning their current residence into a rental," she explains. "Some simply want to hold on to their current home in an up market."

When wannabes ask Wente whether she thinks they're landlord material, she replies with a short quiz of her own.
"First, I ask them if they'd mind getting a call on a Saturday morning with a toilet emergency. Or at 11 o'clock at night because the air conditioning isn't working. Or when they're out of town," she says. "Even if they say 'no,' I still recommend a management company. I've had clients try to do without, and it just becomes too much."
Patrick "PJ" Chapman, the owner of Chapman Properties in Boise, Idaho, and a regional vice president of the National Association of Residential Property Managers, frequently sees solo fliers go down in flames, especially long-distance landlords.
"It's mostly people who have a house in Boise, they live in California, and they don't have the means to do the background checks," he says. "They just throw tenants in there and it turns out to be a nightmare. Those are the ones who run, not walk, to us."
Do your homework first
Wente advises would-be landlords to consider the following before jumping in:
Insurance: "If you rent your home, your homeowners insurance is going to increase about 30% because it's now not owner-occupied," she says. So-called "dwelling" policies also include a separate liability policy.
Equity: If you purchase a property to rent, you'll need to have at least 20% equity in it to avoid having to carry private mortgage insurance, or PMI. "The good news is, that will allow you the opportunity to gain price appreciation on 100% of the property while having only 20% into it," says Wente.
Your return: Start by figuring out how much you can charge for rent in your area and multiply by 12. Then deduct taxes, fixed expenses (such as mortgage payments, insurance and lawn maintenance), and utility and property management fees, if any.
Cash flow: "Chances are, your rental will be vacant from time to time," Wente says. "Your next renter rarely comes walking in the next day." How easily can you weather those nonrevenue spells?
Maintenance and repairs: "When repairs are needed, do you have a list of contractors you can depend on to get the plumbing fixed and the air conditioner back on?" Wente asks.
Fair Housing laws: The federal Fair Housing Act prohibits housing discrimination based on race, color, national origin, religion, sex, disability and the presence of children. "Knowing the law will help you stay in complete compliance with regard to safety issues," says Wente. " Not knowing will not protect you from legal action."
Are you up to becoming a landlord?
Once you've determined you can afford to become a landlord, the next step is to weigh whether you're up to the task. Pondering these questions will help:
Do you live on-site or nearby? If not, you may want to consider hiring a local property manager.
Are you naturally handy? Rental properties can require frequent, hands-on maintenance.
Are you familiar with your state and local landlord-tenant laws and neighborhood rental restrictions?
Do you negotiate well?
Are you good at resolving conflicts?
Do you mind being interrupted on nights and weekends?
Chapman says the landlord-tenant dynamic tends to thin the landlord herd fairly quickly.
"This business is about managing people and managing conflict," he says. "Finding the right tenants, screening them, dealing with the different personalities and having to fight to get rent or deal with collections — most people just aren't cut out for that."
For an 8% fee, Chapman takes over the entire rental process, from running criminal background and credit checks on applicants to evicting delinquent tenants. Elsewhere in the nation, property managers charge as much as 10% or more, and often take a month's rent to place new tenants.
"We just take the reins and assume a fiduciary role on their property," Chapman says. "It's worth it to them versus the headaches of trying to do it on your own with no knowledge of how to do it."
Wente agrees. "A management company can handle all of those headaches for you," she says. "Even as a Realtor, I wouldn't attempt it myself."
Help for DIY landlords
If, after careful reflection, you still want to try on "landlordship" single-handedly, there's help available at the National Association of Independent Landlords, or NAIL. The California-based organization of landlords, property managers and leasing agents provides application and eviction forms, credit and criminal background reports, state landlord-tenant and federal Fair Housing Act guidelines, and electronic payment processing and monitoring to help landlords succeed.
"The most time-consuming part of being a landlord happens at the beginning and end of the lease," says NAIL general manager Brittney Benson. "If you do your due diligence and identify good tenants, you'll hopefully only hear from them once a year or if there's a maintenance issue."
NAIL plans to offer full-service eviction services in the near future to remove that stress from their landlords' shoulders.
"It's a hard business to be in for some people," Benson admits. "But if they're prepared and perform their due diligence, it can be very easy as well."
More On Becoming A Landlord: