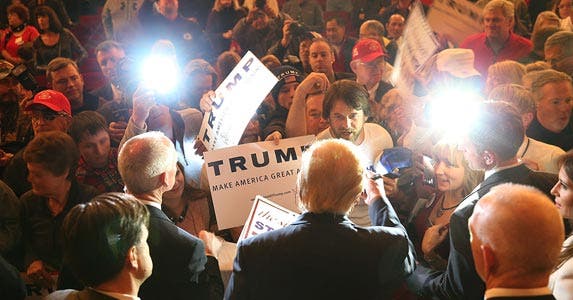 Do businessmen make good presidents?
You may have heard that a certain New York businessman sits atop Republican polls for president. He's fabulously wealthy, highly intelligent (just ask him) and is, he boasts, the answer to all that ails America.
But would Donald Trump's reputation as a sharp-elbowed businessman who knows how to make a buck translate into success in the Oval Office?
In honor of Presidents Day, Bankrate compiled a list of businessmen who were elected to the presidency, starting at the beginning of the 20th century, as well as their greatness ranking as president. The rankings and other information came from these 3 entities:
The Siena College Research Institute, which surveys historians, political scientists and presidential scholars to rate the presidents in 20 areas.
The Center for Effective Public Management at the Brookings Institution, a think tank in Washington, D.C.
The American Political Science Association, which conducted 162 surveys of experts of the American presidency.
As you'll see from the following slides, there appears to be no discernible link between business acumen and presidential effectiveness.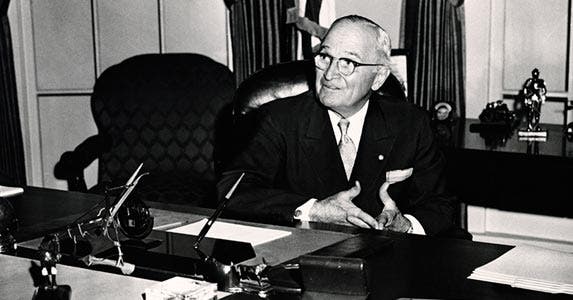 Harry Truman
Fotosearch/Archive Photos/Getty Images
President during: 1945-1953 (previously U.S. senator from Missouri and vice president)
Occupation: Haberdasher
Greatness ranking: 6
The saying "clothes make the man" could have been coined for our 33rd president. Truman was perhaps our best dressed commander-in-chief, a reflection of an earlier, albeit failed, career as co-owner of a Kansas City clothing store.
But Truman found great success as president, successfully steering America through the end of World War II, facing down communist threats in Berlin and Korea, rebuilding Europe with the Marshall Plan and overseeing the nation's emergence onto the world stage as a pre-eminent economic and military power.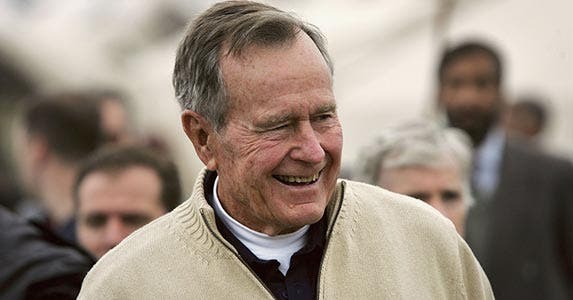 George H.W. Bush
John Moore/Getty Images
President during: 1989-93 (previously U.S. representative from Texas, United Nations ambassador, chief liaison to China, director of central intelligence, vice president)
Occupation: Oil industry executive
Greatness ranking: 17
Bush's presidency is remembered for momentous foreign policy events: the fall of the Berlin Wall and symbolic end of the Cold War, the collapse of the Soviet Union and the 1st Gulf War, all of which he managed smoothly.
His approval ratings soared, only to slide under the weight of a recession and a broken pledge ("Read my lips: No new taxes"). In a 3-way race with Democrat Bill Clinton and independent Ross Perot in 1992, Bush lost his re-election bid.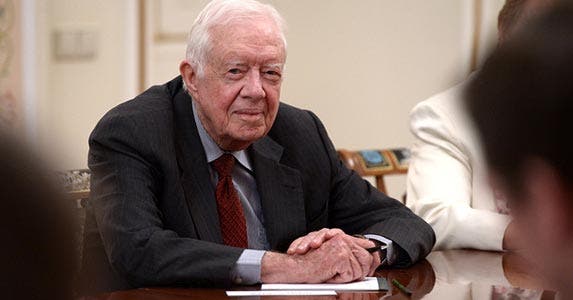 Jimmy Carter
Anadolu Agency/Getty Images
President during: 1977-81 (previously governor of Georgia)
Occupation: Peanut farmer
Greatness ranking: 26
Elected after a difficult decade of assassinations, Vietnam and Watergate, Carter's honesty and transparency were at first a breath of fresh air.
But instead of setting his sights on a few key priorities, Carter tried to do too much at once, and quickly developed a reputation as a bogged down micromanager.
Even so, more than 10 million jobs were added to the U.S. economy during his tenure and job growth averaged 3% per year — unmatched by any president since.
A recession in the latter stage of his presidency pushed unemployment back up, and Carter was swept out of office in 1980 by Ronald Reagan.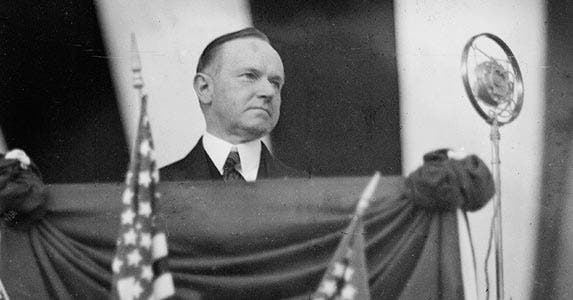 Calvin Coolidge
Chicago History Museum/Archive Photos/Getty Images
President during: 1923-29 (previously governor of Massachusetts)
Occupation: Vice president, Nonotuck Savings Bank, Northampton, Massachusetts
Greatness ranking: 27
Coolidge's below-average ranking would no doubt be higher were it not for a pesky thing called the Great Depression. Supporters claim, accurately, that it began 6 months after he left office, but critics respond that the seeds for it were planted during his time in the White House.
Coolidge is credited with saying, "The chief business of the American people is business." During his administration, the economy expanded overall, with wages rising and unemployment low.
The 1920s were known as the Roaring '20s and the era of "Coolidge prosperity." But 2 minor recessions occurred on his watch.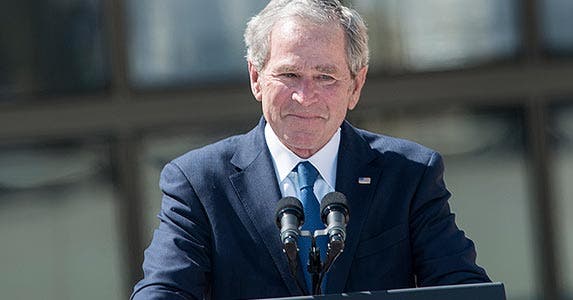 George W. Bush
BRENDAN SMIALOWSKI/AFP/Getty Images
President during: 2001-09 (previously governor of Texas)
Occupation: Oil and gas executive, Major League Baseball team co-owner (Texas Rangers)
Greatness ranking: 35
Bush's 8 years in office had two cataclysmic events as bookends: the terror attacks on New York and Washington in 2001, which led to American-led invasions of Afghanistan and Iraq, and the near collapse of the U.S. economy from 2006 to 2008.
On the economic front, the housing market, which peaked in 2006, fell dramatically, followed by the stock market, which lost 58% of its value in just 17 months (October 2007 to March 2009).
Bush oversaw a series of financial bailouts during his last year in office of government-sponsored mortgage entities Fannie Mae and Freddie Mac, big banks and the auto industry.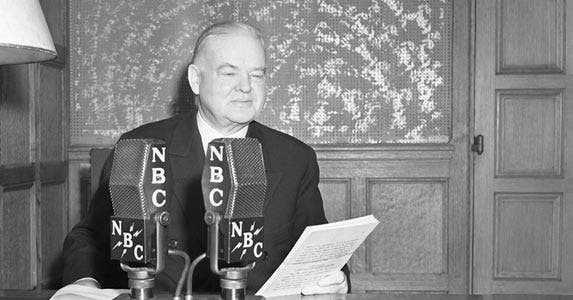 Herbert Hoover
NBC/NBCUniversal/Getty Images
President during: 1929-33
Occupation: Mining engineer and executive
Greatness ranking: 38
The debate about whether Calvin Coolidge or Herbert Hoover was responsible for the Great Depression will never end, but Hoover's poor ranking stems from 1 thing that is indisputable: Things got worse — much worse — during his 4 years in office.
The causes for this are many, some of which had little to do with him, but presidents — for better or worse, — usually get credit and/or blame for the state of the economy on their watch.
Hoover was turned out of office in 1932 by Franklin D. Roosevelt, though the Great Depression would not truly end until America entered World War II in 1941.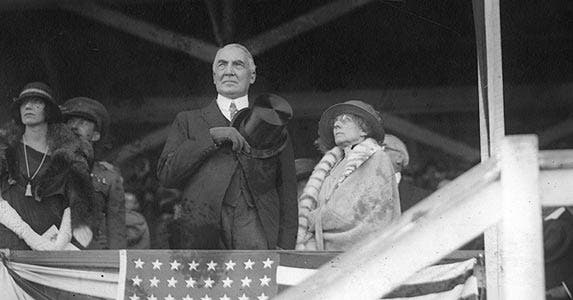 Warren G. Harding
Library of Congress/Archive Photos/Getty Images
President during: 1921-23; previously served as U.S. senator from Ohio
Occupation: Newspaper publisher
Greatness ranking: 42
Harding's success as owner/publisher of a small-town newspaper in his native Ohio was his springboard into politics.
Swept into the White House in a 1920 landslide, he assumed the presidency during a recession, which he fought by cutting taxes to jump-start the economy.
For a time, he was probably as popular as any past president other than George Washington. But after his sudden death in 1923, the public learned of multiple scandals involving members of his administration. His reputation as a serial philanderer also left permanent damage to his reputation.