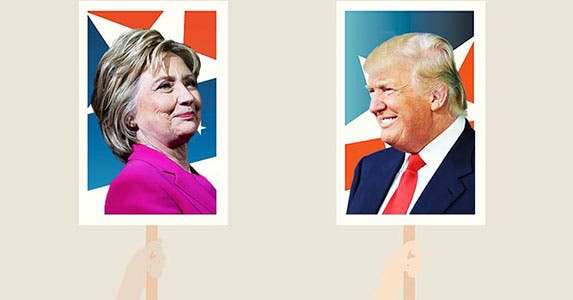 What's old is new
The biggest surprise of this 2016 presidential campaign is that taxes aren't that big of a deal.
That's because, in part, the 2 candidates left standing basically represent their political philosophies, producing the usual tax results. Republican presumptive nominee Donald Trump's plan cuts taxes a lot. Democratic nominee Hillary Clinton is satisfied to slightly tweak the current tax system. Bernie Sanders, no longer the Democratic spoiler, would have liked to raise taxes across the board. Now he's intent on moving Clinton more to the left.
But some of the presidential candidates' tax plans are surprising. Here are 5 you might find of interest.
CALCULATOR: Find out what tax bracket you are in.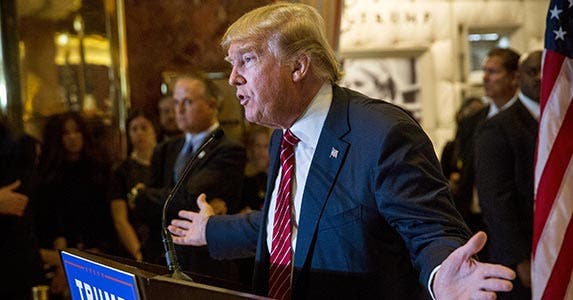 Trump's huge deficit
Andrew Burton/Getty Images
Tax cuts are appealing, but absent revenue replacement, they could cost Uncle Sam a lot.
"We still don't have as much detail as we'd like to really pin (the candidates) down on everything," says Mark Luscombe, principal federal tax analyst for Wolters Kluwer Tax & Accounting. "In their websites and speeches, they highlight the good parts without saying how they'll pay for it."
Economists have examined the deficit impact of the presidential hopefuls' plans. The biggest loser is Trump. Clinton's plan, on the other hand, would be a net revenue raiser.
The Urban-Brookings Tax Policy Center's analysis finds that in its first decade, Trump's tax proposal would add $9.5 trillion to the deficit. Clinton's tax measures are estimated by the Tax Foundation to bring in $191 billion over 10 years.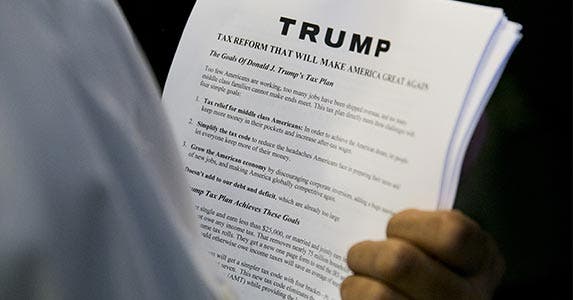 Hedge fund tax agreement
DOMINICK REUTER/Getty Images
Here's more proof that this is an unusual presidential campaign. White House hopefuls Clinton and Trump agree on something. Sanders also likes this plan, as he stated before joining Clinton's campaign.
All 3 have called for an end to carried interest. This is a legal tax loophole that allows private equity and hedge fund managers to pay taxes on their earnings at the lower capital gains rate, which is 20% for the wealthy, instead of the ordinary income tax rate, which tops out at 39.6%.
This was an issue in 2012, garnering much attention because then-GOP nominee Mitt Romney's fortune came largely from his carried interest earnings.
RATE SEARCH: Want to start building your own fortune today? Get some interest on your savings by shopping money market accounts.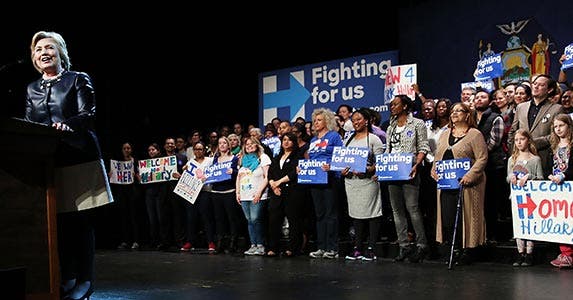 Tax help for eldercare
Spencer Platt/Getty Images
Clinton's campaign has been airing television ads in battleground states, emphasizing her commitment to family issues. She's backing that up with a tax credit for people who care for their elderly relatives.
Clinton is proposing a 20% tax credit to help family members offset up to $6,000 in caregiving costs for aging family members. That translates to a possible maximum annual tax break of $1,200.
Since the new tax law would be a credit, the caregiving taxpayer would be able to use any qualifying amount to directly offset any tax bill due.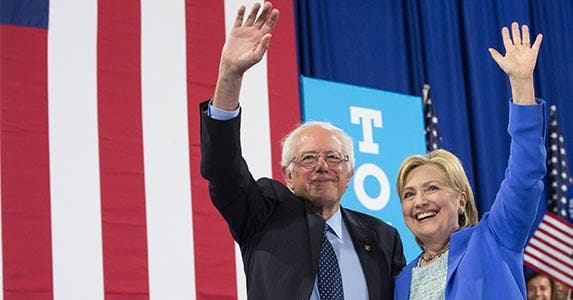 Payroll tax for family leave
Boston Globe/Getty Images
While Sanders finally conceded the Democratic nomination in mid-July, he is hoping to have some of his ideas incorporated in the Democrat's platform.
One that might mesh with Clinton's campaign is Sanders' call for 12 weeks of paid family and medical leave.
That proposal is welcomed by many, but it would come at a tax cost for all. Sanders had suggested implementing a new payroll tax that would total $1.61 a week (almost $84 a year) for the typical American worker.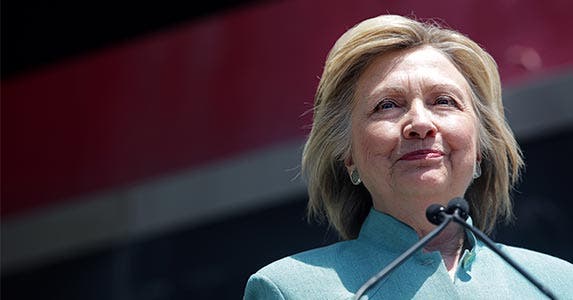 Longer wait for lower capital gains rates
Boston Globe/Getty Images
Investors who hold assets for more than a year are rewarded with lower capital gains tax rates when they sell: 15% for most taxpayers, 20% for wealthier filers.
Clinton would keep the general concept of lower taxes for longer-term investments, but would add more years and rates to the ultimate tax paid by upper-income investors.
Assets held by richer taxpayers for less than 6 years would be taxed, depending on the exact holding period, at rates ranging from 24% to 39.6%, the current top ordinary income tax rate. Investments held for more than 6 years would be taxed at 20%.
ADVISER SEARCH: Want to start investing? Find a financial adviser today!