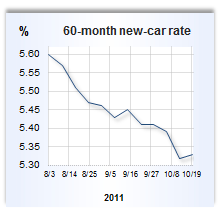 Interest Rate Roundup
Auto Loans
5.33% (60-month, new car)
6.39% (36-month, used car)
Auto loan rates rebounded this week, bouncing off last week's record lows.
The average 48-month new-car loan rate rose 2 basis points to 5.31 percent. The rate for a 60-month new-car loan gained 1 basis point to 5.33 percent. A basis point is one-hundredth of 1 percentage point.
The average rate for a 36-month used-car loan jumped 10 basis points to 6.39 percent.
Automotive News has reported that the United Auto Workers ratified a contract with Ford. The new deal spans four years and will create 12,000 new jobs.