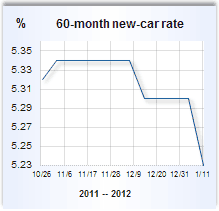 Interest Rate Roundup
Auto Loans
5.23% (60-month, new car)
6.27% (36-month, used car)
Auto loan rates were down this week, marking the first change in weeks. The average rate for a 48-month new-car loan was down 11 basis points to 5.16 percent. A basis point is one-hundredth of 1 percentage point. Average rates for 60-month new-car loans also fell, giving up 7 basis points to 5.23 percent. That move widens the spread between 48-month and 60-month loans significantly, perhaps giving borrowers a little more incentive to go for a shorter auto loan.
Used-car loan rates were also down but by a smaller margin. The average rate for a 36-month used-car loan fell 3 basis points to 6.27 percent.
The Hyundai Elantra and the Range Rover Evoque took top honors from automotive journalists at the North American International Auto Show this week. The briskly selling Elantra beat out two other finalists, the Ford Focus and the Volkswagen Passat, for North American Car of the Year.